Eventbrite had their Q2 2023 Earnings Call last week, and it appears they are doubling down on "take rate" as their key strategy, with a secondary strategy of lowering costs. That means more for them, and higher costs for customers.
I have seen this financial-first driven strategy a number of times in my career. Our RunSignup endurance business has benefited enormously by many of our competitors taking this same approach over the past decade. A company goes public, or gets acquired, or runs into financial pressures. They can't make sudden turns in the underlying business – good software takes a long time to create and events are slow to move from one platform to another. Many of the legacy companies in endurance that were once leaders have lost major chunks of market share or simply no longer exist. And many of those customers have migrated to RunSignup – we have slowly grown to have 40% market share of the endurance market in the US thanks to our long term strategy to just keep developing good software, help our customers, keep our prices fair and hold onto our employees.
Here are the major mistakes I see Eventbrite making that will have negative impacts on their customers and cause those customers to look for new alternative vendors (as we are already seeing).
Focus on "Take Rate"
"Take rates are already up at 9%. Lanny, I'd love to just get some color from you on whether or not you think there's room for that to move meaningfully higher?" – Lanny – "there is quite a bit of value that we're delivering to customers and that value we deliver turns around to be take rate opportunity and value capture for Eventbrite."Morgan Stanley Analyst Question and CFO Lanny Baker on Eventbrite Q2, 2023 Earnings call
"Take Rate" was used 9 times in the 37 minute call. Take Rate is the amount of money Eventbrite takes on the sale of a ticket. So they "take" on average $9 for a $100 ticket. They have introduced a series of price increases and the roll out of Advertising and their Boost marketing offerings to increase that take rate over the past year.
More Price Increases
Eventbrite has always had a high price. In January, they raised their ticket prices again to $1.79 per TICKET (we charge $1.00 per transaction, which includes as many tickets as the buyer wants to buy) +PLUS+ 6.6% processing on the transaction (we charge 6%, and only 4.8% for event directors with more than 5,000 tickets).
Starting September 6, customers will have to pay a subscription fee (Wall Street loves subscription businesses!) per event:
""We're changing the onboarding of Eventbrite to include these marketing tools as part of the core product. Beginning in Q3, we're introducing a new packaging framework that offers this comprehensive feature set to event creators of free and paid events for a fee." – from Q2 Earnings call and now detailed on their website: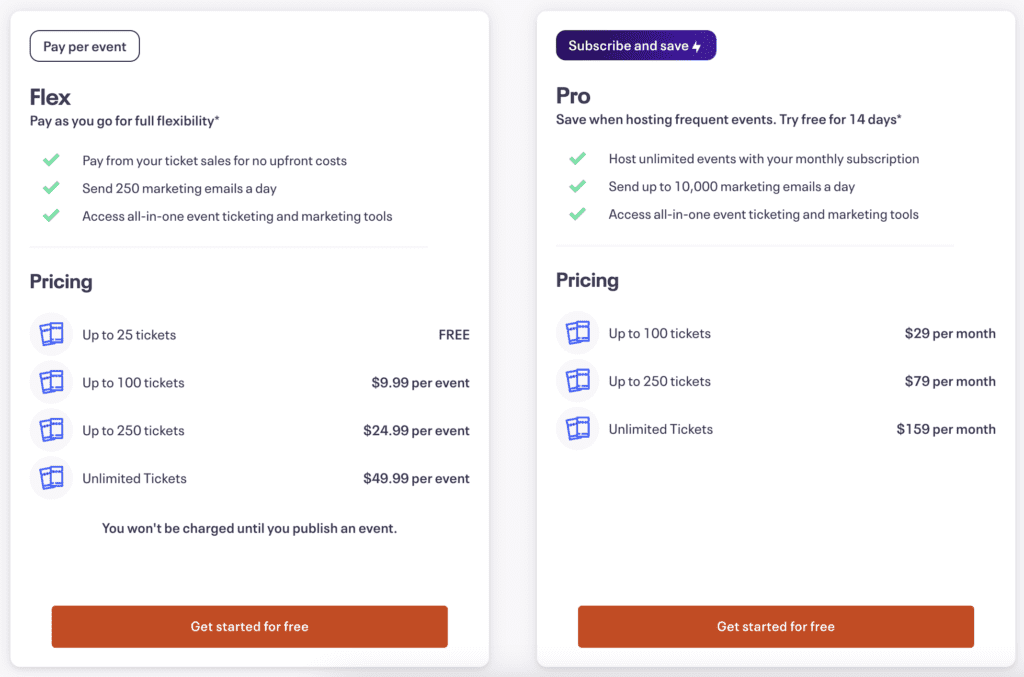 That's right – another price increase! Free events over 25 are no long free. And if you have over 250 people on your email list, you need to either pay for Mailchimp or pay for the Pro edition – adding to the costs of selling tickets on Eventbrite. Eventbrite estimates that these price increases will impact 40% of their users – "as much as 60% of events, both free and paid events, we'll be able to publish our events and use our tools for free."
So, yes, Eventbrite is looking to increase their "Take Rate" above 9%.
TicketSignup has a philosophy of wanting to help our customers be successful because we make more money when our customers sell more tickets. So we offer free email, free website, no subscription costs and no per ticket costs – we just charge on the transaction amount – and far less than Eventbrite does.
Laying Off Valuable Employees and Losing "Institutional Knowledge"
Eventbrite laid off 50% of their employees at the beginning of the pandemic. In the beginning of 2023, Eventbrite announced a further 8% layoff and offshoring 30% of their jobs to low cost locations in Spain and India.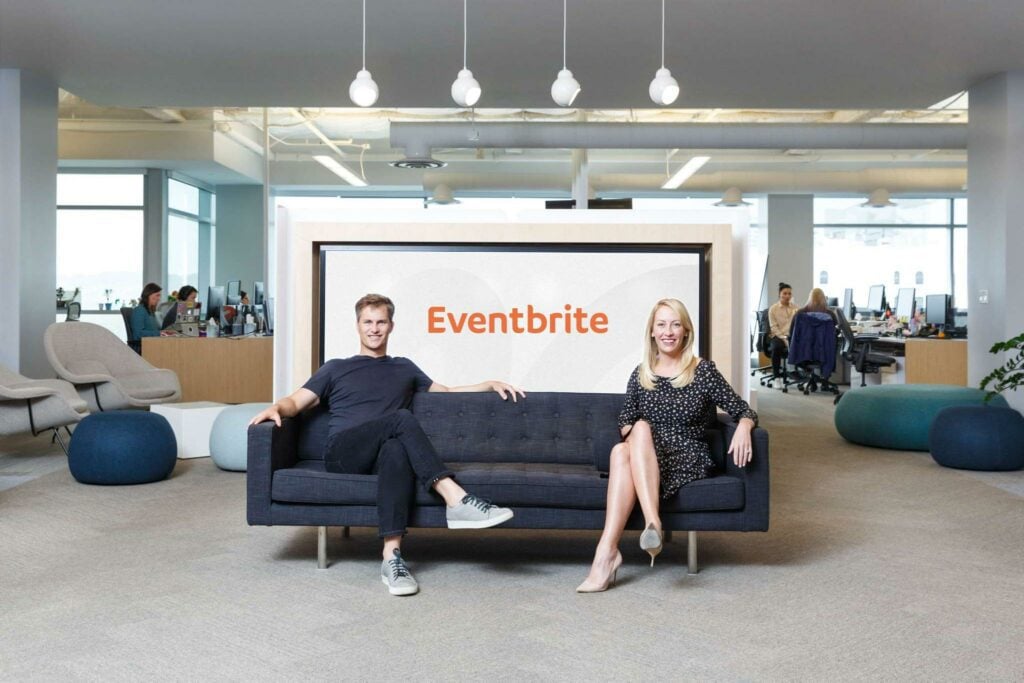 Like price hikes, we have seen this before from "market leaders" as they focus on profitability in the short term. However, this accumulates long term liabilities. Software takes longer to develop because the original creators are no longer there. Customer service quality degrades. Connections built between former employees at Eventbrite and customers are gone. That institutional knowledge – connection to the product and the customers takes a toll. Systems become less stable, feature advances become slower, customers feel less tied to the company and begin to look for alternatives.
We have seen this happen before in the endurance market. And long term it is the biggest reason former market leaders lose market share and end in a long term slide.
Marketplace Strategy – "We Are the Center of the Universe"
Take Rate was only the second most used term in the quarterly conference call. "Marketplace" was mentioned 19 times! It is almost like they believe if they kept repeating it, it will become true. My common sense analysis of this is that I do not go to search Eventbrite's website when I am looking for something to do this coming weekend.
I wrote a more detailed blog that suggests that Eventbrite is exaggerating their impact on ticket sales, and is forcing unnatural customer actions (like having to download their app to get an Apple Wallet reminder for an event they signed up for), and essentially spamming event pages with ads for other events.
Of course there are two reasons why Eventbrite is trying to emphasize this. One is to try to hold onto their existing customers and trying to make them believe that they won't be able to sell tickets without Eventbrite's help (many Eventbrite users transitioning to TicketSignup actually see increases in ticket sales, not declines). Second, they want to sell advertising like Facebook and Google and of course increase their "take rate". Personally, I think it is a bit delusional to think that you can take on those ad powerhouses. And I think selling ads on other event director's event pages and lowering search results for non-ad customers and taking ticket buyer email addresses and effectively selling them to other events will upset a lot of customers who do not want to pay Eventbrite for ads.
Summary
TicketSignup's focus on helping our customers and building great technology will appeal to an increasing number of Eventbrite customers looking for better alternative solutions to their problems. And Eventbrite is helping speed that transition with many of these financially driven actions.
My favorite self-centered and long term harmful comments from the Earnings call
"Record take rate help net revenue grow to $79 million, up 20% year-over-year"
"Revenue take rate was 8.9% in the second quarter, a four point higher than a year ago and another new record. Revenue per ticket was $3.39, up 12% versus a year ago."
"Eventbrite Ads is already producing the revenue and take rate uplift that is at the high end of the ranges we outlined during Investor Day"
"Our revenue take rate has improved by a percentage point since the Investor Day and we believe there is plenty of opportunity for these same levers to deliver further gains in unit economics and take rate in the future"
"We'll continue to benefit from pricing and take rate upside"
"On the take rate, the biggest driver right now year-over-year really is the pricing change on the transaction fees… it applied to probably about 70% of our ticket volumes and it was an effective raise of the pricing by about 10%."
"Take rate opportunity and value capture for Eventbrite"
"Further differentiate our marketplace and strengthen monetization into the future"
"We've stepped up marketing spending to accelerate our marketplace repositioning"
"Our marketplace is generating stronger unit economics"
"The monetization of the marketplace that's improving unit economics"
"Success in the customers who are using Boost and who are advertising in the marketplace through Eventbrite Ads"