A website is the core communications tool events have with their participants. RunSignup has long recognized this and created a full featured website capability that includes content management, hosting, built-in analytics and integrated data components like results, find a participant, fundraiser pages, donation goal thermometers and more – for FREE. Our customers are increasingly finding that having a single event site hosted on RunSignup is easier to update, provides a single source of truth for participants, and is more reliable (RunSignup race websites have been down a total of 4 minutes since 2015 – can your WordPress site say the same?).
We have been working hard on a Next Generation of Website capability for races that will start to become publicly available early in 2024. This blog will give you a sneak peek into how it is going.
First, it is live in production now (but not complete enough to release to our customers yet). You can see an example yourself ScottCoffeeRun.com.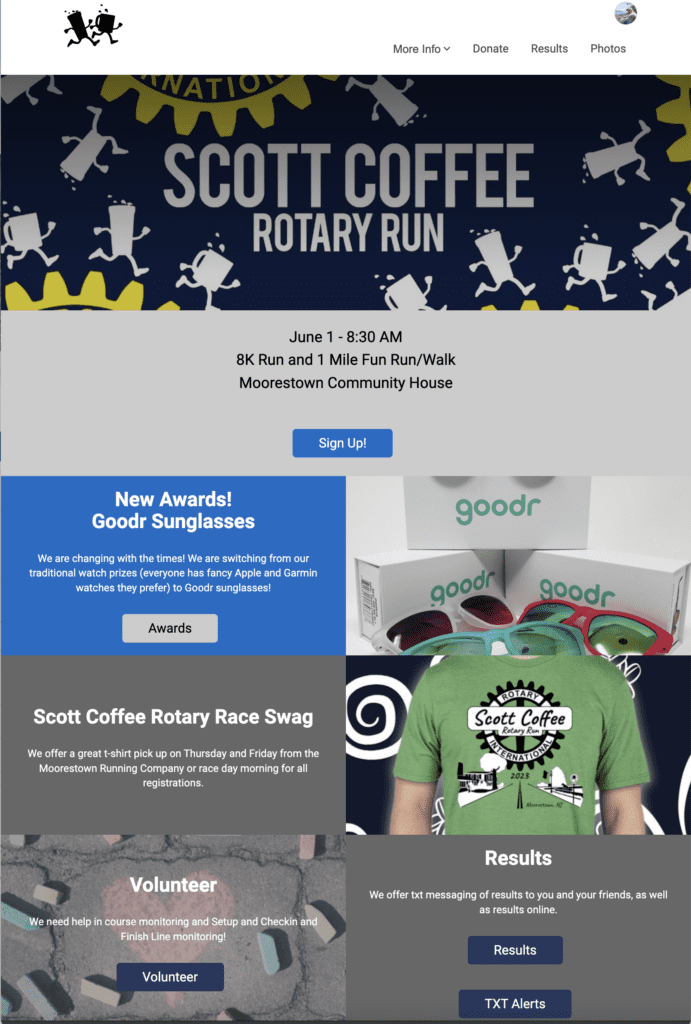 There are a number of major advances with the next gen website builder:
Simple Drag and Drop Content and Component builder with everything in one place.
Every page is a cover page – those features have been added directly into the builder so any page can be full width and have image or color backgrounds or be multiple columns.
Easy drag and drop for menu creation and page order.
Extensive theme options with ability to have custom banners, color schemes, logos, headers and footers.
Extensive page and content section options including restricted width or full width, padding, height, rounded corners, borders, background colors or images.
Image Gallery – This will be the same image gallery as what you can use today in the Email V2 system. All the images are shared between your email and website. And those images are available across all the websites and email of all of your RunSignup and TicketSignup events. We also start you off with a built in library of images that are categorized by type of event (like run, walk, triathon, cycling, etc.) that you can use for free.
New generation of components will be available. For example, the Sponsors component will be able to be put on any page with options to just show certain levels of sponsors as well as having multiple display options in terms of size and placement.
BYO Domain – just like our current websites, we host your domain for free, including the SSL Certificate. And we support subdomains, so you can host domains like https://nycrun.t2t.org/, where the "nycrun" is the subdomain for the event website and "t2t.org" is the overall organization website.
Website Builder Tool Overview
The Website Builder tool is in your race dashboard and has everything on one page – theme elements, menu, pages, content and components. Pages and menu items can be dragged and dropped dynamically. Content sections can also be dragged and dropped dynamically.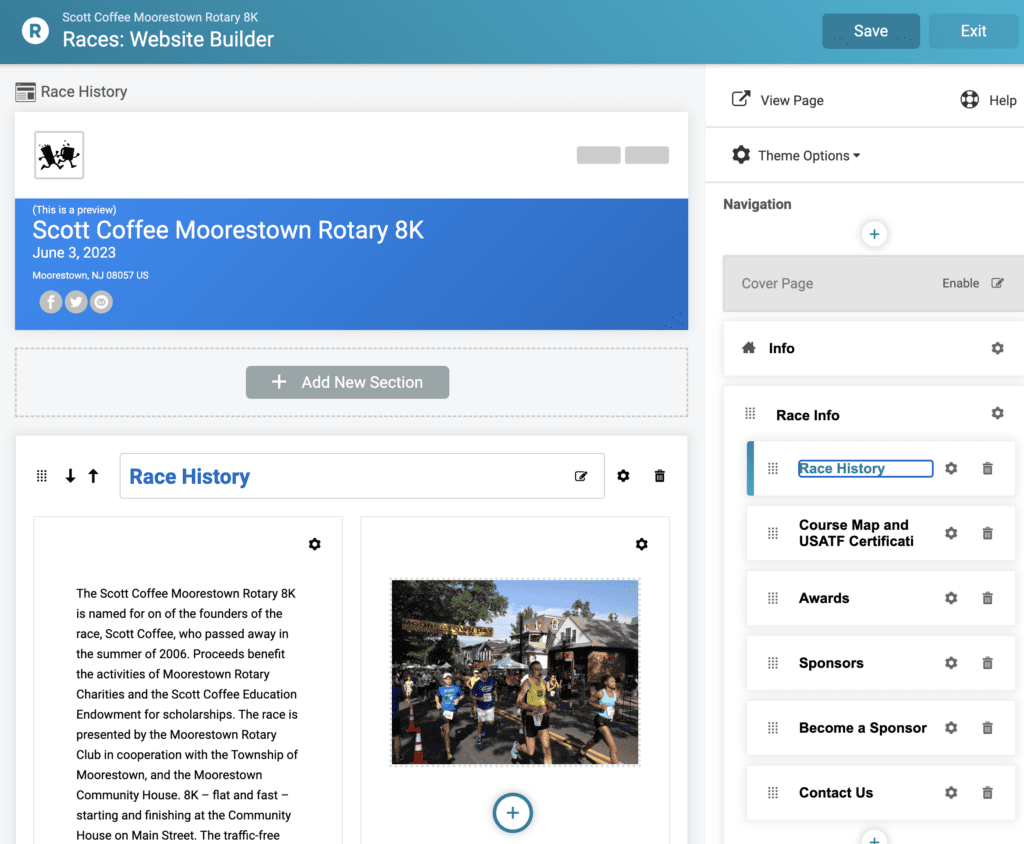 Bob did a quick video (excuse his ums and throat clearing) to do a very quick overview. Andrew did a longer, better video.
Phil Quinn, one of the developers on the project, also provided an update in late November, 2023. He talks about how we are taking our time to make sure the infrastructure is scalable by switching to objects from arrays. While this delays the software by a couple of months, it makes sure we have something that we can easily maintain for years to come.
Theme Options
We have a variety of theme options, with more coming (like customization of the header and menu system and eventually font and language).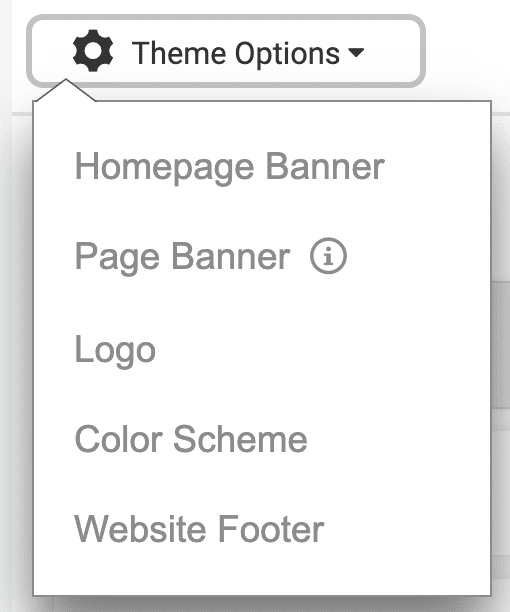 Page Options
Set information like the title and URL, publish date, hide in navigation (so you can link the page as a drill down from another major page), as well as setting a Meta Description.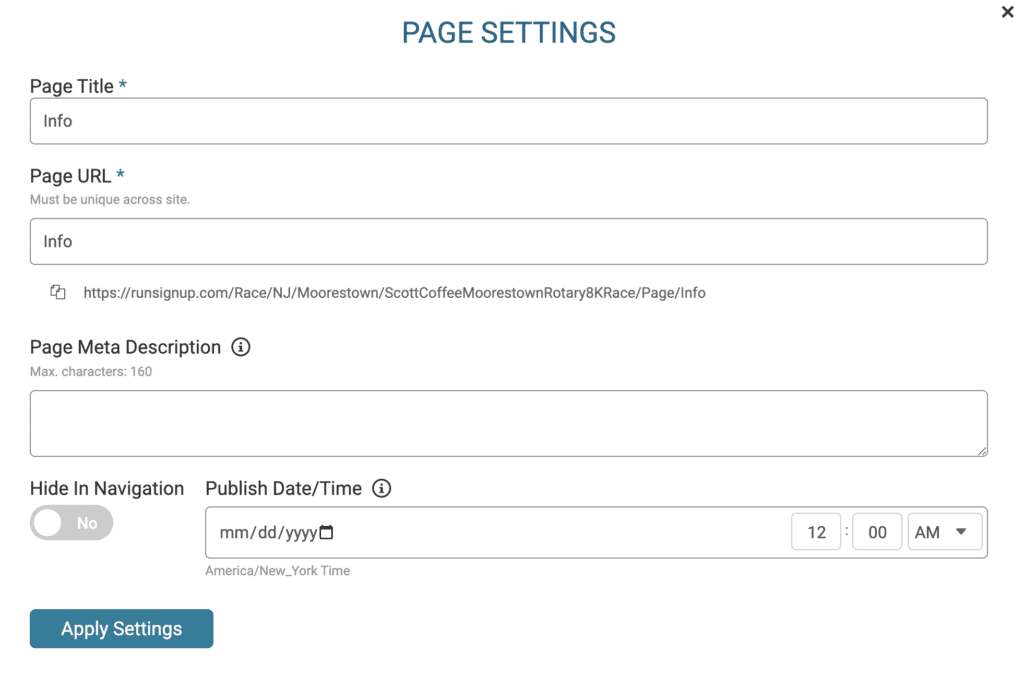 System Pages
System pages are the pages that the RunSignup system automatically generates – like the Results page or the Donation page or Photos page. We are still working on all those pages, but as of today, these are the ones that are available: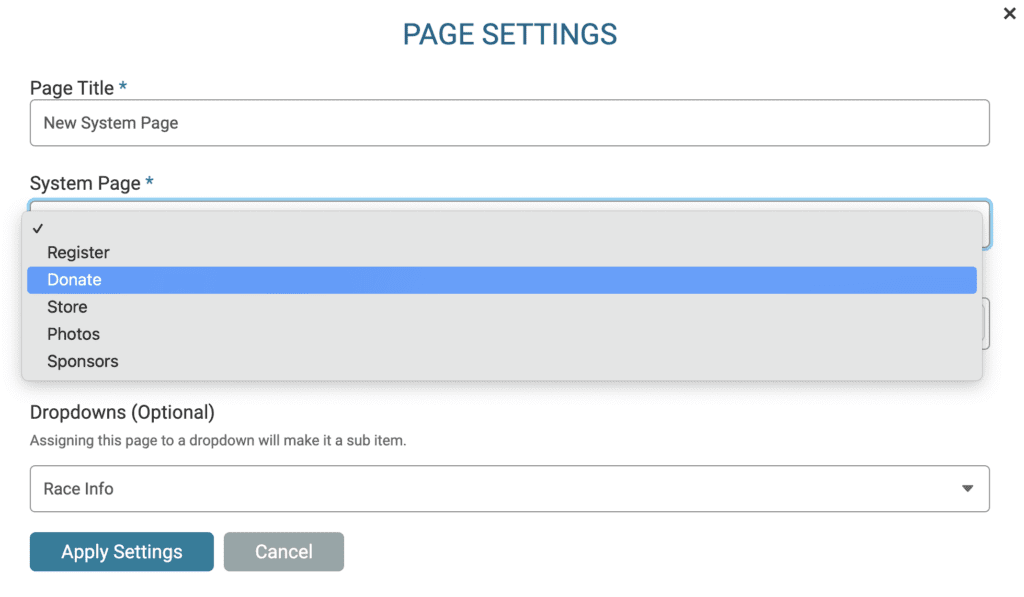 Section Settings
Section have two levels. The top level Container Section determines if it is 1 column or 2 column. It has parameters for publish date and hiding as well as an anchor tag number. The important parameter is whether the section is full width (meaning it will stretch across any width screen all the way to the edge of the browser window) or restricted width that sets at 1170 pixels so your page will have borders on the side.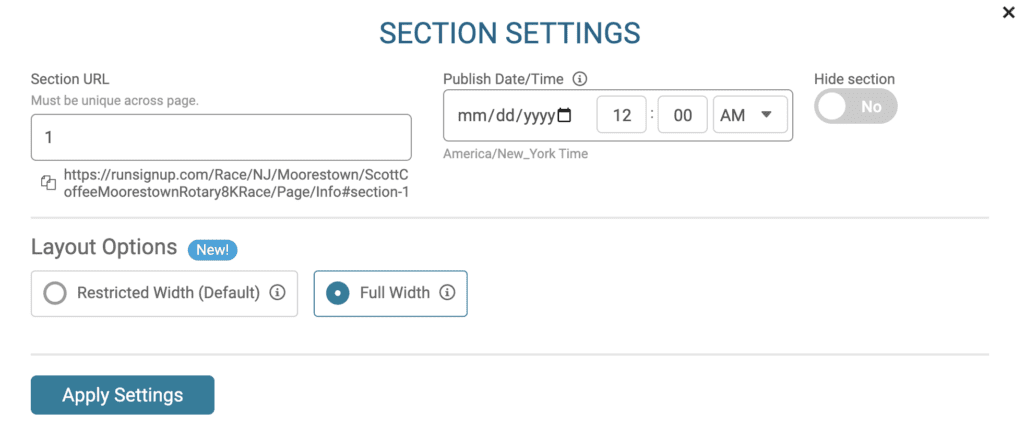 Content sections within a container section have more parameters and are dependent on the type of content. For example, a section with an image background has these options of whether there is a background color or have an image and if an image whether it has an overlay so text stands out better on it.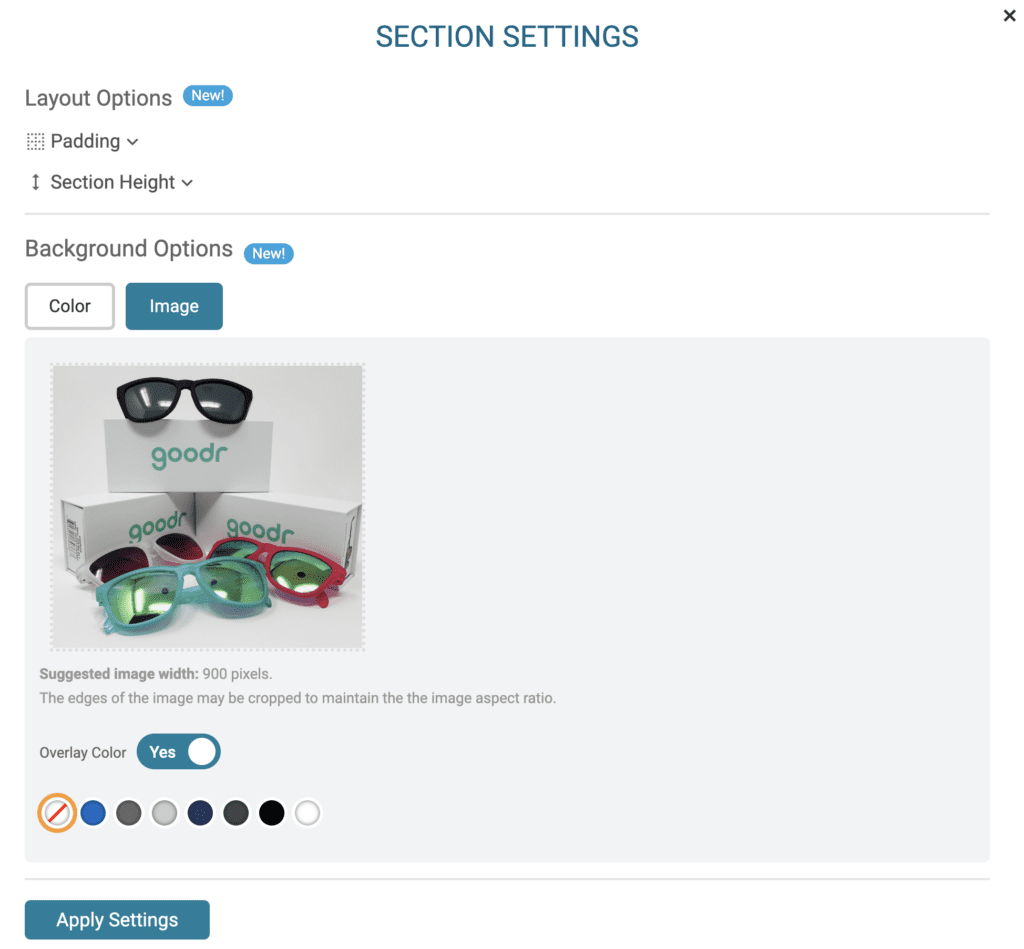 We also have added very nice finer levels of control that allow for padding (how much space is left around the content), section height, rounded corners (like the images that are in this blog) and the border width (again, like the thin border around each image in this blog).

Components
A section contains one or more components – like text or an image or a "Contact Us" form, or a Donation Goal Thermometer. We will eventually have dozens and dozens of components, but here is what is available today: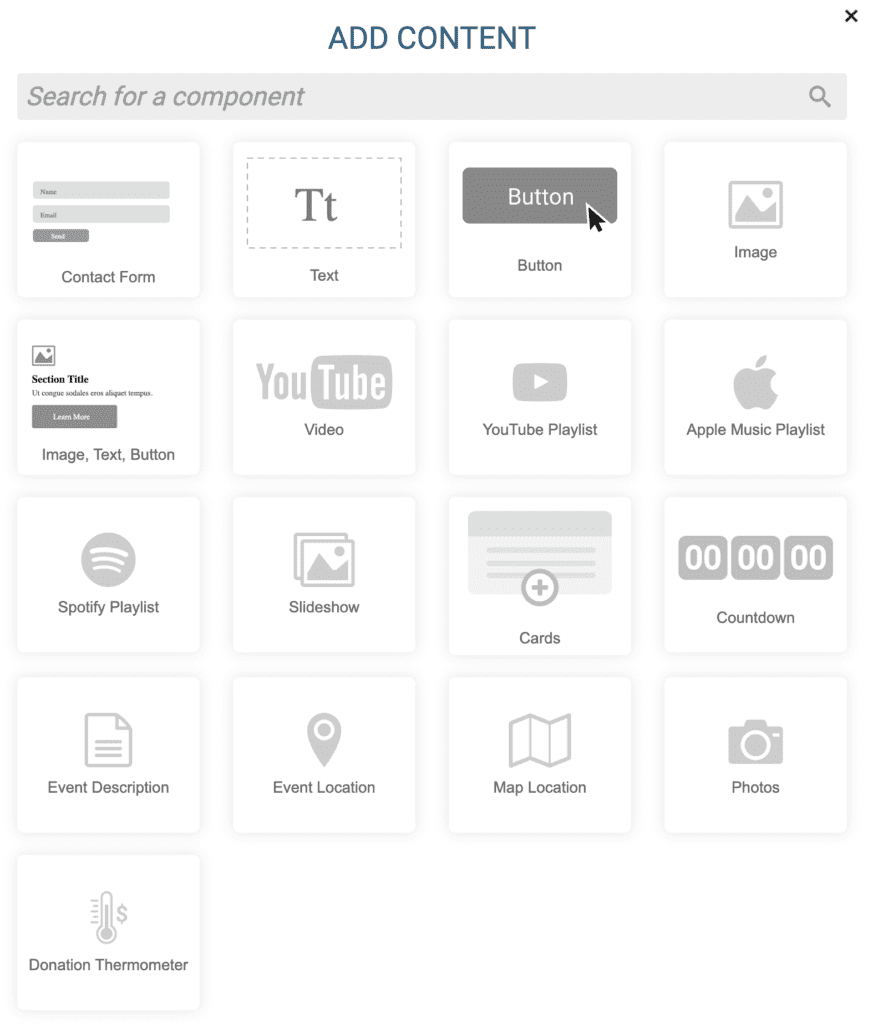 First Release Plans
We hope to have a first release of Race Websites V2 around the turn of the year, but likely January. It will contain almost all of the capabilities in the current Race Websites, and will obviously have a number of features that are far superior.
We plan on doing what we have done with Email V2, which is continue to iterate and bring new features out incrementally. We will not be migrating customers – races will have to do the switch themselves as there is far too much nuance in the tens of thousands of race websites our customers have created over the years. The Scott Coffee Run took Bob about 2-3 hours to create and it mimics most of what was on the old race website. It is fully functional and we will use it for the race this year. Participants can signup on it now and see all the information they are used to for this event.
Future Plans
Of course we have a ton of future plans. We will continue to roll out a steady stream of ease of use improvements and additional components. We know a lot of customers will be happy when we release a wider selection of fonts (today we only allow one).
We also are hopeful to have multi-language support by the end of 2024 as well. This will include the ability to create content in two languages and for your race website to recognize the preferred language of your website visitor. So it will automatically show Spanish or French or English to a visitor who has one of those settings. It will support any language for content, but the system created content will lag with an initial target of Spanish and French.
We will also be releasing more default system templates that will set all those parameter options above. That also means the default race websites that are generated today will get a whole new refreshed look with new races are created.
Summary
We know websites are the most critical part of any event. We want to give our customers to tools they need to make their events successful and are working hard to fulfill your needs.