Making a Great Impression with a Great Website
Websites and cover pages do a lot more than look nice − they are often your first chance to make a great impression. Without them, visitors who are thinking about signing up for your event or supporting your cause with a donation could be left with questions and end up passing you by.
As you get underway, start by making sure your intentions are clear. What message do you want to send out to the world? And what pictures, phrases, and calls to action will help you do just that? Are you trying to grow the number of participants or are you looking to smash a fundraising record? While your choice of features may be best determined by your event's specific goals, every event can benefit from a fabulous cover page.
When The First Responder Institute readied themselves for the 30th Anniversary National Tour of the Firefighter Challenge, they went to work creating impressive registration pages to spark enthusiasm and communicate the event's legacy and pride. Firefighter Challenges attract local, national, and international firefighters − rookies and veterans alike − who compete on a globally recognized challenge course. For those not in the fire service, the impressive competition allows a glimpse into the occupational demands facing firefighters everywhere!
The First Responder Institute, presenter of the world-renowned Firefighter Challenge, created cover pages for events scheduled across 17 US cities. Each registration page features a combination of compelling photographs along with essential content to both inspire and inform those choosing to take on the challenge as individual, teams, or for local charities.
RunSignup makes creating these website easy to do. In a matter of minutes, without the expense or expertise required of a web designer, your organization can create beautiful, free, and mobile-optimized websites for your race, event, or fundraising campaign in short order. The FireFighter Challenge took branding to the next level using our point-and-click cover page feature that enabled them to create multiple landing pages that maintained consistency of both mission and messaging. Knowing that very little would change from city to city, event organizers created a basic template that maintained uniformity.
Multi-Race Bundles to Encourage Signing Up for Multiple Challenges
To accommodate individuals and teams who desired to compete in more than one challenge, The First Responders Institute made use of Multi-Race Bundles, making it easy for people to sign up for multiple challenges in a single transaction.
Once a participant indicates that they want to register for a bundle, they are able to select as many of the Challenges as they want − and then register for all of them in a single transaction.
---
Using a Cover Page to Showcase Your Event
Showcase your Organization! An event's cover page is a high-visibility tool to promote your mission. The First Responder Institute's mission is to inspire First Responders to aim for the highest level of fitness, wellness, and safety. Their vision is to eradicate preventable injuries and deaths of First Responders by leveraging the synergy of discovery, knowledge, spirit, and collaboration among those who share their vision
Showcase your sponsors! The cover pages for Firefighter Challenge also incorporates a solution for acknowledging their national and local sponsors. They link each displayed logo to an external website using the Sponsor Platform. Additional buttons help direct website visitors to event rules, FAQs, and even local travel and tourism information.
Showcase Your Participants! Because more and more registrants are signing up for events from their phones, the Firefighter Challenge appreciated that the pages they created are automatically optimized for mobile devices. This has made it easy to sign up, find a participant, and search for results.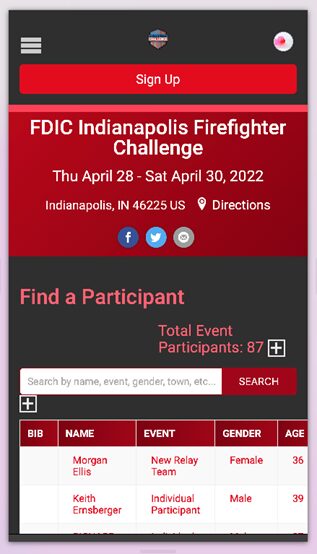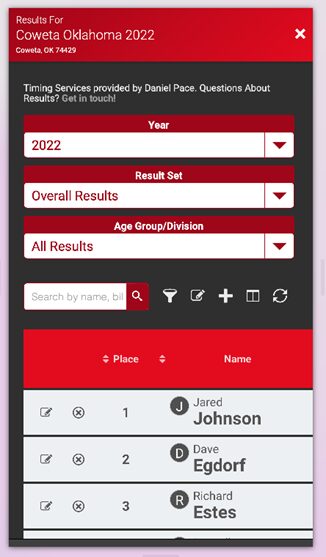 ---
The Finished Product
Because of their use of consistent cover page elements, each of the Firefighter Challenges ended up with a website that has consistent branding and information, but unique event details (like location) and a unique set of sponsors that includes their local sponsors as well as the national ones.