We have had another amazing year. Customer adoption of our technology is confirming our strategy and hard work to focus specifically on the Endurance marketplace. We love this market because customers are great, and in spite of the plethora of vendors, there is a real need for more advanced technology to process monetary transactions, promote races, improve donation and fundraising for charity events, reduce customer service overhead, improve the race day experience and, believe or not, there is still a huge need to make registration faster and easier even after all these years. As discussed in our Market Trends and Market Analysis, there is either a lack of focus on the endurance market or a lack of technology depth. And that has created the space we are filling.
The primary measures we use to determine if we are doing a good job is availability of our website (99.998% this year with only 8 minutes of planned downtime and 0 unplanned downtime) registrations. It means races that use us are renewing and growing, and they are recommending us to new races. We grew our non-imported registrations from 1.1 Million in 2014 to over 2.7 Million this year.
Registration is becoming more than "Just Registration". In addition to moving the money and providing a CSV of registrants to a timer, the registration database is becoming the hub of information. There are three primary areas of expansion of Registration systems:
Customer Service optimization like self-serve and automated bib and event exchange, refunds, information updates
Promotion and Race Marketing like real websites, integrated EMail Referral Tracking, and Advertising ROI analysis
Race Day Services like TXT results and GPS Tracking
In pursuit of helping races in more innovative ways, we have made significant progress across the following areas:
Process Monetary Transactions
Our biggest job is to get the money from your participants to your race as fast as possible. Our largest project this year was improving and hardening our financials system. As part of this, we became an official Payment Facilitator. We also continued to have very good availability with only 8 minutes of planned outages for the year results in 99.998% uptime.
What this means to you:
Our systems are more secure than ever, and our financial stability has been validated by the credit card networks. This means you can have confidence that your money will get to you and not be used to finance our operations and risk delay.
Direct Payment from the Credit Card Network. This means you will get your money as fast as possible in daily payments.
Reduce Customer Service
We made major improvements in our self-serve capabilities for runners. In addition, our new Race Websites and Runner User Interface have had the benefit of additional ease of use and lower customer service rates.
What this means to you:
Happier Runners with higher registration completion rates.
Lower customer service overhead. Large, established races coming over to RunSignUp from other registration platforms report a reduction of 50-80% in their customer service load.
Promote Races
We made some huge strides this year to help races promote themselves. The two highlights were Free Websites and the new EMail Marketing System. The other big happening was Facebook including the RunSignUp App as a simple "SignUp" button your race can turn on.
If you have not seen it yet, take a moment to watch the Free Website video – you may get some ideas on how you can make your race stand out!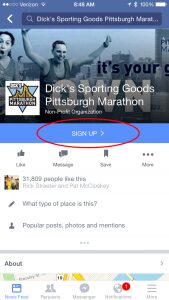 What this means to you:
The face of your race is your website – and now you have a simple way to brand your race professionally. And Free.
Our tightly integrated, Free Email Marketing allows you to communicate effectively with your runners and enhance your promotional capabilities. For example, automatically send emails to last year's runners 2 days before a price increase – and since this is tightly integrated with our database, people who have not registered receive one email and those who have registered get a different email encouraging them to share with their friends.
We also give you the tools to start doing web ads on Facebook and other ad networks and measure the ROI to determine what works. We are encouraging all races to at least experiment with ads to drive registrations.
Race Day
Race Day is really what you are offering to your runners. And you need to make it a great experience. We made two strategic acquisitions this year to help us do just that:
The Race Director is one of the two leading scoring packages used by timers, along with RunScore. In 2015 over 10 Million finishers got their results from a timer using The Race Director. With this product now being a part of RunSignUp, we are doing some wonderful enhancements that bring results to runners sooner and in more ways. In 2016 we will be introducing a next generation of RD, called RD Go.
RaceJoy has innovated a whole new experience for GPS Tracking that allows spectators to see their runner's "blue dot" moving on the course and get progress alerts at each mile. Social features even allow for spectators to send Cheers to runners.
In addition, we made a number of enhancements including a Free Check-In App, Scrolling Results, and upcoming Results App and next generation Registration App that will both work in a semi-connected race environment.
What this means to you:
If you are a Timer, this means you have a platform that delivers a great set of features like TXT and EMail notifications, Mobile results, Finisher Certificates, and Check-In Apps that reduce wasted bibs tags, and a single database that integrates tightly with your preferred scoring software.
If you are a Race Director, you can work with your Timer to deliver an awesome experience to your runners.
RaceJoy can bring a whole new dimension of social sharing to your race.
Fast Registration
With the new Race Website and registration process, we are about half way through our goal of getting close to a "One Click" registration experience. We have taken a number of steps already:
New, simplified Donation & Fundraising system tightly integrated with registration for a single database supporting many charities and custom configurations – yet speeding check-out.
Mobile-First design with larger buttons, faster input with features like entering the Zipcode (with a number pad) and auto-filling the City and State and a totally responsive design that is easy to read and complete.
Saved Profile Info like Giveaways and Emergency Contact that auto-fills when registering.
Saved Credit Cards were introduced in early November. 14% of runners are saving their credit cards, and in the first 15 days of December 5.1% of registrants used a saved credit card.
We have another set of releases planned around the turn of the year that will complete this vision and allow a race director to "turn off" certain fields, questions, fundraising, etc. if the runner is coming from a mobile phone. If that runner has used RunSignUp before and has saved elements like Shirt Size, emergency contact and credit card, they will potentially be able to sign up with just a click and entering the CVV number for their credit card.
What this means to you:
Your race is easier to sign up for, improving participant's impression of your race.
Fewer Incomplete Registrations.
Appealing to Mobile Registrants (which can mean a new and younger demographic).
Summary
We are building for the long term. 2015 was a great step on that long term path toward building a company that truly views our customers as partners fulfilling our desire to create technology that helps our little industry.
We had a blast in 2015 as we moved into the real innovation phase of our company, now that we have caught up and passed the various systems available to the endurance market. Things like RaceJoy, Free Websites, a single database driving registration, donations, results, email and promotion are new to the endurance market. And to be honest it makes us proud and excited about the things we plan to bring you in 2016.
Thank you to each and every customer (and be sure to tell your friends they should become customers in 2016!).