Last week, we hosted a webinar on how RunSignup customers can use TicketSignup to increase revenue and boost their business.
At Roadshows and in conversations with customers, we frequently find that customers are already working with or adjacent to ticketed events and did not make the connection that TicketSignup can help them. A few key reasons that TicketSignup can be an ideal fit for RunSignup customers:
Common RunSignup and TicketSignup platform elements with a familiar UI
Use the same login & payment account across registration and ticket events (can also support multiple payment accounts)
Less expensive and more robust ticketing solution compared to Eventbrite
Partners with more than 5,000 registrations or ticket sales can combine sales for revenue sharing opportunities
Take a look at a few examples of how RunSignup customers are finding success with TicktSignup.
TicketSignup for a Gala
The Richmond SPCA hosts an annual Dog Jog 5K and Block Party on RunSignup. In 2023, they had 1,000+ participants raised $185,000+ for through donations to the event.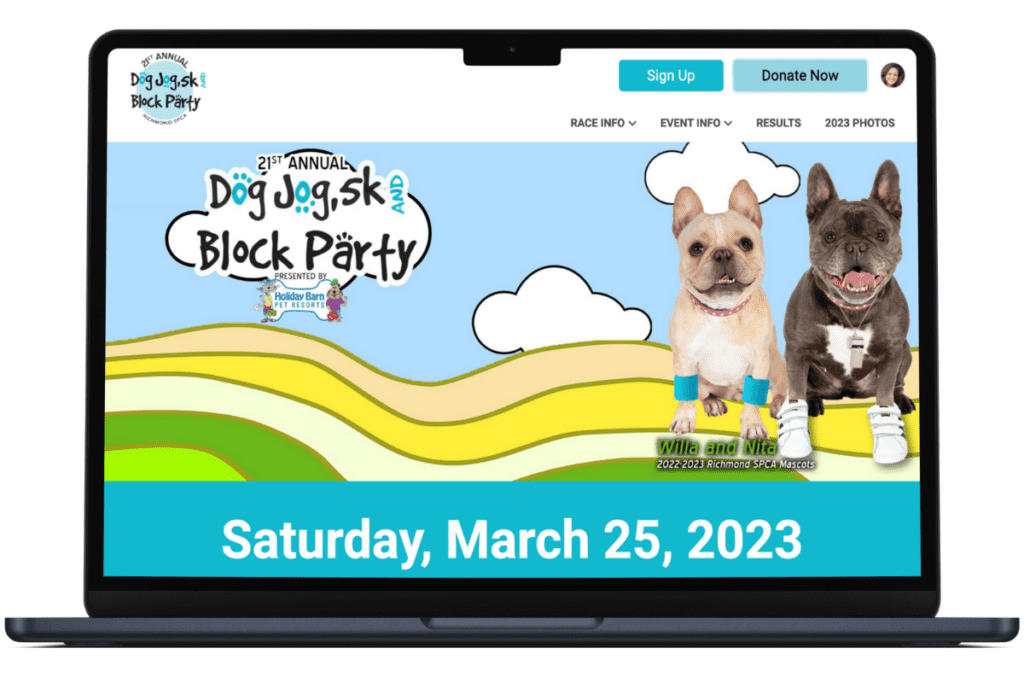 In 2023, the Richmond SPCA is also using TicketSignup to host their Fur Ball, a black-tie gala event for people and their pets.
The Fur Ball has one of our favorite website designs, including custom brand colors and designs, key event information, and additional website pages for more event logistics and details.
Donation options are seamlessly included within the purchase path. They personalize donation levels with details about what each donation level covers in terms of animal care.
The flexible ticket system allows them to offer tickets for everything from individual people and pets to corporate table purchases.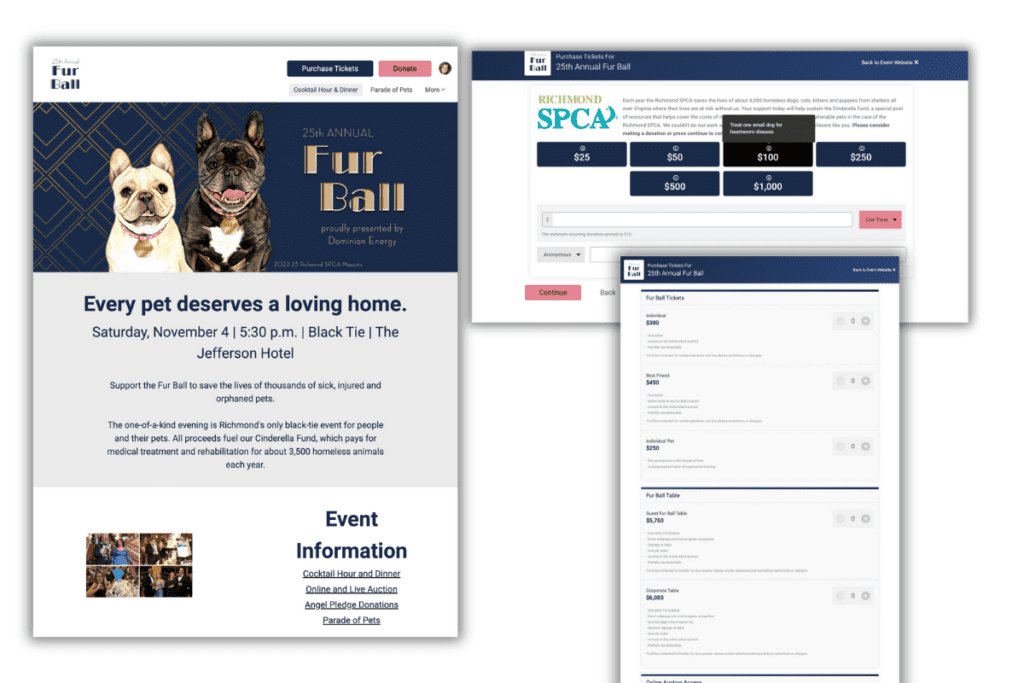 TicketSignup for a Conference
WXPN uses RunSignup for the 5k Run for Musicians On Call, an annual virtual run. In addition to the virtual run, they collect donations and engage fundraisers.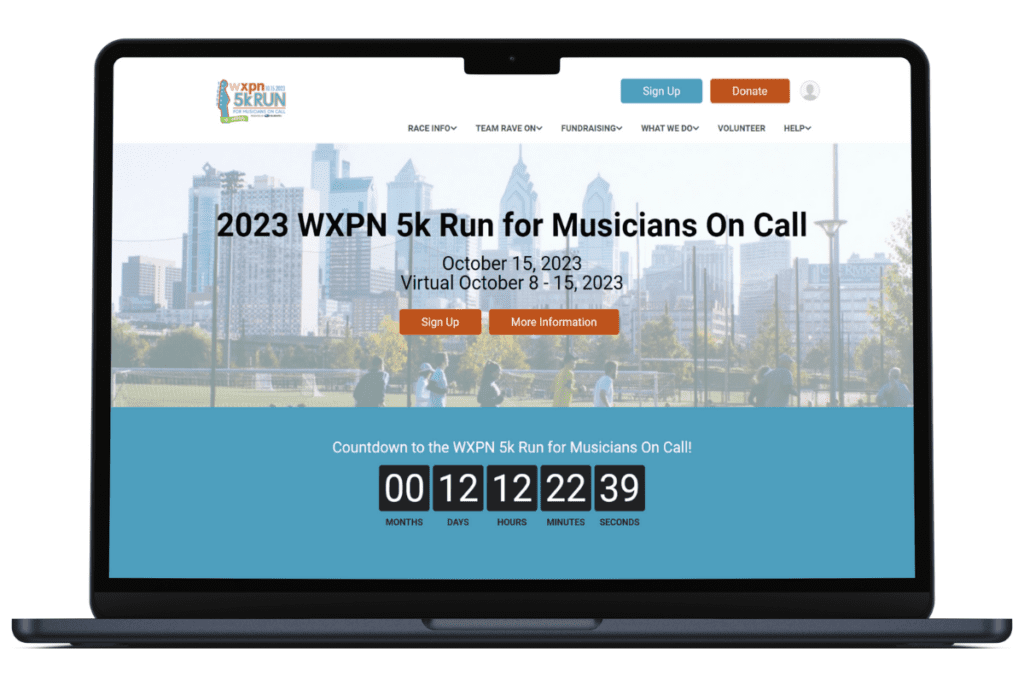 WXPN has used TicketSignup for the previous two NON-COMMventions. The NON-COMMvention is an annual gathering of public radio programmers and managers, music industry representatives, and music media from across North America.
The NON-COMMvention offers multiple ticket options depending on if the attendee is a radio station employee, a music/media industry representative, or a WXPN listener.
Custom Questions ensure that WXPN has all the details they need about conference attendees. This includes their name, organization, and state as it should be listed on their conference badge.
WXPN utilized TicketSignup's free and integrated email to communicate key details with the attendees, including check-in processes, livestream links, and schedule changes.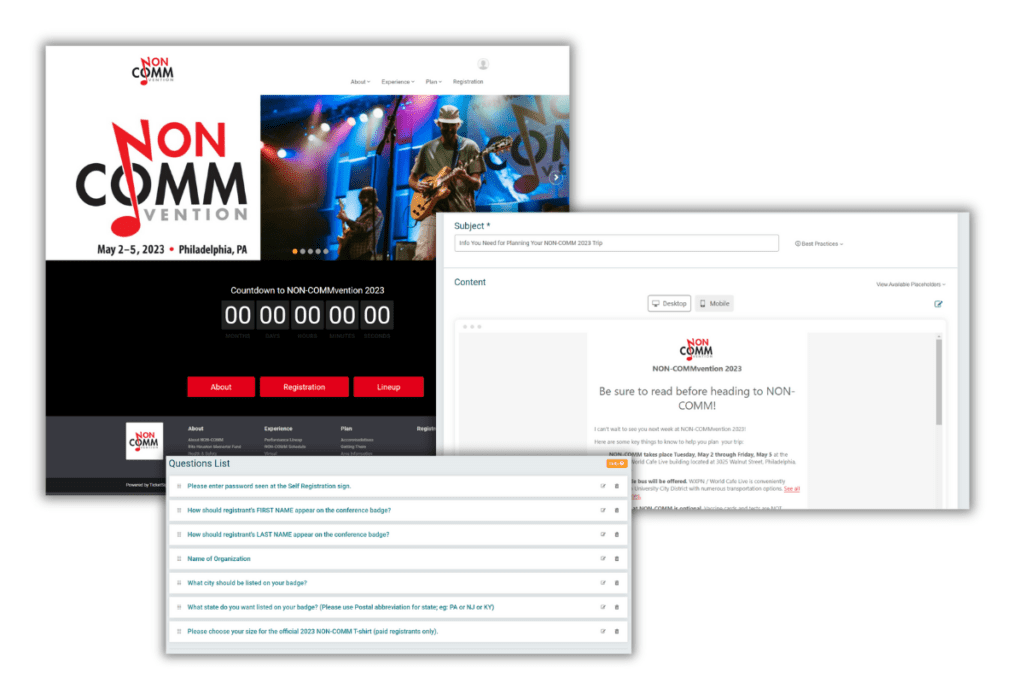 TicketSignup for Event Admissions
The Loppet Foundation uses RunSignup for a variety of events, including the Loopet Loppet, a 6 or 13 hour run/walk challenge, and camps for the Junior Program of Loppet Nordic Racing.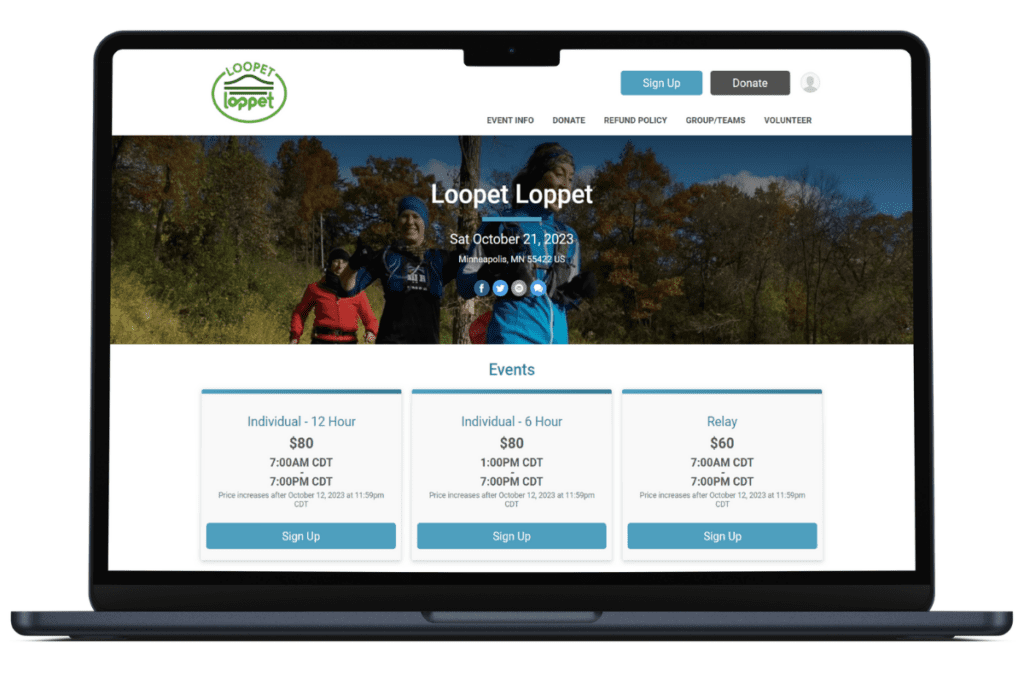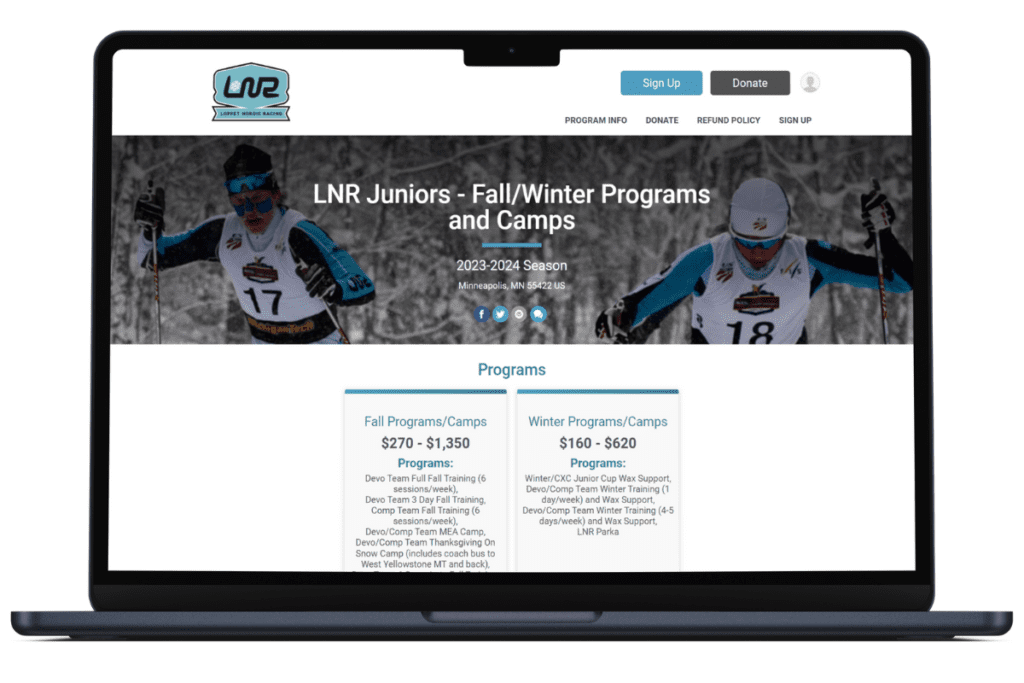 The Loppet Foundation used TicketSignup to sell spectator tickets to the COOP FIS Cross-Country World Cup Minneapolis.
Ticket options were available for General Admission, Grandstand, and the VIP Spectator Experience, with a variety of day options for each ticket type.
The Loppet Foundation included a Merchandise Store to upsell ticket buyers (and fans who couldn't make the event live) with fun options for winter hats and the option to purchase a carbon offset.
Donations integrated into the purchase path provided the opportunity for ticket purchasers to support the work of the Loppet Foundation.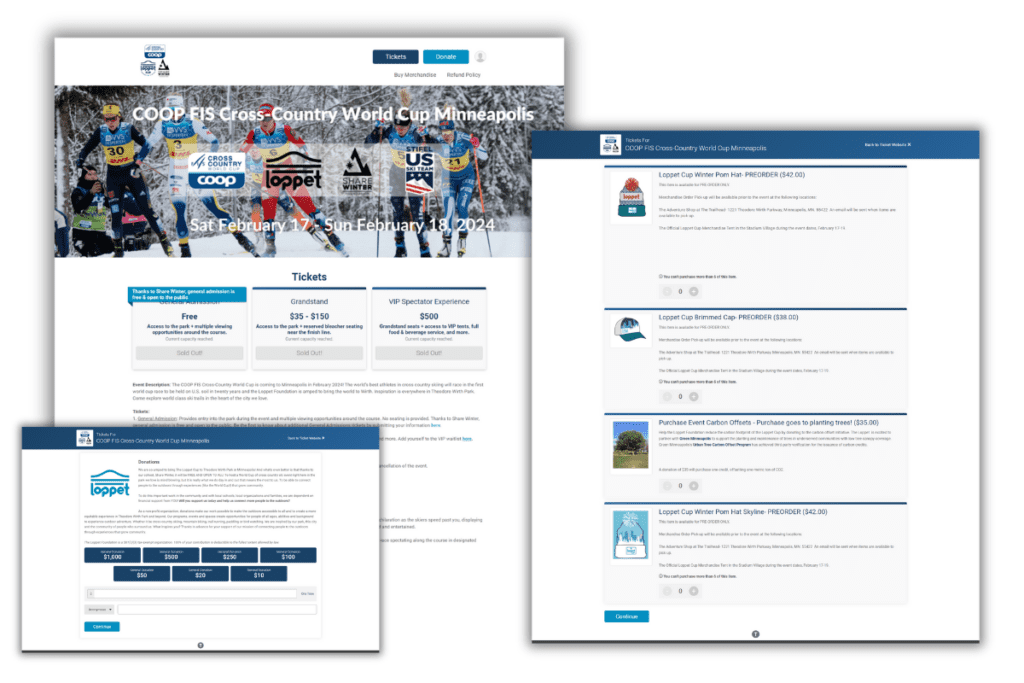 This isn't the first such customer we have seen use TicketSignup for their admissions and spectator tickets. Other recent events selling spectator tickets include the Adidas Indoor Track Nationals, HOKA Festival of Miles, the LIDS MIAA Lacrosse Championships, and more.
TicketSignup for Halloween Attractions
The Friends of Oscar Scherer Park hosts the annual Scrub Jay Races, a hybrid 5K and 10K race showcasing the park.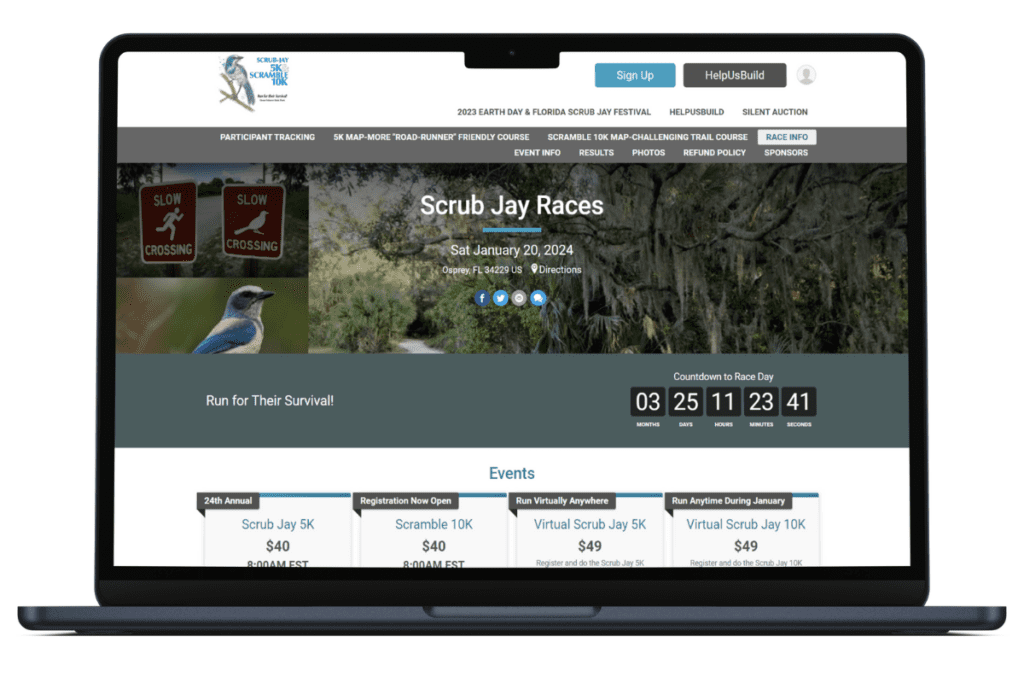 In October, the park is transformed into Halloween Haunted Trails, creating a spooky attraction from the usually beautiful park environs.
The low-cost 2-night event offers family-friendly options for younger ticket purchasers, with discounted options for youth and child tickets.
Donations are collected within the purchase path, providing much-needed support to several charities. In addition to the Friends of Oscar Scherer Park they fundraiser for The Osprey Nokomis Chamber of Commerce and the Nokomis Volunteer Fire Department.
The Haunted Trails' free event website cultivates a sense of urgency and excitement with a countdown clock component and a video promo.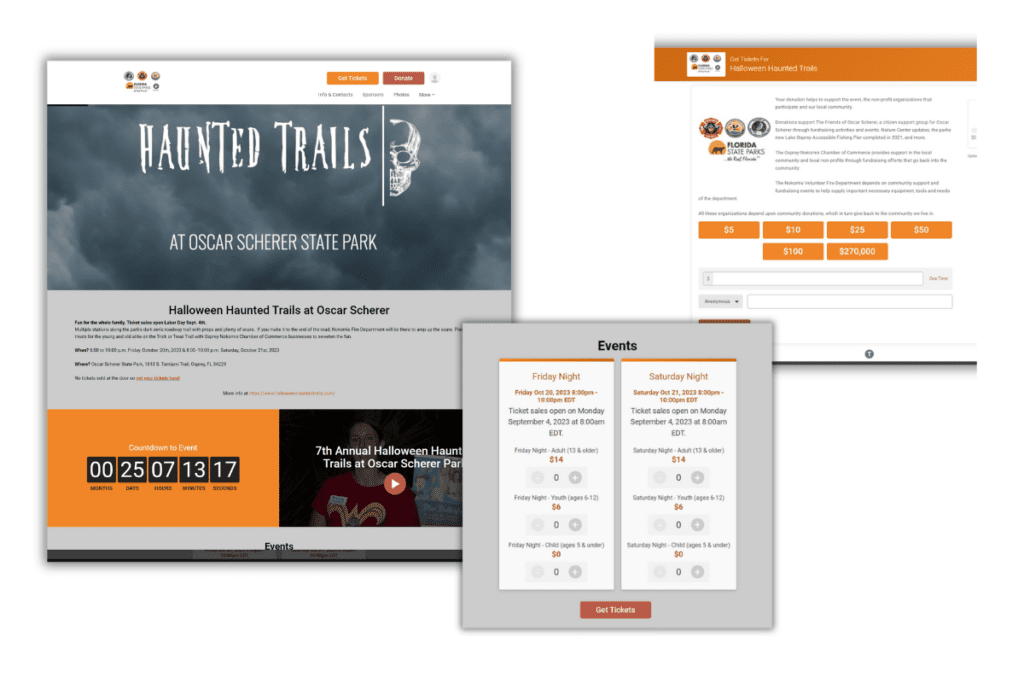 TicketSignup for Christmas Light Shows
The Christmas Island Jingle Bell Run uses RunSignup to collect registrations for a 5K through their unique attraction, Christmas Island.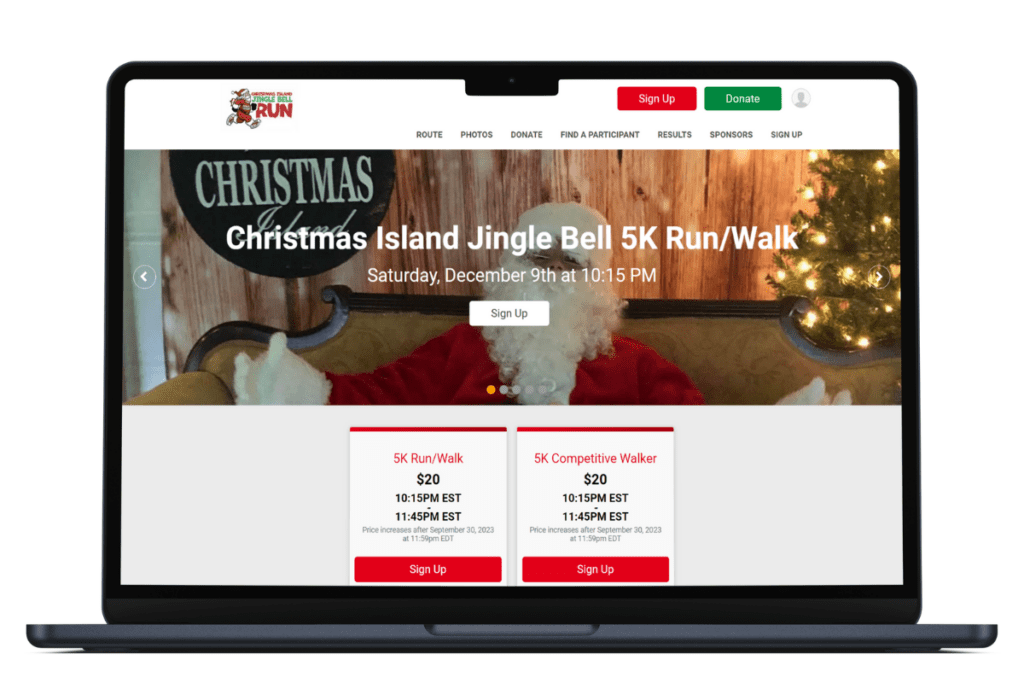 In 2022, Christmas Island began using TicketSignup to sell tickets to the main attraction: the drive-through light show of Christmas Island.
Ticket Options allowed for the purchase of tickets based on the number of passengers in the car, and whether the ticket was for a prime day.
If a ticket purchaser changed their vehicle, it was easy for them to upgrade their ticket via self-serve ticket management.
The free event website for Christmas Island was customized with jolly Christmas colors and a slideshow featuring highlights of the attraction.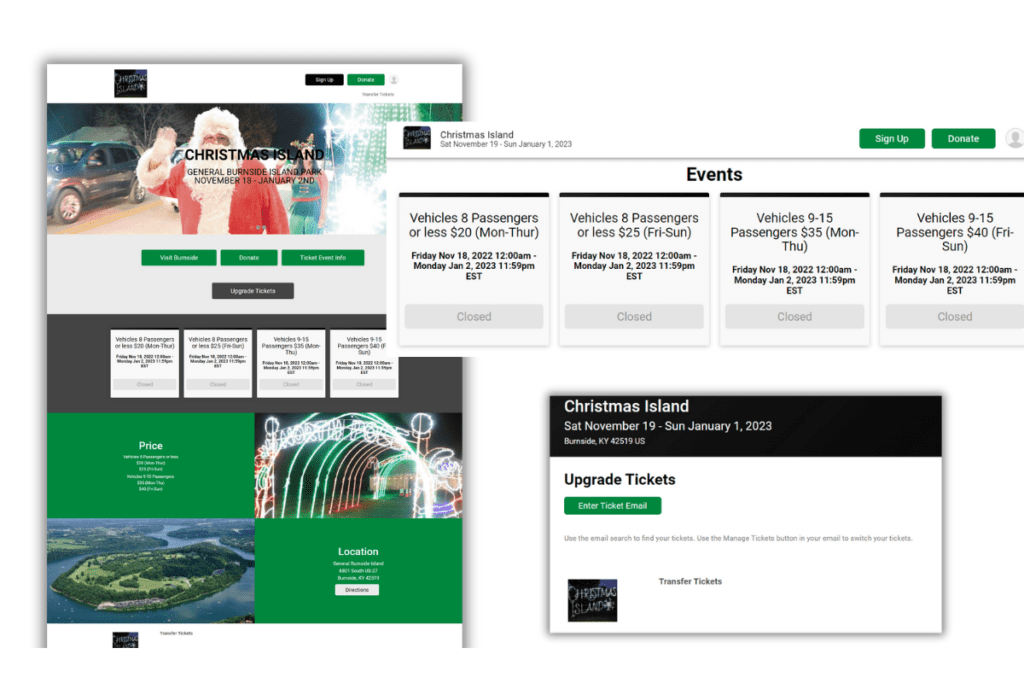 More About TicketSignup for RunSignup Customers
Want to see TicketSignup in action? You can view the full on-demand webinar below, or look through the webinar slides here.