We've made it even easier to renew your past events with a new and simple three step wizard. There are more improvements on the way, but this is a big release. RunSignup's Renewal Wizard saves events time setting up next year's event and helps them make more money with recommended settings to generate more revenue.
Renewing your event is faster than setting up a new event each year and has many additional benefits, including but not limited to:
Keep the same URL and website
Year over Year data, analytics, and reporting to see trends and compare years
Automatically display past results
All Past Participants in one place – easy for Email Marketing
Option to keep last year's settings like questions
Step 1: Confirm Dates
The first step of the Renewal Wizard asks you to confirm dates per event.
Rather than adding 365 days, we will default to 363 days so that a Saturday event in 2023 will also be on Saturday in 2024 (leap year) and 364 for non leap years. We will exclude key holidays like July 4th and Thanksgiving so that Firecracker Runs and Turkey Trots default to the holiday.
You can also enable non-binary and prefer not to say gender options when renewing your event.
More Updates on the Way!
In the future, we will be making additional updates to improve the autofilled renewal date.
We are also adding renewal for all of the virtual event setup in the near future.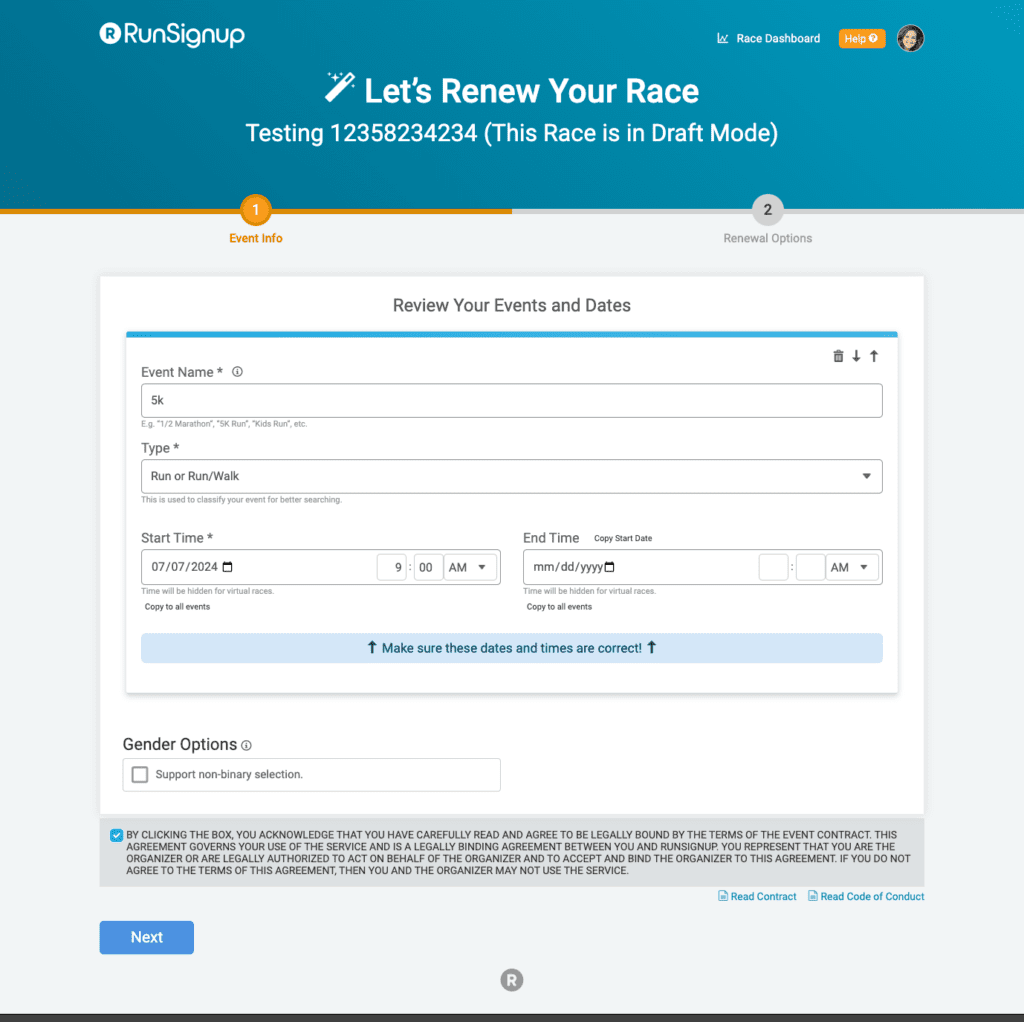 Step 2: Confirm Settings
By default, we recommend that you allow RunSignup to automatically copy the settings that make sense for your renewal.
Inventory Reset Update
One big update here is that we automatically set giveaway and add-on inventories to 0. This means you will not run out of t-shirts when people sign up this year because last year's medium shirt inventory was set to 300 and 300 people selected medium last year. While you should set giveaway and add-on inventories for your upcoming year as needed, this was a frequently requested update to prevent registration errors.
Advanced Settings
There is also an option to customize the renewal settings. We recommend that only advanced users modify these settings.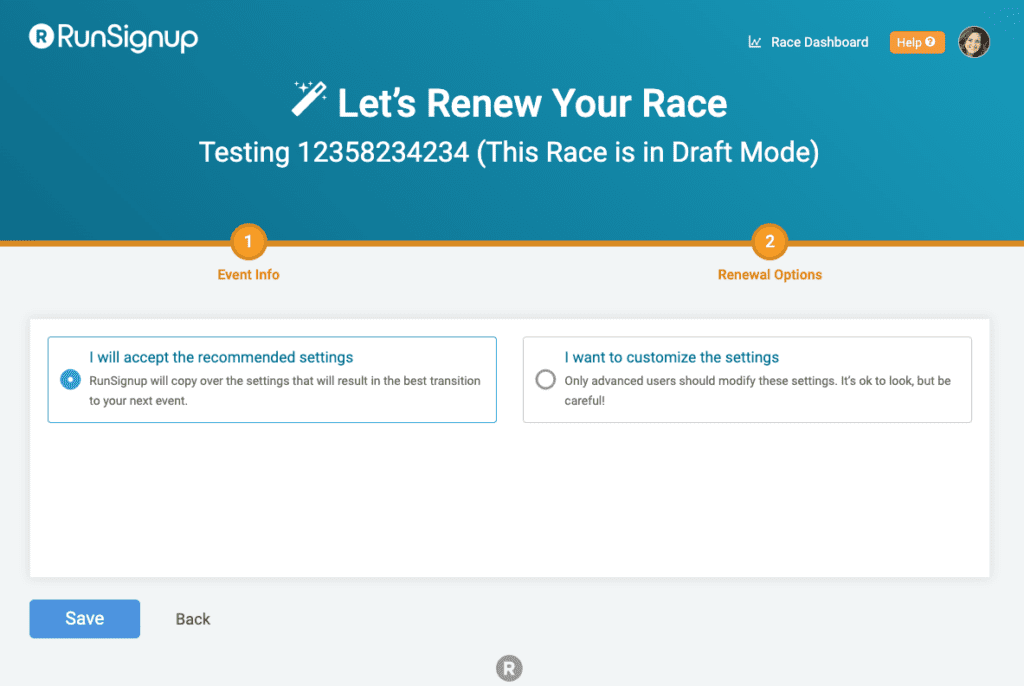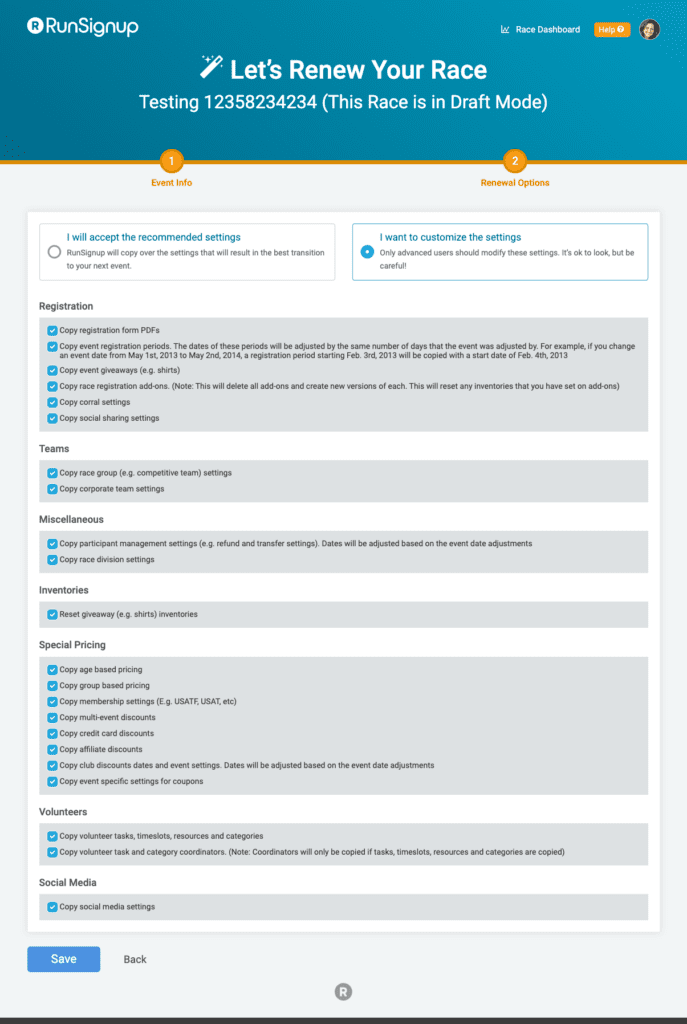 Step 3: Enable Recommended Settings
The final step of the Renewal Wizard has recommended settings that help your event make more money. These settings are opt-in, meaning they will not be auto-enabled if your event did not use the last year. We strongly encourage events to enable these features:
Event Insurance: Give participants the option to purchase affordable insurance. It's a win-win. Participants get a sense of security, with 5% – 39% opting in when insurance is offered, depending on the event type and price. Races get revenue share per participant that opts in.
Referral Rewards: Perhaps the most successful and lowest cost marketing tool for events! Referral rewards incentivize participants to get their friends and family to sign up for your event.
Incomplete Email: Automate abandoned cart emails that remind people to finish signing up! This is enabled in Email V2.
Price Increase Emails: Automate emails to send to past participants who haven't signed up yet this year about upcoming price increases. This is enabled in Email V2.
Click Save and Finish once you've made your opt-ins. Use the easy links to access your Website or Dashboard.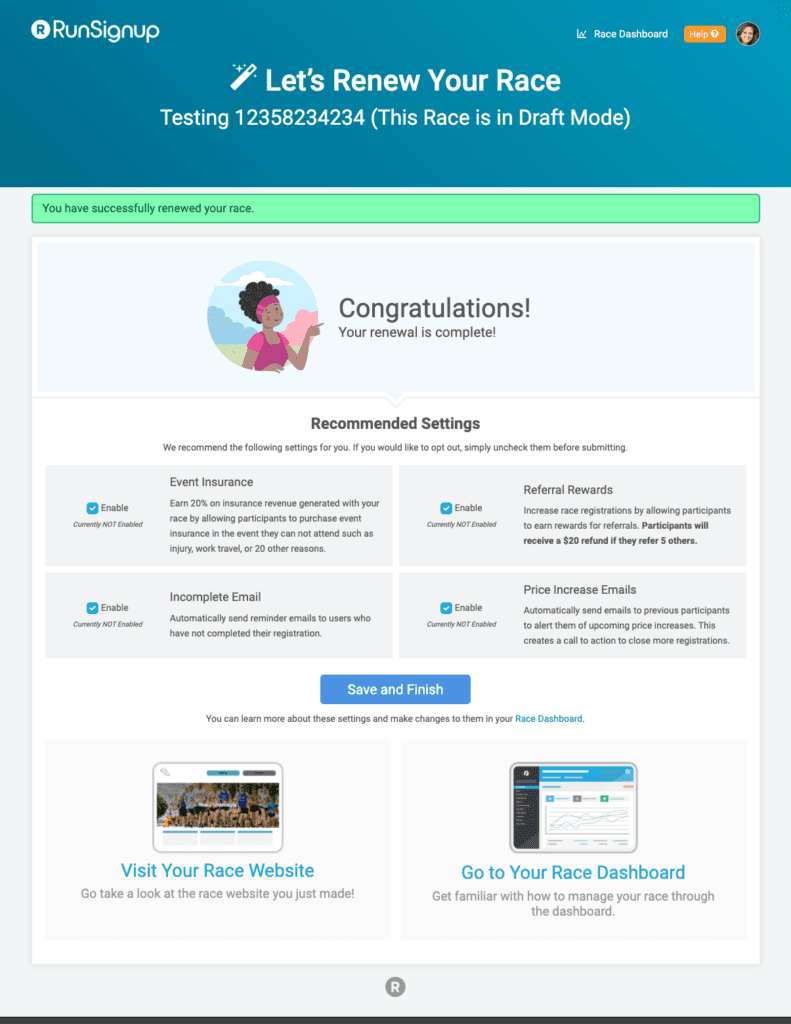 We are excited to continue to make updates that help customers save time and make more money.