Maximize registrations by leaving online registration open until the gun goes off. RunSignup's on site registration is perfect for a pre-race expo, packet pickup, or anywhere people need to sign up in person or on race day.
Provide efficient paperless race day registration with streamlined registration process while automatically syncing new registration data with the RaceDay CheckIn app and timer scoring software like RaceDay Scoring.

Key Features of RunSignup's On Site Registration
QR Codes for Efficient Registration
Share internal link or QR code to race staff to access on site registration from multiple devices.
Find pre-made QR codes on your race dashboard at Promotions>> Links
Fast Registration Mode
Enable fast registration mode so registrants can get through the purchase pathway as fast as possible. More participants can get registered in less time and eliminate congestion within waiting lines.
System auto-logs out each registrant after they pay with card or cash.
Enable fast registration by date range to cover the full race weekend ahead of time.
Create a special link that takes registrants through the fast registration set up, share the fast registration URL with a QR code on race day.

Apple Pay
A smooth and streamlined process for On Site Registration has always been key for creating a positive race day experience; today, more than ever, participants are looking to get registered fast and move on.
All RunSignup events automatically enable Apple Pay as a payment option for registrants
94.1% of mobile users visiting RunSignup sites were on Apple devices such as iPads and iPhones.
When participants choose Apple Pay they can fly through the purchase pathway in under 30 seconds.
Getting Started with RaceDay, On Site Registration
It is super easy to enable On Site Registration from your race wizard on RunSignup. Below are some helpful tools. If you have questions, feel free to reach out to your account manager or send an email to info@runsignup.com.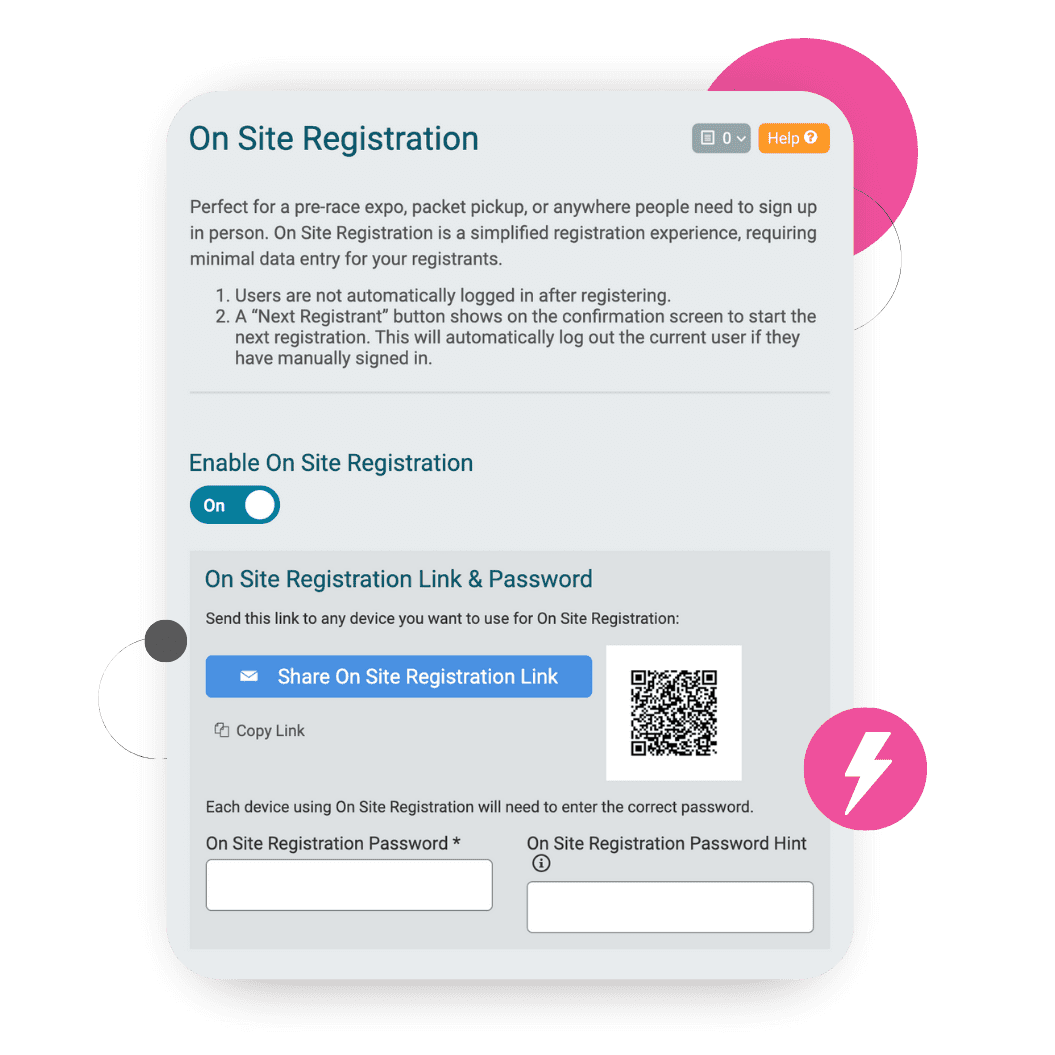 Click to View How-To Set Up RaceDay Registrations
---