Feature Updates
Added Dual Meet Report Type.
You can now add a Report Section that automatically generates Dual Meet scoring, where each team is scored head-to-head against each other.
For every set of teams, we will create a separate section with a heading that reads "Team A vs. Team B". In each section, we will present a Team Detail section that features all the members of that team, along with their relevant details such as their score, time, and name.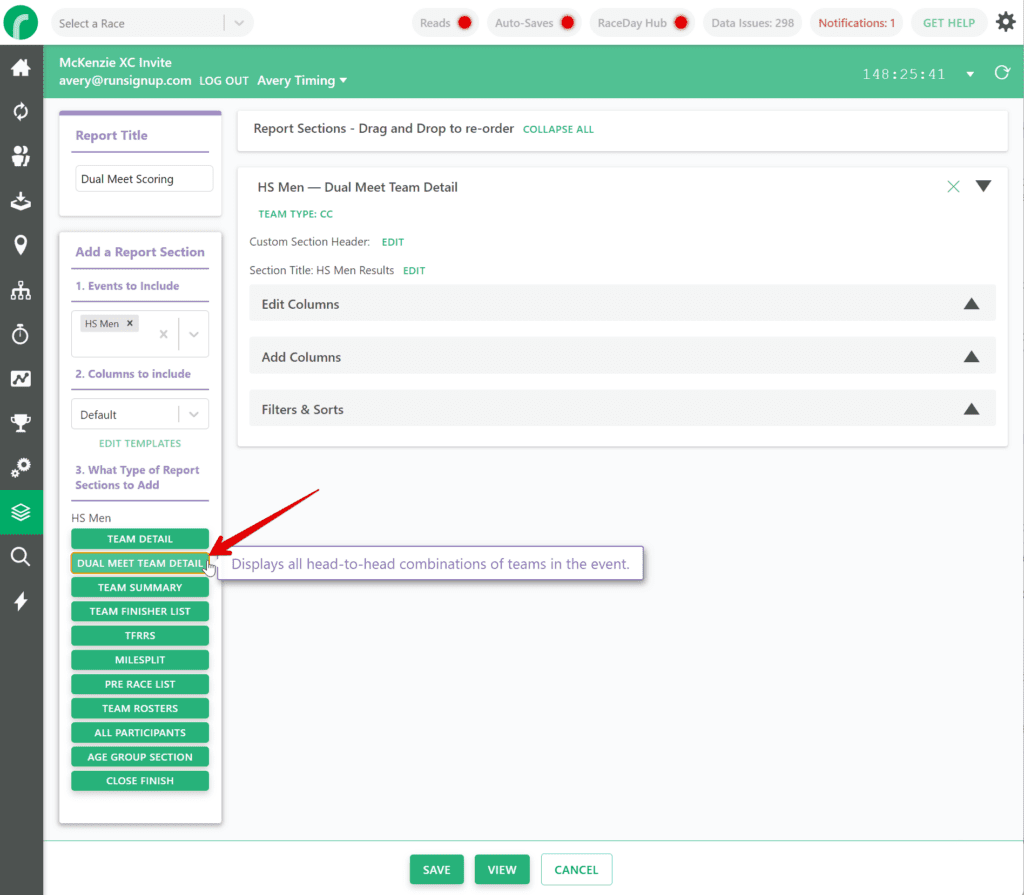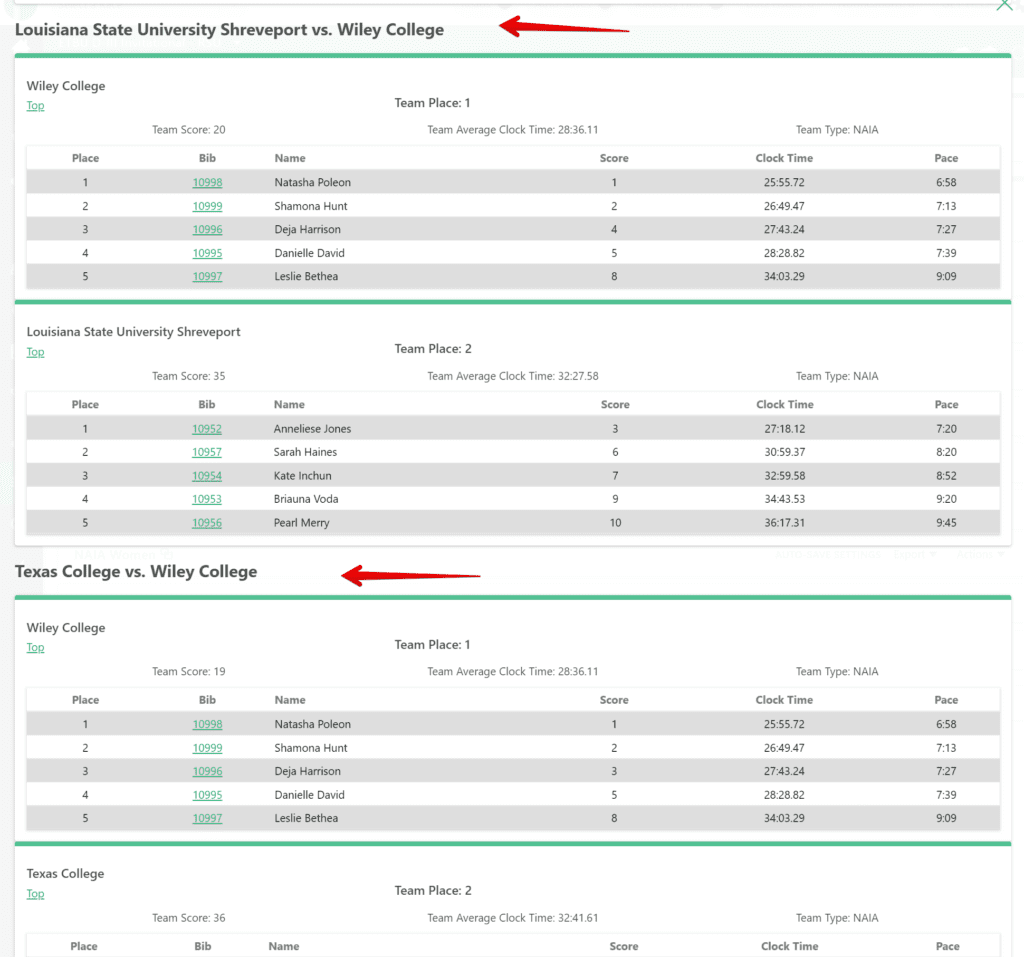 Added the ability to Swap Positions in Raw Reads.
You can now select two Raw Reads and click the button to Swap Position. This will swap the read times between the two participants/teams that you have selected.
This is a very helpful feature if you need to quickly swap the positions of two runners after you have verified their finish order, and it does not agree with your chip read positions. By swapping the times, it effectively swaps their positions.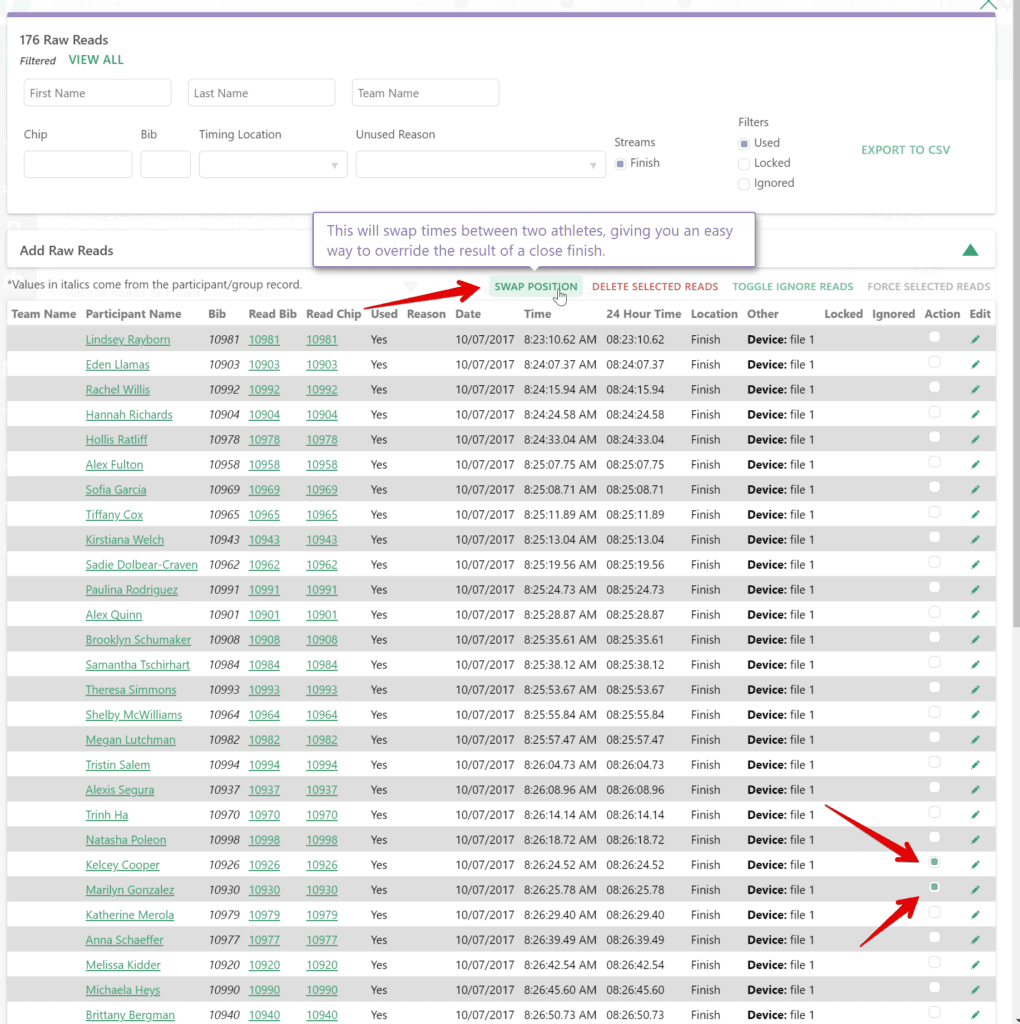 Added Checkboxes to the Raw Reads view to only show "Ignored" and "Locked" Reads.
You can now check the "Locked" or "Ignored" checkboxes in the Raw Reads view if you'd like to filter the Raw Reads list to only show "Locked" or "Ignored" reads, respectively.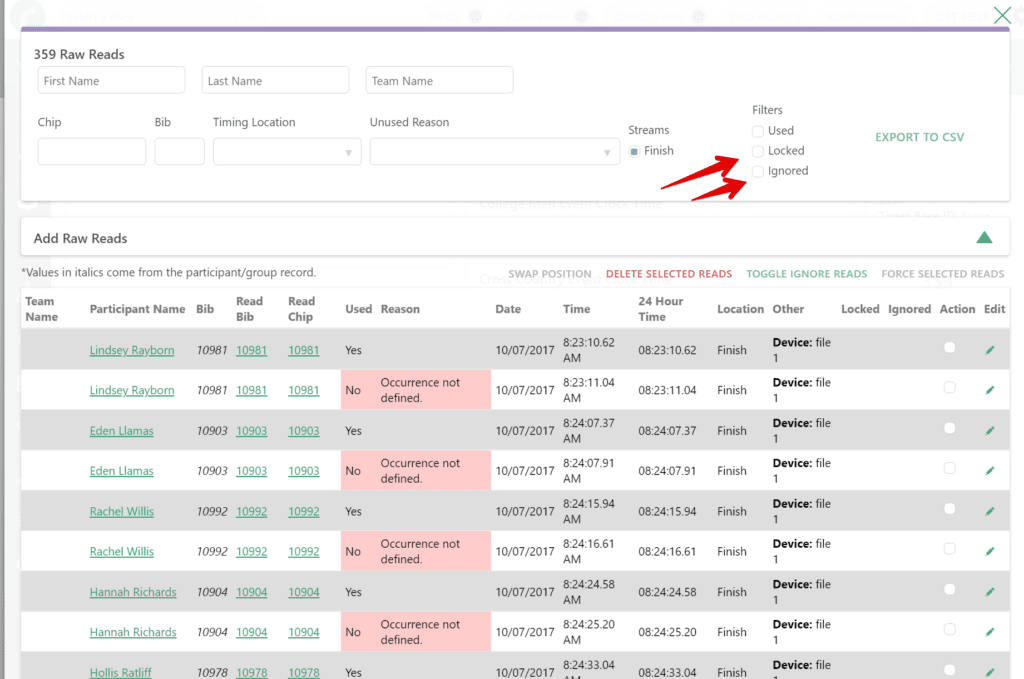 Manually added reads will now be locked automatically.
Replaced PDF export with Print to PDF functionality.
The old PDF export did not have great formatting, so we have replaced it with a shortcut to print to PDF. This also now opens up the Print Preview screen, where you can customize things like whether the PDF should be landscape or portrait, and whether or not you want to insert page breaks between sections.
Added the ability to transfer the Scoring Stats for a Race to the current Time Account being used if this Race currently is sending Scoring Stats to a different Timer Account.
The Scoring Stats, which include registration and finisher counts, are sent automatically to the Timer Dashboard. You can find them under Races > Scoring Stats on the dashboard. If you are logged into a different Timer account and load a race that has already posted stats to that account, you will now have the option to update the destination of the Scoring Stats to the Timer Account you are currently using.
Updated Spreadsheet Selection functionality to default the Windows service to only display CSV and TXT files.
Since we do not support other file types like XLS, XLSX, etc… we have set the defaults so that these kinds of files are not shown to the user. If needed, it is possible to change this filter in the Windows File Browser window that displays when picking a file to import.
Bug Fixes
Fixed a bug when using a Registration Event filter on a Team Report Section.
Any reports using a Registration Event filter on a Team Report Section will need to be removed and re-added for this fix to be applied.
Fixed a crash when generating test reads when entering "0" for the "Reads per second" value.