Customer Snapshot

Race Founded: 1998
Podium Prize Purse: $3,500
Years as USATF 50k National Championship: 2013, 2015, 2016
Bringing Back a Legendary Course
Guy Palmer, Greg Naaco, Peter Frank, Tom Lyons, and other Tamalpa Runners designed the 1998 Tamalpa Headlands 50k that started at Rodeo Beach. Under the stewardship of former Race Directors Diana and Tim Fitzpatrick, the race start and finish moved to Santos Meadow adjacent to Muir Woods and hosted the 2013, 2015 and 2016 USATF 50k National Championship, catapulting the legendary course onto the national stage. It's a world-class loop of so many things; fast fire road running, steep climbs, flowy single track, and technical sections with roots and rocks. The views are jaw-dropping; the vast Pacific Ocean, San Francisco, the Golden Gate Bridge, and the majestic Mt. Tamalpais are but a few highlights.
"After a three year hiatus, UltraRunning Magazine, the "Voice of the Sport" for over 40 years, is proud to announce our first foray into race production with the historic 21st edition of the Tamalpa Headlands 50k on Saturday, August 19, 2023, and I'm proud to serve as the Race Director. The race brings together the tight-knit trail Bay Area ultrarunning community and I remember thinking back in 2017 that this is what ultrarunning is all about. I knew after the race that this was a sport that I wanted to get into. So to have it come full circle six years later and be race director for this event is a dream come true for me."
– Jeffrey Stern, Ultra Running Magazine Assistant Editor & 2023 Tamalpa Headlands 50K Race Director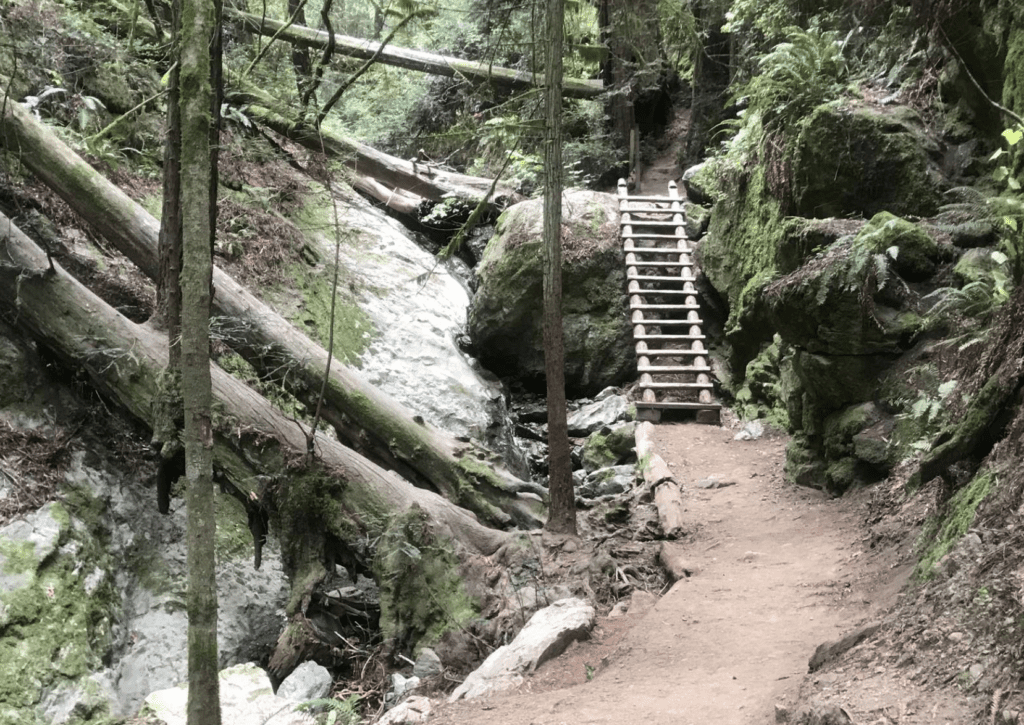 To get the race open for registration and customize their page, Race Director Jeffrey Stern worked with Sarah McMahon, a RunSignup sales rep and ultrarunner on the west coast.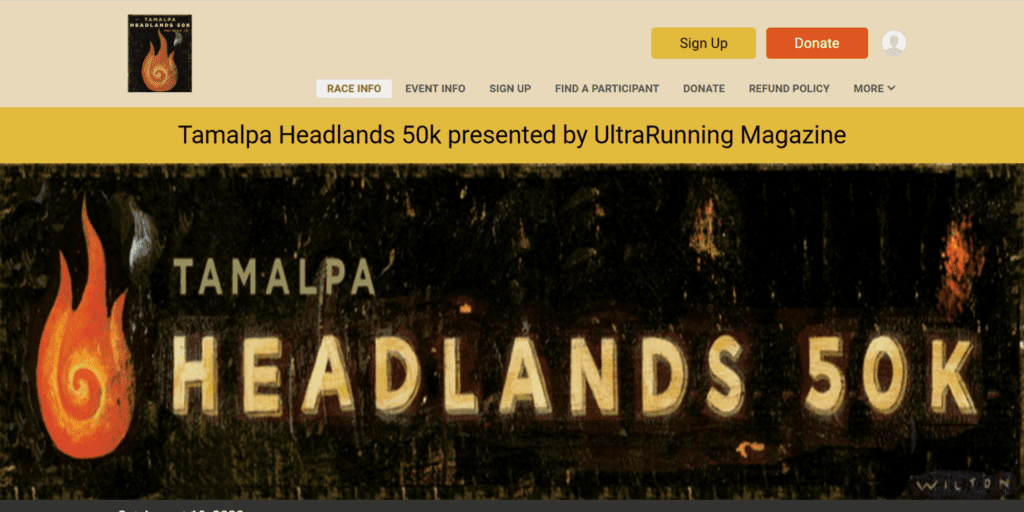 "Sarah McMahon is an absolute rockstar. She went above and beyond to help get us rolling and refine our page. Honestly, I can't say I've ever worked with someone more professional and accommodating than Sarah. The process was swift and seamless, and I can't recommend RunSignup enough simply because of her dedicated assistance."
– Jeffrey Stern
Building Valuable Partnerships
Ultra races have unique financial challenges, with large distances and lengthy shifts for employees and volunteers. Viable races need to build repeatable sponsor relationships that are mutually beneficial, bringing value to the race, the runners, and the sponsor. More than half of the Tamalpa 50k's sponsors are local, based in Marin or the San Francisco Bay area.
A Mutually Beneficial Relationship
The Tamalpa Headlands 50k sponsors provided the race with discounts for all registered runners, on products that ultra runners may actually want (like socks, physical therapy sessions and race nutrition). These discounts are shared with runners via the website and by customizing the confirmation emails to encourage patronizing sponsors. Additionally, the race does weekly sponsor shoutouts on social media, via UltraRunning Magazine channels, and offers on-site booth space, signage, and options to include samples in goodie bags.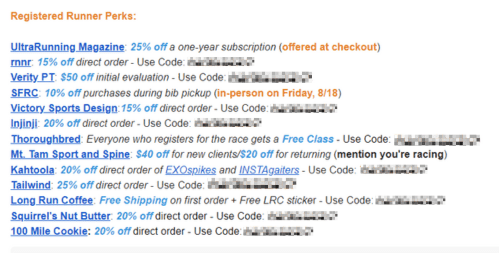 "The races I've run in over the years that bring the most value through sponsorship engagement and offerings are the ones I keep going back to, and I want people who register to feel like they are getting their money's worth. Our race couldn't run without the generosity of our sponsors and we are so thankful for their support."
– Jeffrey Stern
Donations for a Personal Cause
In keeping with the sense of community around the race, the Tamalpa Headlands 50k opted to solicit donations for a cause that's close to home. They customized their donation page to highlight the value of the cause, and are able to collect donations during and outside of registration. All funds go to the Mark Richtman Fund supporting running initiatives in the area in honor of a local ultrarunner. Mark Richtman was perhaps the greatest age group runner ultrarunning has ever seen and certainly one of the greatest endurance athletes of his time. On Wednesday, May 29 2019 Mark went out in his kayak in Tomales Bay and never returned.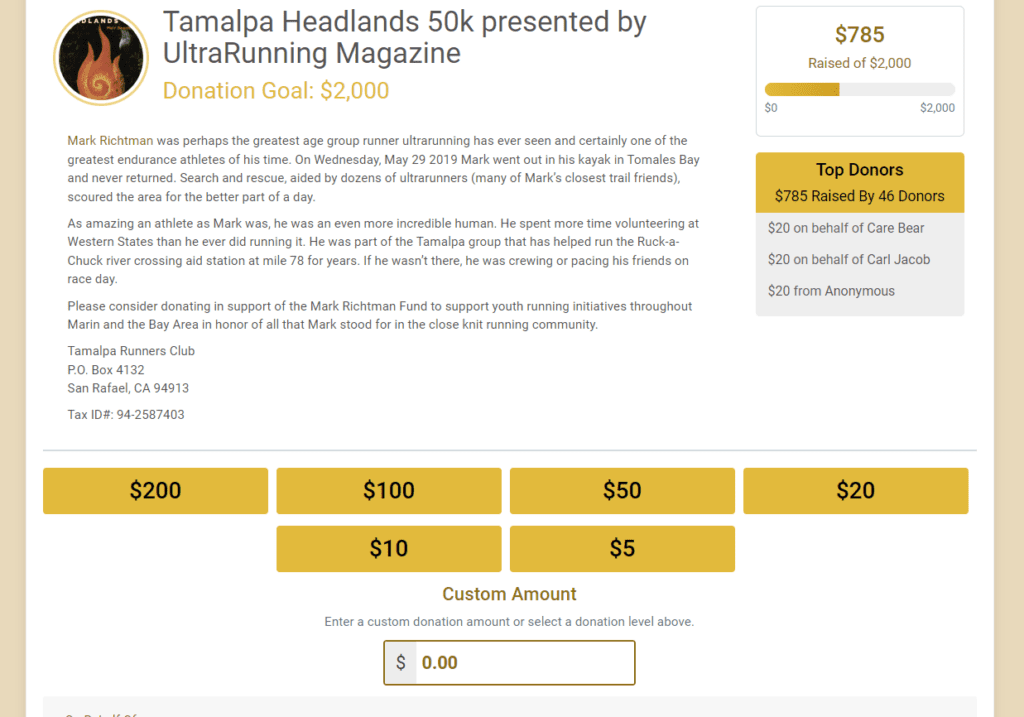 As amazing an athlete as Mark was, he was an even more incredible human. He spent more time volunteering at Western States than he ever did running it. He was part of the Tamalpa group that has helped run the Ruck-a-Chuck river crossing aid station at mile 78 for years. If he wasn't there, he was crewing or pacing his friends on race day. In coordination with the Tamalpa Runners, they started the Mark Richtman Fund to support youth running initiatives throughout Marin and the Bay Area in honor of all that Mark stood for in the close knit running community.
Investing in Professional Runners (and less-professional runners)
With the professional side of ultra running growing and outside investment in larger races increasing, the Tamalpa Headlands 50k is offering a generous podium prize purse of $3,500 to reward professional runners who are trying to make a living while pursuing their dreams. Their hat sponsor rrnr is making this prize purse possible.
Ultrarunning isn't only about the fastest runners, though. To celebrate and award everyone in the field, there are also age-group podium prizes, mid-pack, and back of the pack awards as well.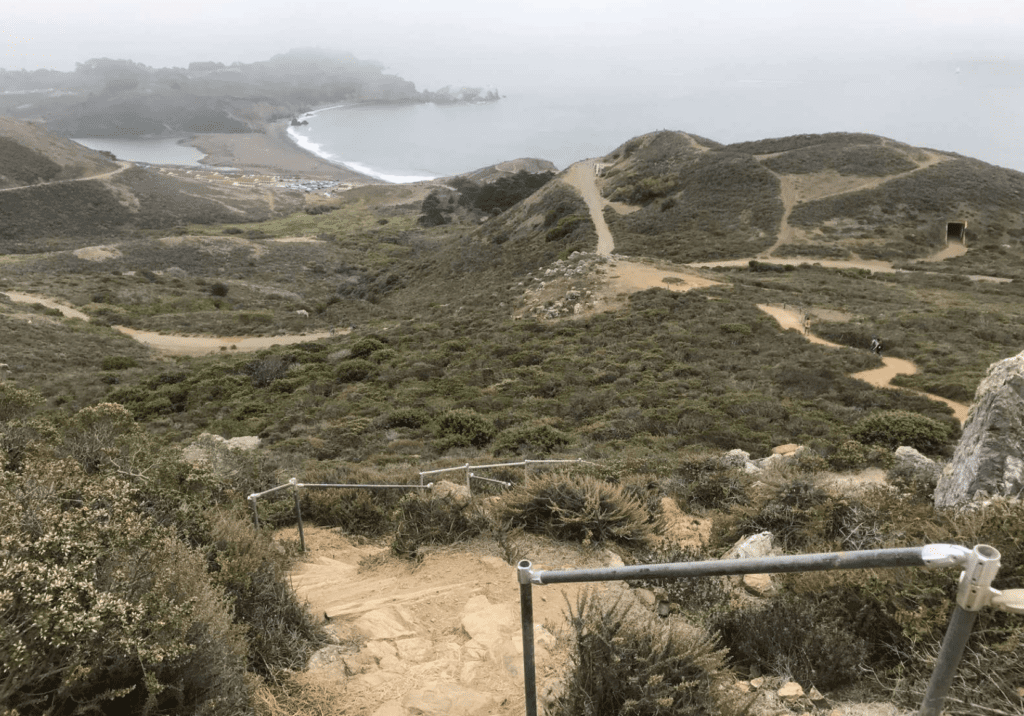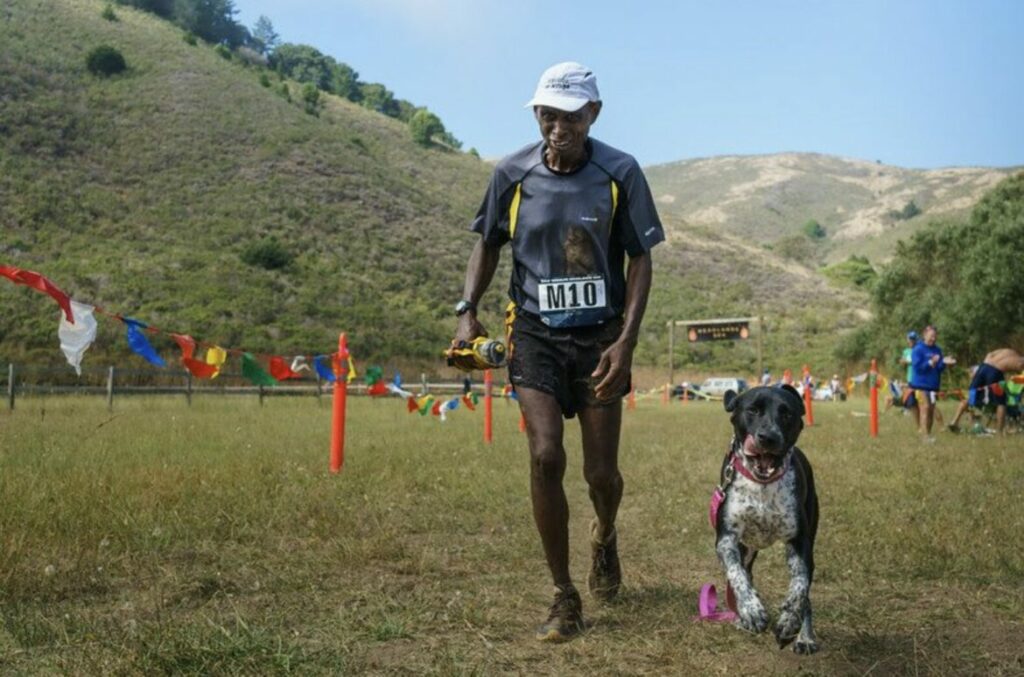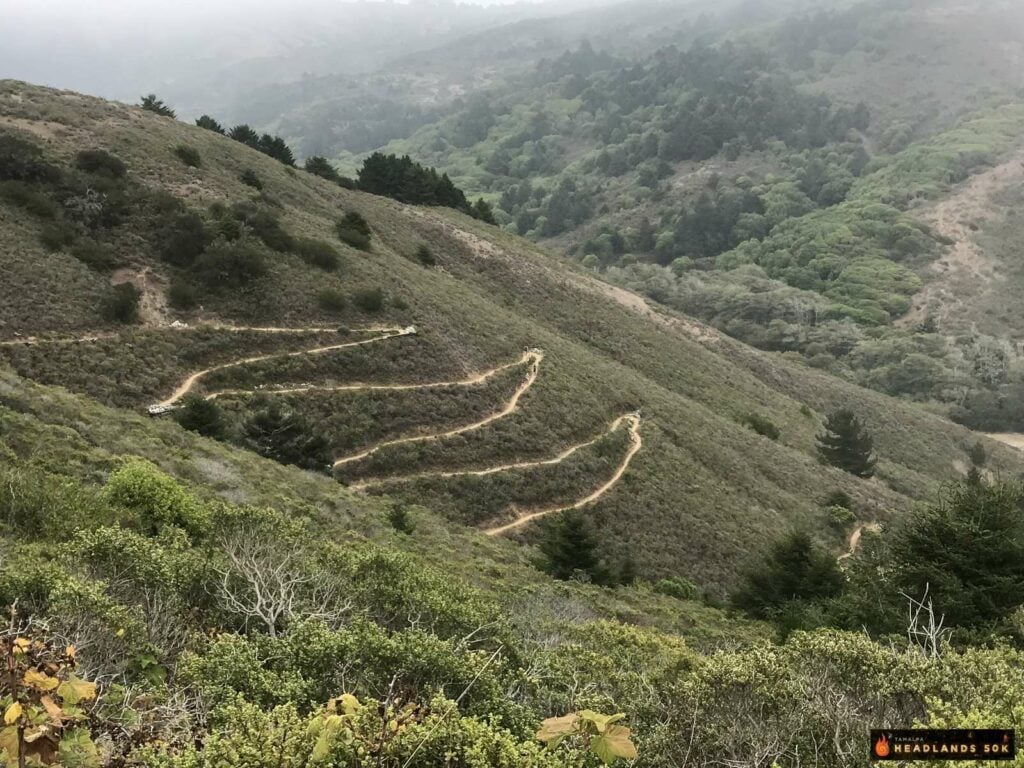 Goals For Race Day (and Beyond)
The Tamalpa Headlands 50k team is thrilled for the revival of the race and can't wait to for the 21st Tamalpa Headlands 50k presented by UltraRunning Magazine. The goals are to see it blossom back into the world class event it once was, and to again become the USATF 50k National Championship in 2024. Stay tuned for details on 2024, but you can check out (and sign up for) the 2023 event here.
The race wouldn't be possible without support from hundreds of volunteers and our incredible sponsors: the Tamalpa Runners, rnnr, Kahtoola, Art2Life – Nicholas Wilton, Injinji, Arc'teryx, San Francisco Running Company, Victory Sportdesign, Verity PT, Headlands Brewing Company, Mamahuhu, Bungalow Munch, GU Energy Labs, Succeed Sports Nutrition, Squirrel's Nut Butter, Thoroughbred Studio, Tailwind Nutrition, Mt. Tam Sport & Spine, Long Run Coffee, Best Day Brewing, 100 Mile Cookie, and HydraPak.