Looking For a Timer?
Browse our Timer Search for a Timer near you.
Local Windows Application Features
No internet connection required for scoring
Ability to easily export and import race definitions between computers
Backup and restore scoring setup files to/from the cloud
Participant Features
Real-time automatic participant data syncing with RunSignUp's RaceDay Cloud
Quick Mode for fast onsite participant data entry
Quick links to participant information from any part of the app
Real-time data issues report alerting user to potential data issues like missing genders or ages
Automatic data actions to resolve data issues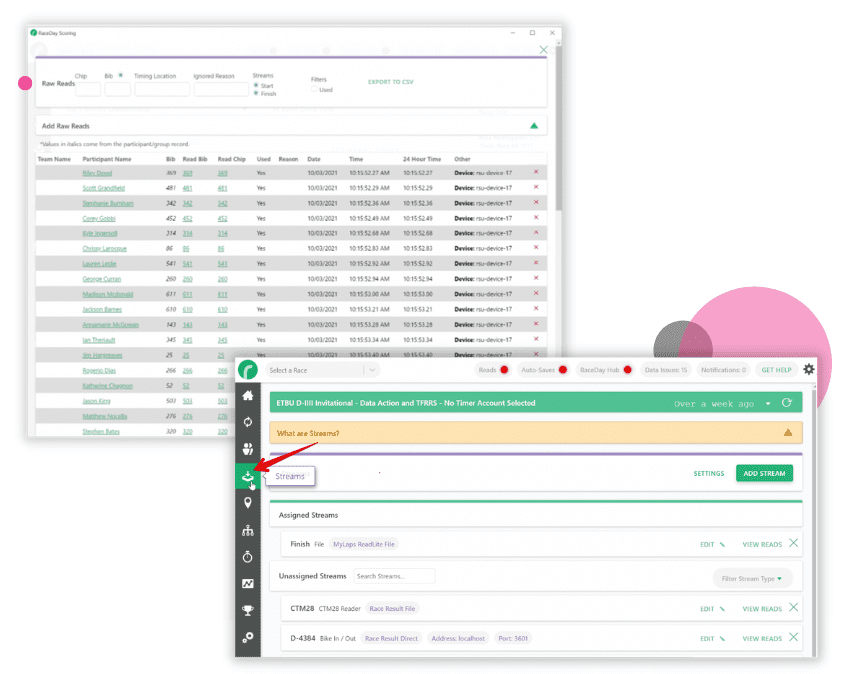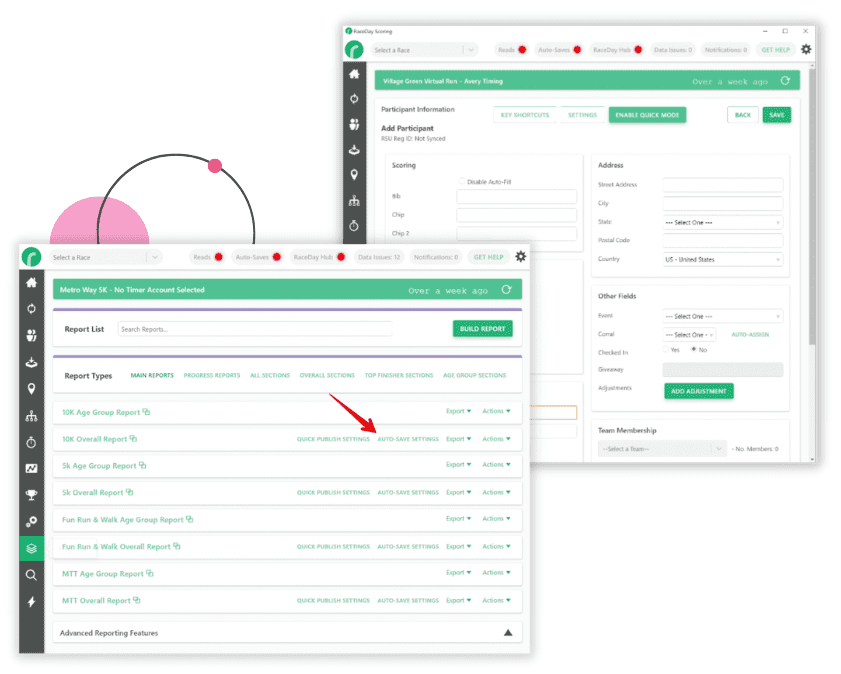 Real-time Results Features
Real-time event leaderboards and announcer windows give you a quick view into your result standings as reads come in
Easy troubleshooting with the ability to view raw data and reasons why chip reads may be ignored
Chip Scoring Features
All major chip systems supported, including Chronotrack, MyLaps, Race Result, RFID, IPICO, Trident, RM Timing, Active Timing, Agee Race Timing, and many other potential systems via custom file stream format definition
Manual Timing Features
Basic option to record times manually with more features planned

Scoring of multiple events at once (5k, 10k, half marathon, etc)
Scored event grouping to combine multiple registration events into a single group for scoring
Age group scoring for each scored event
Top finisher category scoring for each scored event
Custom top finisher categories can be created using filters on a variety of data – even custom questions (Athena/Clydesdale!)
Multi-segment or splits supported for events within a race
Separate start times for each scored event within a race
Aggregate team scoring to handle corporate cup style races as well as cross country events
Lap race support, where participants are competing to see who can run the most distance on a set loop over some time
RaceDay Hub allows local communication between multiple devices running RaceDay Scoring to support different functions on kiosk computers connected:

Participant data entry/updates
Results displays/lookups
Relay team scoring

Custom computed fields and data actions to create calculated fields and update data in real-time based on conditions for advanced use cases.