Many race organizations aren't just a single race – they are a nonprofit, a race management company, a timing company, or another event production company. Because of that, you need tools that work across your events, allowing you maximum flexibility and the furthest reach. RunSignup's dedicated tools for organizations include:
Flexible access options to make sure the right people can access the right information
Free organization websites
Free organization email platform
Integrated financial reporting
Learn more about how you can get more out of RunSignup by implementing these free options!
---
Flexible Access Settings
Work more efficiently and stop sharing passwords with RunSignup's flexible access options for races, ticket events, and organization tools. This means your volunteer manager can manage your volunteers, your accountant can access your transaction reports, and your marketing team can track the ROI of all your campaigns…without worrying that any of those people are accessing information they shouldn't see or update.
Where to Customize Access
Across events, there are a few places you can customize access.
Race Access: Race >> Secure Access/Info Sharing

The most versatile is at the race level, where you can add full race director access, set access based on the set of dashboard tools you want them to access (like RaceDay Tools or Email V2), or only to very specific pages. This type of access provides access only to that specific race, not all your races.

Ticket Event Access: Event >> Secure Access >> Secure Access

Your ticket event access settings allow you to add full event directors as well as event directors who cannot access financial data.

Timer Access: Race Wizard >> Step 1

Races can add direct access for their timers to pull participant data. This allows them to pull participant lists, post results, and access additional information to ensure no loss of data between registration and timing software.

Organization Websites & Email Access: Organization >> Secure Access

From within your organization website or email dashboard (see more below), you can add full access to the dashboard or non-financial access.

Partner Access: Account >> Partner Access >> Partner Owners

Large customers with partner accounts can add full or limited access across all their events by adding them to their partner account.
---
Organization Websites
Organization websites allow you to create a free website hub for your organization. This means you can have a single website to provide information about your services, link to all your events, and provide a way for people to contact you.
Benefits of Organization Websites
All free — including hosting, SSL, and unlimited pages
Mobile responsive
Customizable images, logos, and colors, featuring your brand (not ours)
Easy to update with a drag & drop website builder (no coding needed!)
Features of Organization Websites
Bring your own domain (or subdomain)
Visually appealing card layout to highlight 4+ sponsors/events/etc.
Flexible cover pages for a beautiful design
Dynamic event list component to cross-promote all your events
Want to create your own Organization Website? Start today or check out our Organization Website On-Demand webinar to learn more.
---
Organization Emails
Organization email allows gives you a single dashboard to send unlimited emails to unlimited contacts. This easy-to-use email platform comes with the same drag-and-drop email builder and beautiful templates. In addition to the ability to upload your own contact lists, email for organizations lets you access participant lists from across all the events using your payment account.
Benefits of Organization Email
Free unlimited contact uploads & unlimited sends
Access to contact lists from across all your registration and ticket events
Creates mobile-responsive emails (no coding needed)
Allows sending of emails that are not event-specific, like newsletters and cross-sell emails, while keeping unsubscribes separate from your event emails
Features of Organization Email
Ability to personalize your emails with built-in and custom data replacement tags
Email scheduling
Unsubscribe management
Email reports
Access to system and custom email templates
Default branding for your organization
Want to create your own Organization Website? Start today or check out our Organization Website On-Demand webinar to learn more.
---
Financial Reconciliation
As much fun as you're having setting up cool websites and sending out creative emails, at the end of the day finances are the key to your organization. RunSignup's comprehensive financial reports can help you keep track of all your revenue sources.
One of the benefits of RunSignup's status as a Payment Facilitator is that all your financial reports are integrated and come from one source. There's no need to combine separate reports on credit card processing fees, technology subscription fees, and registration income from multiple different sources. All your financial information from all your events is contained within your Payment Account reports.
You can see all your payments and transactions, across all events, from the Payments tab on your Payment Account. This will allow you to see, and drill into, the payments from each event on your payment account.
If your tracking needs are more complex, you can also use Custom Account Codes to your payment account reports. For organizations with different departments, this can help you keep better internal records.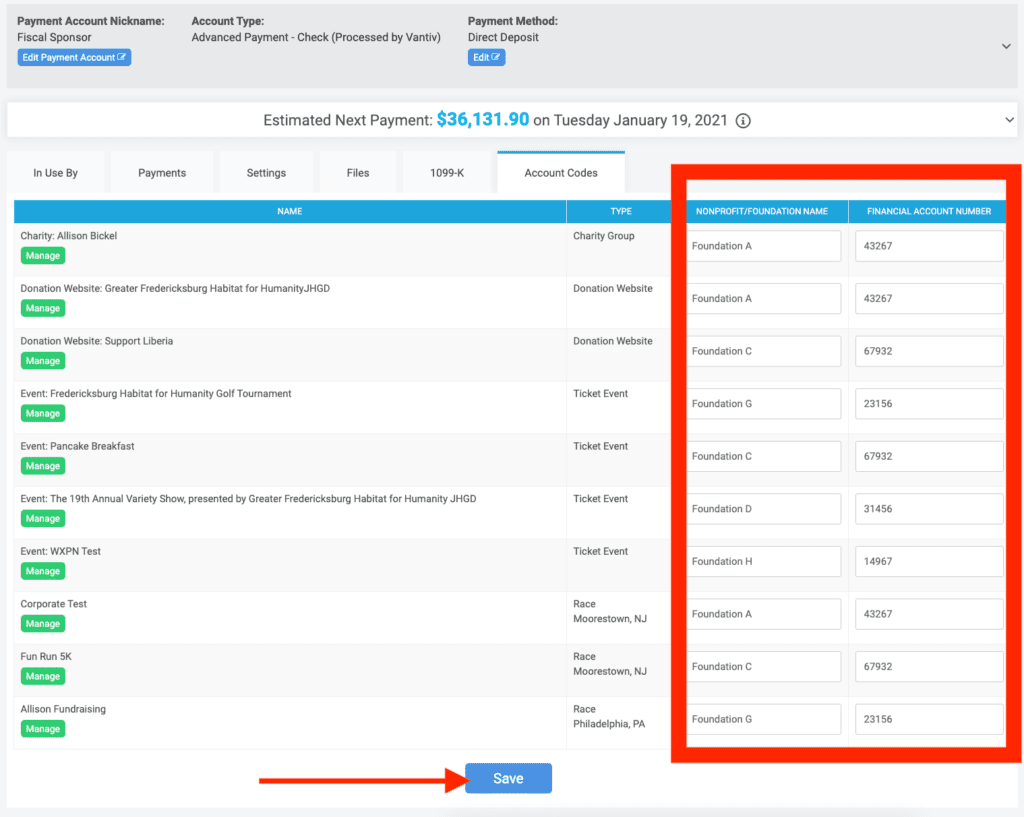 ---
Summary
RunSignup makes it easy for you to manage your entire business, with technology for each of your events and technology to support the entire event operations. All our tools for organizations are free for customers because we are only successful when you are successful!