Last year I wrote about our Product Led Company Strategy and how we operate the company on a "Product Led Growth" strategy based on our Guiding Principles. We discussed our basic revenue stream based on payments. And we discussed our Employee Owned model where our employees own and control the company, which means we do have to make a profit and do desire to grow. This blog will talk more specifically about our overall plans for 2024 within each of our three key markets with RunSignup for Endurance, GiveSignup for Peer to peer fundraising events and TicketSignup for events.
As with other Founders Corner blogs, I like to write these blogs to help myself make sure I am thinking about things clearly, as well as communicate important information that I want available to all employees and customers so we can get feedback and we all understand the path forward.
Efficiency
Since the beginning of the company, we have thought about how we can be efficient. Efficient in developing software, efficient in processing payments, efficient in helping customers. Those investments are paying off now as we operate a profitable, cash flow company that is owned by employees. It allows us to deliver consistent, high quality products and services to our customers and to ensure we have enough money to compensate our many long term employees well, while also beginning to pay dividends.
This is in stark contrast with other companies in the event registration and ticketing business. Eventbrite is the only real public company with their figures, and it is amazing they are still at only 85% of the ticket sales they had in 2019 while we have grown by 50%. They are also not profitable.
When we look at each of our markets below, part of our strategy is based on the competitive landscape. And our efficiency and ability to take a long term view gives us a unique position in each market.
Development Efficiency – We have long stuck with the concept of a single platform that has been designed for not only high availability (down only 4 minutes since 2015) and do over 2,000 releases on the platform each year. Several years ago we began a long term set of projects where we create common components that can be used across all the products on our platform. For example, we now have a Next Gen Email system that is plugged into our RunSignup, GiveSignup and TicketSignup products. When we make an improvement, it is immediately available across all of them. This gives us greater revenue sources to create better products. As an example of how this helps, as we prepare to release a new Membership product, we were able to simply plug in the email system and just add the membership tags and email list capabilities very quickly. Membership is another example that will be integrated with both registration and tickets to serve running clubs as well as zoos and gardens who might have combinations of membership and ticket options.
Payment Efficiency – We invested a lot of time and effort into creating a highly automated and accurate system that allows customers to be able to count on when they will get their money. We have balance checking software that alerts us to any differences in the system and in customer accounts and alerts us to any customer out of balance. As an example of why it is important to stay on top of this, just yesterday we have 3,264 events process 21,882 transactions for a total of $1,665,061.87. We have a 100% on time payment history because of our automation, high quality software and diligence of our finance team.
Customer Service and Education Efficiency – We give our customers full control over their events with all features available for all customers. We also give customers all the resources they need to help themselves with very robust websites, help library, YouTube channel, webinars and roadshows to learn about how our products can help your events. We continue to invest in this. For example, we have recently completed updating 270 help articles on our website and most of them include animated gifs to show customers how to use many features like this example of adding Giveaways: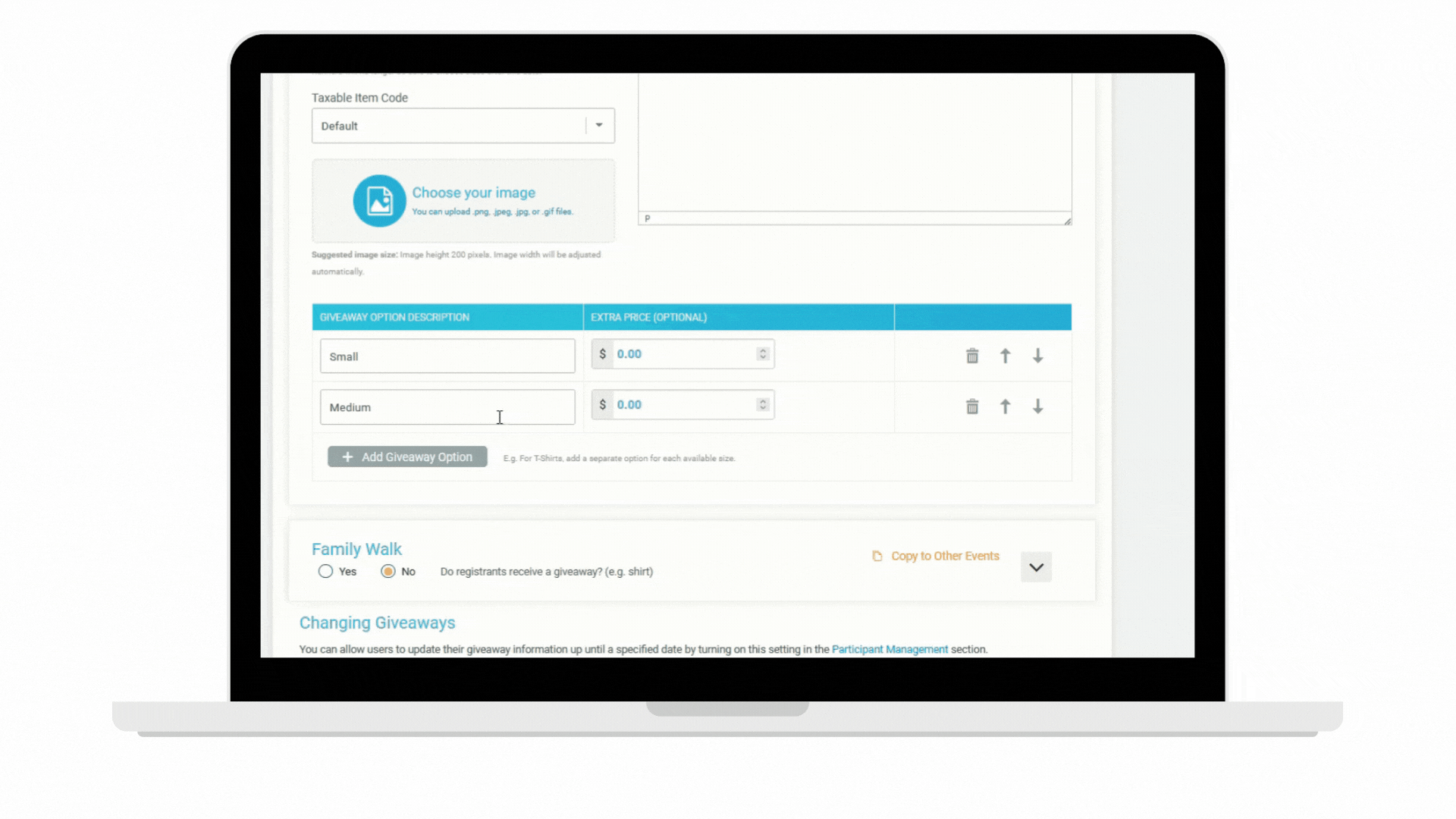 We also publish 5 new videos each week (we've actually uploaded 246 videos in the first 314 days of 2023) on our YouTube channel with many other those "How To's being built into our website and help articles.
In addition to the rich online content, we interact via email or phone or video call over 14,000 times each month with our customers. We have well defined processes for onboarding new customers, helping customers renew and reviewing event setups with automated tools as well as manually (we onboard and approve about 30 new organizations (new tax ID's) each day and typically have 300 new events and 400+ renewals each week). We have people available 365 days a year to help our customers.
RunSignup Endurance
RunSignup is the market leader with over 40% market share in the US. We are also the first choice for races considering moving due to our significant technology and feature advantages, high quality support. In addition, with Race Roster's recent price increases to $1.99 per participant + 6.99% (we are $1 per transaction + 6%), we are the low price provider in this space. In addition, there are several main initiatives we will focus on in 2024:
Software for Timers – With the release of RaceDay Scoring V4 in September, we are now the clear leader in modern technology for today's timers. This is strategically important since there are so many old scoring systems in the market and there is increasing pressure to move to modern scoring being driven by new timers either joining a timing company or starting new timing companies. In addition, Matt Downin, who has extensive timing experience has joined the team to help introduce our technology more broadly to the market.
Race Websites V2 – We plan on releasing our next gen website capability to races in early 2024. Our existing website capability already has a significant advantage in the market, and there are no registration companies that have enough revenue flow to be able to afford to develop this level of capability. We expect an increasing number of races to dump their old WordPress websites in favor of an integrated system that has features like image sharing across all their events and between both their website and the Email system.
Email V2 Super Lists – We hope to have a next gen capability for very flexible email list creation and management based on the full power of the database to create Super Lists. Super Lists will be able to be created by selecting a variety of fields and data – for example all participants who live within a 25 mile radius and given over $100 in donation across a number of events. Over time we will give access to nearly 200 data fields to use in any combination to generate Super Lists. It will also use the powerful contact matching capability we already have built into the system. This will be easier to use and more useful than other CRM systems. And of course it will be free.
Next Gen Membership System – Our old running club system gets a huge makeover in late 2023 and early 2024. Road Runners Club of America already announced to their members they will be transitioning from Member Suite to RunSignup in the Spring of 2024. The membership system will enable cross selling of memberships, registration and tickets for organizations.
Of course we will have many more incremental changes and improvements across all the feature sets for RunSignup. We expect continued gradual market share gains with high single digit growth for the RunSignup business. We also see potential spikes of opportunity in this business as weaker competitors contract or exit the market that may cause the growth rate to be over 10%.
GiveSignup Peer to Peer Events
We have had good success in this market over the years where there is a real event (like a cycling ride) that can use many of the features of RunSignup, but also has the major focus being fundraising. This coming year, we are onboarding about a half dozen events that will raise between $1-5M each.
With these new customers, they are bringing new ideas and needs. For example, we will be introducing a new set of features for "Umbrella Teams". This is the concept of a team of teams – eg. a major company might have multiple teams doing fundraising, and the nonprofit wants to make sure the company is recognized – fundraising totals would show for individuals, teams and umbrella teams. We will also be extending our Milestone / Badge capabilities for nonprofits to provide motivation and recognition. An example is a badge for Cancer Survivor based on a question asked during signup.
We are finding that traditional donor management systems like Blackbaud and Donor Drive are lacking especially in the event capabilities that many of these events need like checkin, bib management, participant transfer, live tracking, etc. As we continue to build differentiation, we expect this market to continue to grow for us. Given some of these events already committed, we expect 2024 to be a very solid year of growth around 15% for this business with over $60 Million of donations on our platform.
TicketSignup Events
Our TicketSignup product is maturing quickly. The big player in the market, Eventbrite, is making moves similar to former market leaders in the registration market of not focusing on their product, charging lots of money and having predatory business practices. However, it will take time for us to grow as customers don't like the change or don't have time to even consider changing (we've seen this in the endurance market where it took us 14 years to get to our 40% market share one step at a time). One of the good things about being an employee owned company is that there are not unnatural forces causing us to make short term decisions. We focus on building a great product and learning the needs of niche markets and building a quality brand.
We are having early success and high growth due to our current RunSignup base bringing us into ticket opportunities as well as with a few niches like Halloween, Holiday Lights, festivals, beer and wine events.
Going into 2024 we will be introducing a Next Gen MultiDay Timed Entry ticket capability as well as a Next Gen Membership product. The new ticket capability will help a number of our existing customers, and give us significant advantages over other vendors in the market. We have applied for a patent on this new technology it is so revolutionary. In combination with the new membership system we position ourselves long term for large customers who have recurring events and either member discounts or season passes.
TicketSignup is only 5% of our total revenue in 2023, but should grow to 8% in 2024 and will continue to grow faster than the rest of the business. And due to our single platform approach and development efficiencies of shared components, this provides us more revenue to afford more development for all of the products in our suite.
Summary
We expect 2024 to be another solid year where our employee owned company continues to make progress in each of our lines of business. We are excited about the product advances we have planned and the opportunity to help event organizations. Our long term approach provides our customers with a reliable, consistent partner they can count on.
We want to acknowledge and thank the support all our customers provide us. Your ideas, referrals and of course your business. We love building great technology for events and we are so happy we can help you all.