What are Corporate Teams?
Groups of participants made up of employees and non-employees that will have someone else (usually a company) pay for some or all of their registration fee. Corporate Team Captains have access to view team information and make payments.
Are Corporate Teams Right for My Race?
If your race will have at least 25% of it's participants associated with a company that will pay for it's employees, this is the feature for you. Shorter, more inclusive distances, and a race venue with space for a pre-race or post-race tailgate are better suited to Corporate Teams.
Other Types of Teams
If Corporate Teams aren't right for your race, you may want to consider one of our other team types. You can setup competitive teams that compete for prizes, social teams that are strictly for fun, or Fundraising teams that join together to raise money for a charity.
Technology for Corporate Team Events…
RunSignup makes registering corporate teams easy, sure. But we're also here with free technology to help you manage your entire event from conception to execution. All corporate team events include:
Benefits and Limitations of Corporate Teams
Benefits
Flexible payment options – team captain can pay some or all of registration cost, invoices can be paid by check or credit card, and payments can be before or after event
Team captains can import participants or send a custom team link to register
Exclusive store items (like tents or tables) can be added for corporate team captains only.
Pre-paid packages are available to allow the team to purchase a block of entries, with discount options for bulk entries.
Limitations
Limitations revolve around maintaining invoices and payments
Corporate teams cannot be deleted (so no invoice is missed)
Participants cannot transfer from one corporate team to another (because teams all have unique settings)
Limited participant management options (no transfers, deferrals, and changing add-ons) because they impact invoicing
Key Features for Corporate Teams
Team Settings
Flexible options for team setup make it easy for you to accommodate a range of corporate teams.
Set up one or multiple team types with specific parameters for team setup fees, team size, team joining date, and more.
Limit certain team types to specific race events or allow them to apply to all events
Offer pre-paid or pay-as-you go packages
Set up custom package options with discounted bulk registrations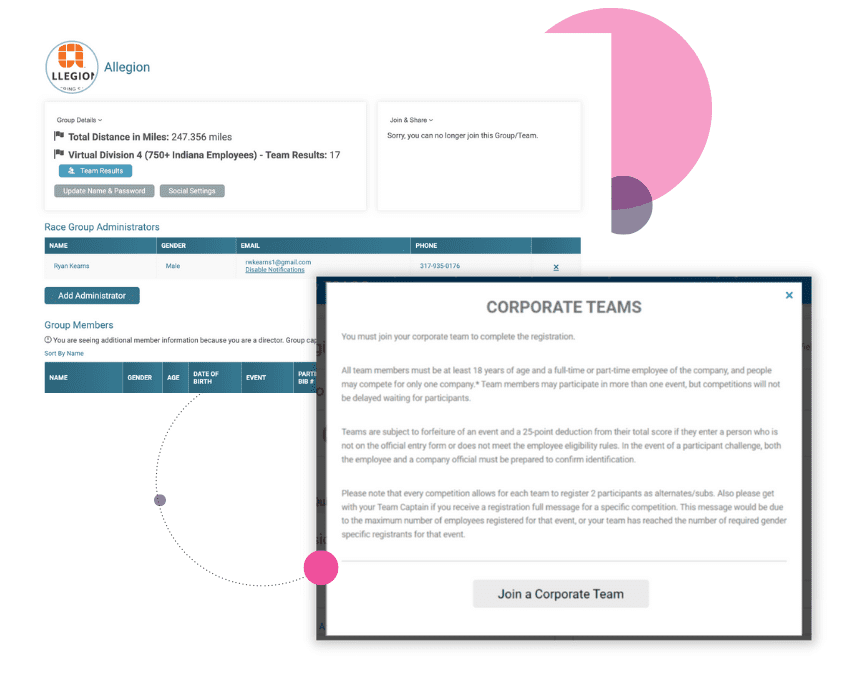 Registration Options
Make complex registration easy with an intuitive registration process.
Customize your messaging that prompts participants to join a corporate team
Allow corporate teams to brand their registration with a company logo for easy identification
Provide team sharing links to simplify the process of directing participants to the right corporate team for them
Limit registrations to only employees or allow friends & family to join corporate teams
Team Invoicing
Flexible invoicing options make it easy to accommodate a range of corporate teams.
Automatically invoice teams after team joining closes
Create a manual invoice or generate invoices for all teams with one click
Review unpaid invoices and remind teams to pay their balance
Track online and offline payments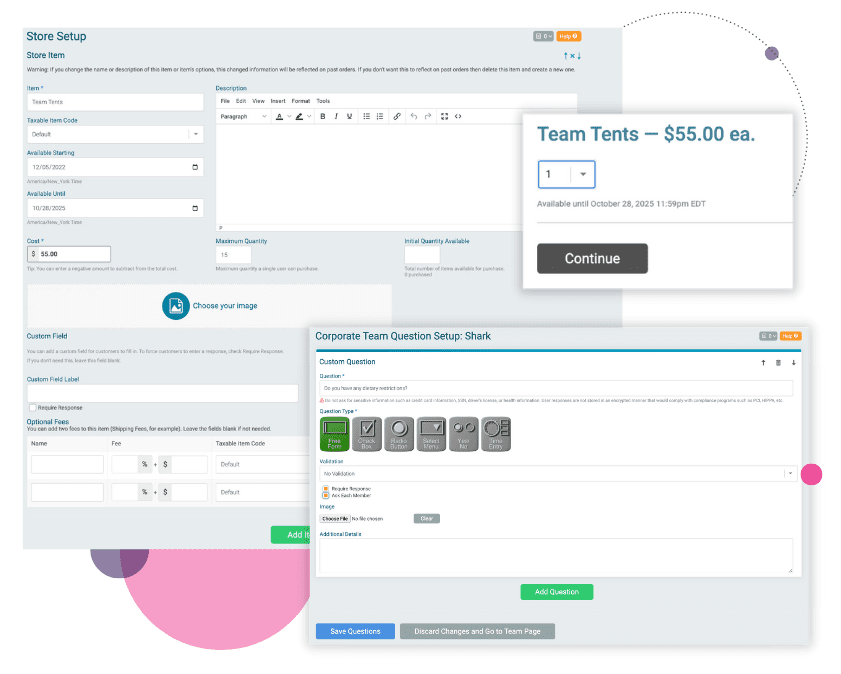 Team Captain Controls
Give team captains the control they need to get their co-workers involved.
Allow captains to remove team members, view add-on items, and change employee status
Add custom questions to be asked of corporate team captains only
Add specific store items available only to team captains (such as a team tent or catering)
Allow team captains to add additional questions only for registrants on their team
Corporate Team Resources
Corporate Team How-To's
Dive into the setup of and settings available for corporate teams with our set of Corporate Team How-To's.
Corporate Team Webinar
Review the process of setting up your corporate team event and learn more about the benefits and limitations of various corporate team features.
Best Practices for Corporate Team Events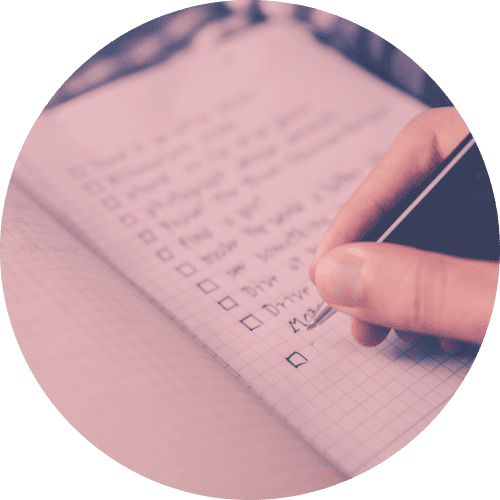 Encourage co-captains for each team to distribute responsibility
Ask for more information about each of your team captains
Throw a captain kick-off/registration party to get all your captains on-board
Provide education and resources to your team captains
Encourage walkers
Offer a t-shirt contest to boost company creativity
Provide FAQ pages on your website for captains and employees
All The Latest Blogs on Corporate Team Events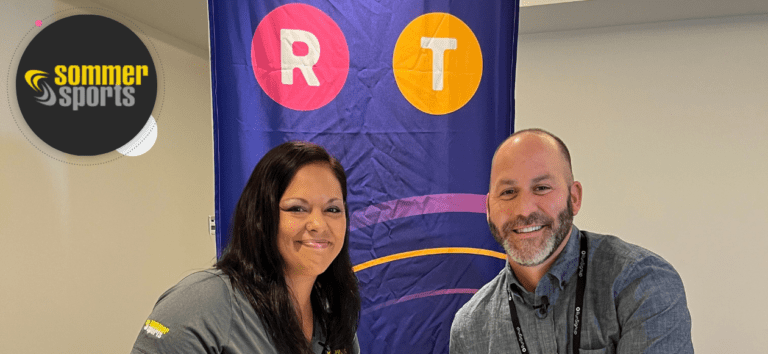 We like to hear from people in the industry to find out more about them and how they use RunSignup's products. Recently, RunSignup's Steve Bingham-Hawk chatted with Michelle Craske with Sommer Sports to get some inside scoop. For those of you not familiar with Sommer…
Read More
Show More