Technology for Volunteer Managers…
Make volunteer management easy with tools to register volunteers, provide targeted communications, and track volunteers on race day.
Key Features for Volunteer Management
Volunteer Task Management
Organize your volunteer tasks to make it simple for your volunteers to sign up to help.
Create volunteer tasks and timeslots to identify each of your needs
Bucket volunteer tasks into categories of similar tasks
Include specific details (time, place, etc.) for each task and category
Access direct links to each task to make it easier to direct committed volunteers to the right task to sign up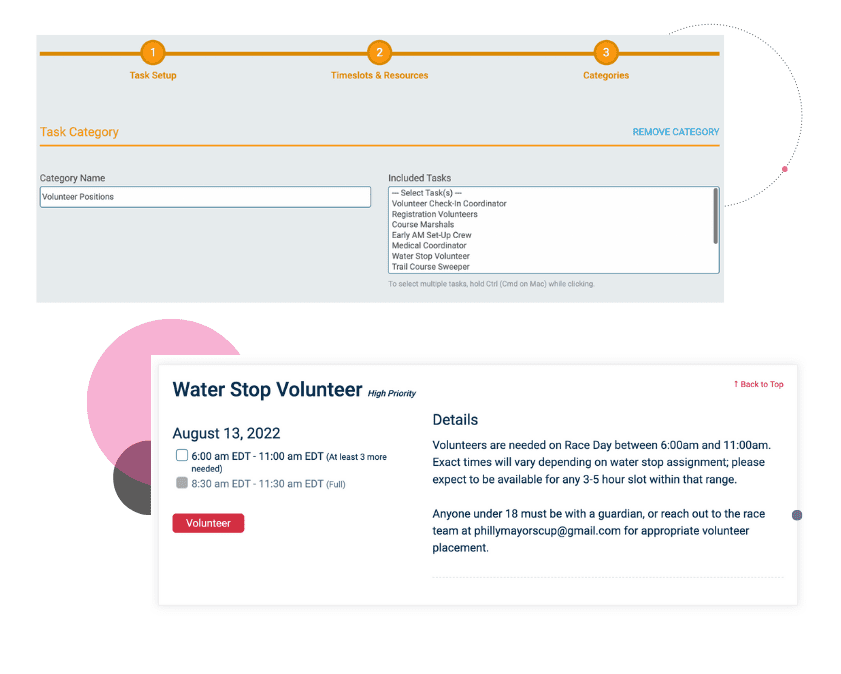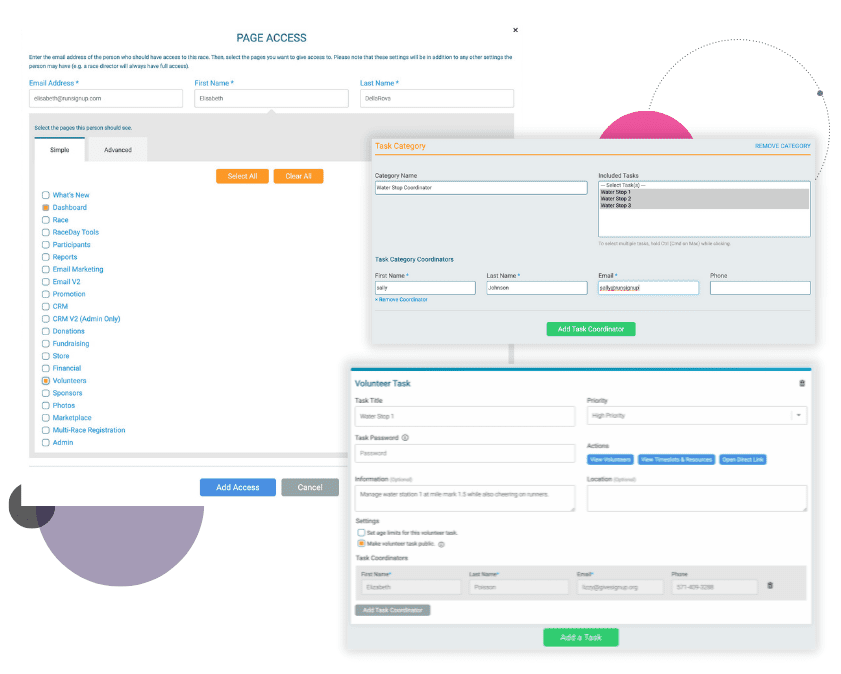 Coordinator Access
Empower your volunteer coordinators to do their job by providing them with broad or specific access.
Add coordinator access on the task or category level to provide them access to the data about the volunteers they are responsible for
Add access to all volunteer data for via secure access sharing settings
Information Collection
Collect the right information for every volunteer.
Require (or allow) volunteers to respond to questions in a variety of formats, including check box, select menu, time entry, and free form
Ask specific questions only if the volunteer is signing up for a specific task or tasks
Include a required volunteer waiver during registration
Import any additional volunteers into the system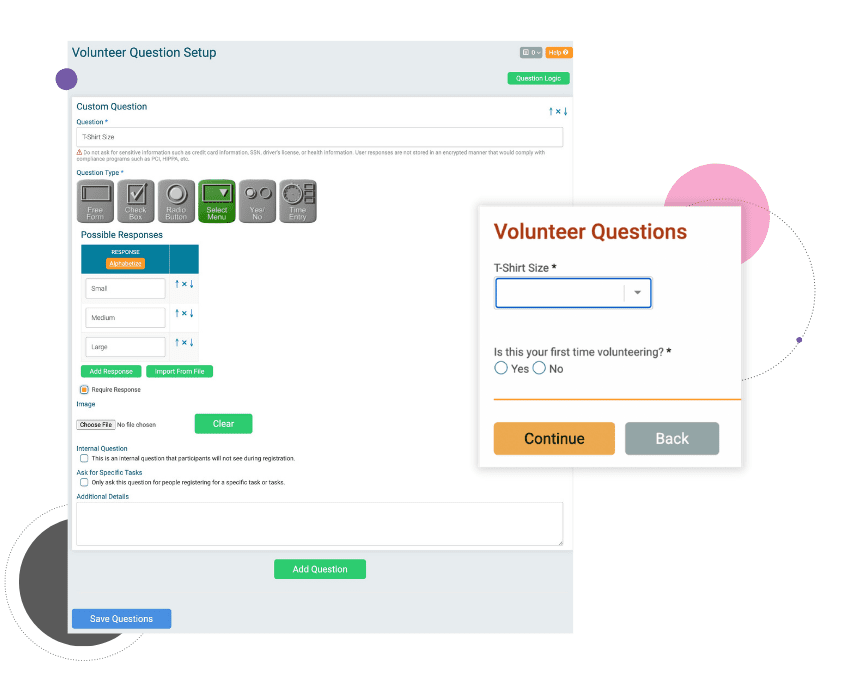 On-Demand Webinars
On Volunteer Management
Managing Event Volunteers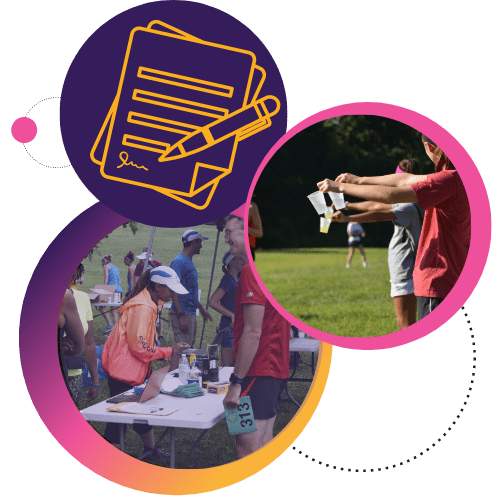 Tune in for a look at the free volunteer management platform that's included within every event dashboard, including task setup, communication tools, and reporting. Then, learn how to track the status of your volunteers on race day with volunteer check-in within the RaceDay CheckIn App.
RaceDay CheckIn App with Volunteers
In this webinar, Crisp provides an overview of the RaceDay CheckIn app for efficient processing of participants and volunteers. This session covers the available features and will walk through the specific steps to take to set up the custom settings for your event, including how to check in volunteers.
Free Email
Send targeted communications to your volunteers.
Provide email access to your volunteer coordinators to allow them to contact their team directly from your dashboard
Default lists are automatically created to make it simple to email all volunteers or only volunteers assigned to specific tasks or categories
Send notifications to volunteer coordinators when new volunteer registrations come in to ensure faster follow-ups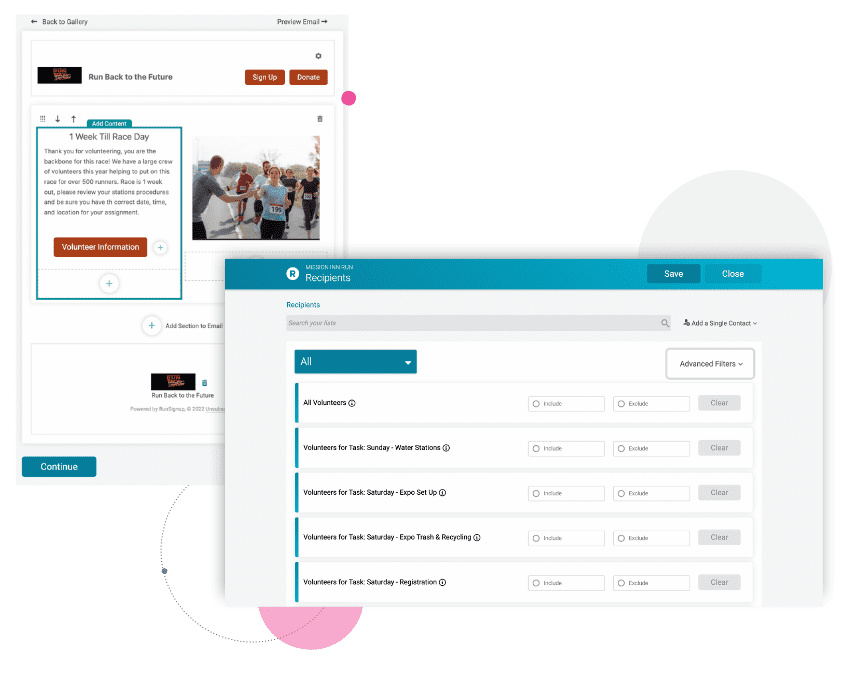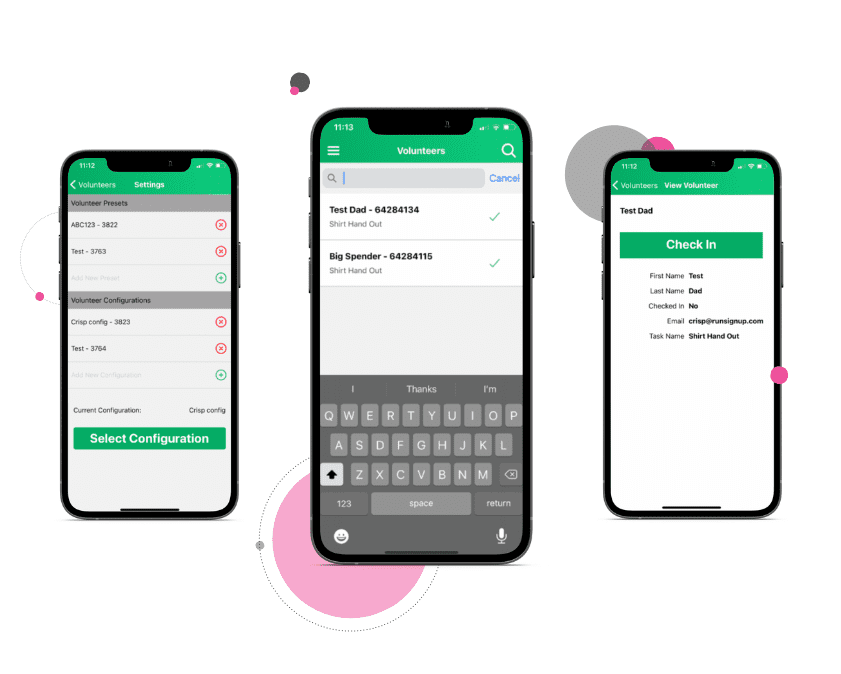 RaceDay CheckIn For Volunteers
Track your on-site volunteers with volunteer check-in from the RaceDay CheckIn App.
Make it easy for your volunteer coordinator(s) to check-in volunteers from the same (free) RaceDay CheckIn app you use for participants
Keep volunteer coordinators informed with quick access to see which volunteers have (or have not) checked in
Volunteer Reporting
Track all your volunteer signups in summary or in detail.
View and download full volunteer reports, including communication information, task assignments, and question responses
Instantly access a visual summary report tracking which tasks have met their minimum number of volunteers, are fully staffed, or still have need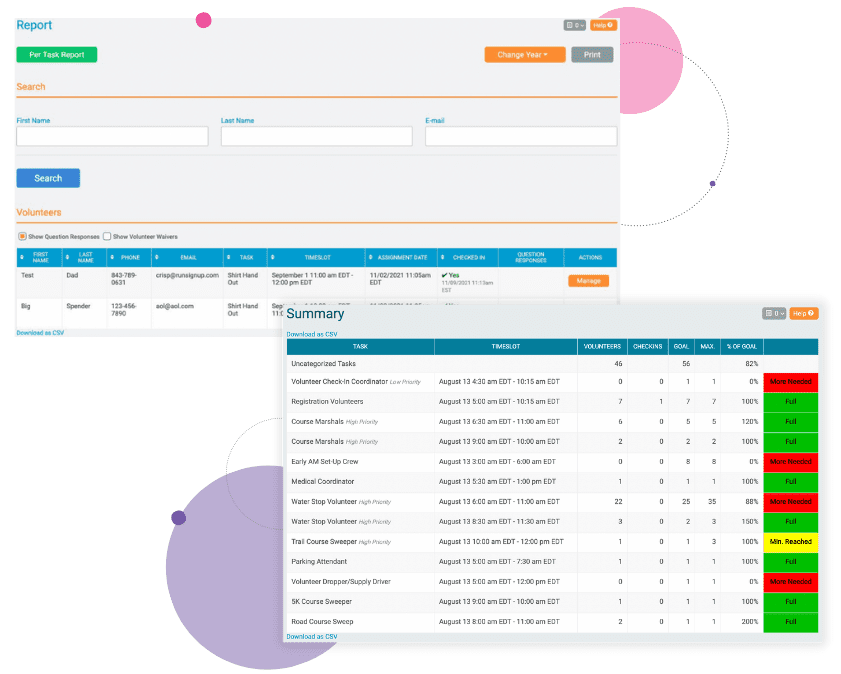 ---
All the Latest Blogs on Volunteer Management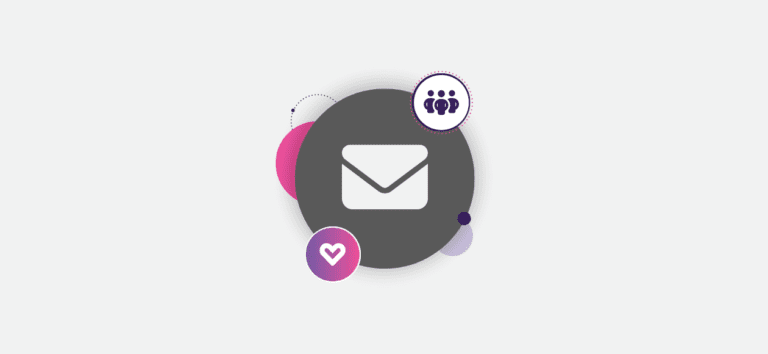 You can now easily email past volunteers with the addition of the Past Volunteer Recipient list. We have also made an update so that you can email all current volunteers until the race renews, at which time they will become past volunteers…
Read More
Show More