It's the biggest question for any race director: how do runners find my event? Some technology platforms like Eventbrite try to pitch themselves as event marketplaces that people come to seek out events. In reality, runners don't need another marketplace for events. Runners already have more trusted sources for finding races they want to run.
Running USA publishes an annual runner survey, and as data nerds, we love to see what they uncover. This year's report covers a range of topics around motivations and goals for runners. You can purchase the full report here – it's free or discounted for Running USA members. Today, we're taking a look at one of our favorite takeaways: where runners find events.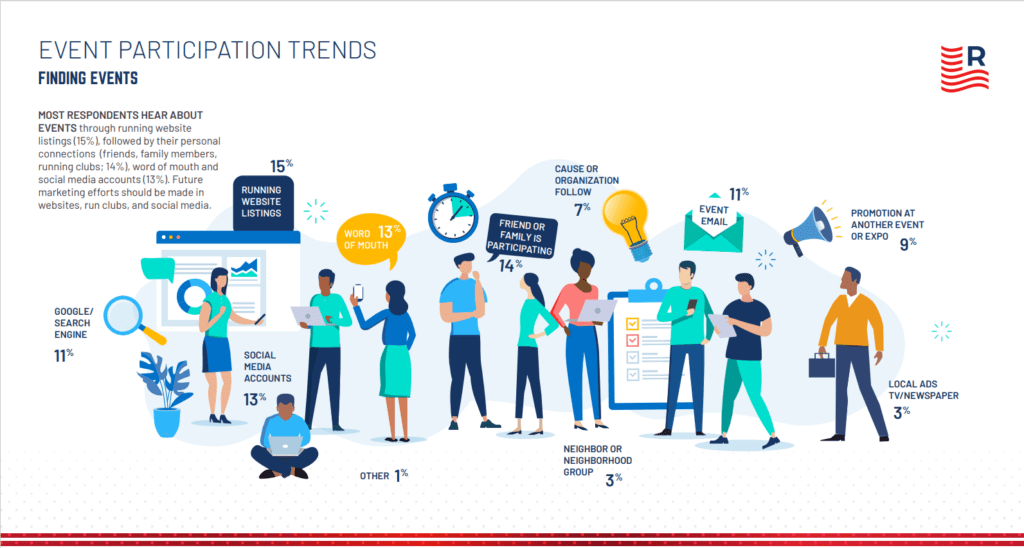 Most Popular Ways to Find Races
Let's dive into the most common sources of races, as reported by Running USA, and how to get more visibility for your race with RunSignup.
27% of Participants Find Races from Word of Mouth or a Participating Friend/Family Member
Word of mouth drives event participation. Why? People trust their friends and family more than any advertisement. The best way to promote word of mouth marketing is simply having an awesome event that people want to share. To help, RunSignup has a many free tools you can use to spark word-of-mouth marketing.
Referral Rewards: With a cost per acquisition of just 98 cents, automated referral rewards are one of the most effective low cost methods of promoting your race. Races that enabled referrals in 2022 saw 6% of transactions coming from a direct referral.
Groups & Teams: The simple act of offering a group/team setup encourages participants to invite friends and family. To sweeten the pot and encourage more sharing, provide an automated refund or incentive for teams that reach a size threshold.
Text to Share: This brand new feature allows your participants to share your event with their contacts by text. Texting creates a more personal and compelling invite than a general share on social media. There's nothing you need to do to enable this new feature – it's automatically included on your confirmation page, fundraiser pages, and in all social media components on your race website.
6% of Transactions from Referrals
Referral Rewards ROI is 5262%
30% Join a Team When Offered
15% of Runners Find Races from Website Listings
Runners may use an aggregator to find events within their region. RunSignup's Affiliate Program allows calendar services to automatically pull RunSignup races into their calendars via our open API. This means your race is automatically included on most of the major race calendars in the US – and you don't have to do anything. A few of the larger affiliates include:
Running Stores, race timers, and other local calendars
Additionally, RunSignup does host a simple, searchable race calendar that runners use to find races in their target area.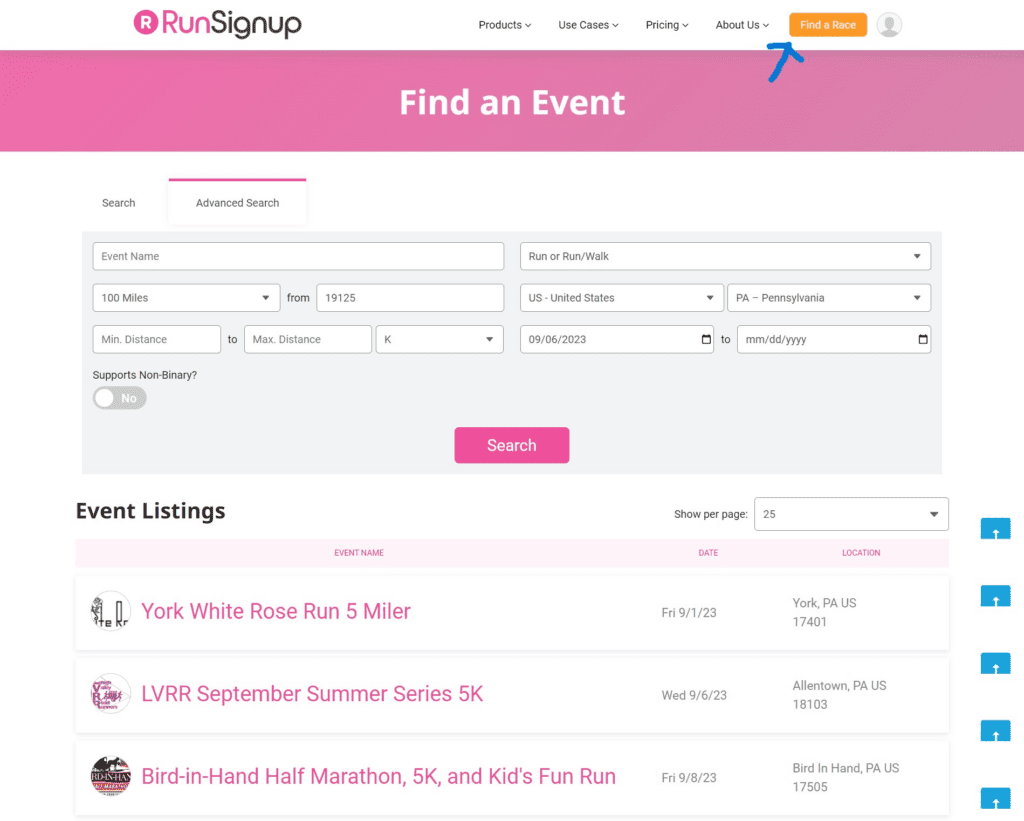 13% of Runners Find Races from Social Media Accounts
Social media is still a driver of website traffic and registrations. There are a few ways that to boost your profile on your various social media platforms.
Referral Rewards: As noted above referrals are a great way to promote registrations, and every registration confirmation includes a prompt to share the referrers unique link on social media
Ambassador Programs: There are a number of ways to run an ambassador program, including using referral tracking, providing coupons, or tracking actions with custom source tracking. However you choose to track your ambassadors, engaging and activating micro-influencers within your community can boost registrations through social media.
Social Media Links: Add social media components to your emails and website to link participants back to your social media, and post regularly. The more followers you have, the more people you are able to market to through your own channels.
11% of Runners Find Races from Event Emails
Email works. While this survey found that 11% of registrations come from email marketing, our internal data suggests the reality may be event higher. In 2022, 12.9% of registrations came from our free RunSignup email marketing platform, without counting registrations that came from external email platforms. And in a case study from last March, email drove 23% of registrations to the McGuire's Prediction 5K.
12.9% of 2022 Registrations Came From RunSignup Email
RunSignup Sent 421 Million Free Emails in 2022
Email Marketing Led to 23% of Registrations forMcGuire's Prediction Run 5K
11% of Runners Find Races from Google (or Other Search Engines)
Our research show that paid ads result in relatively few registrations (less than 1% in 2022). On the other hand, organic search is still a very common way for participants to find races. Every RunSignup race automatically gets a free race website that is dynamically built with key race information. Because of the way we build links and setup your data to be crawled by search engines, RunSignup race websites show at the top of Google searches – making it that much more likely that your race will be the one found.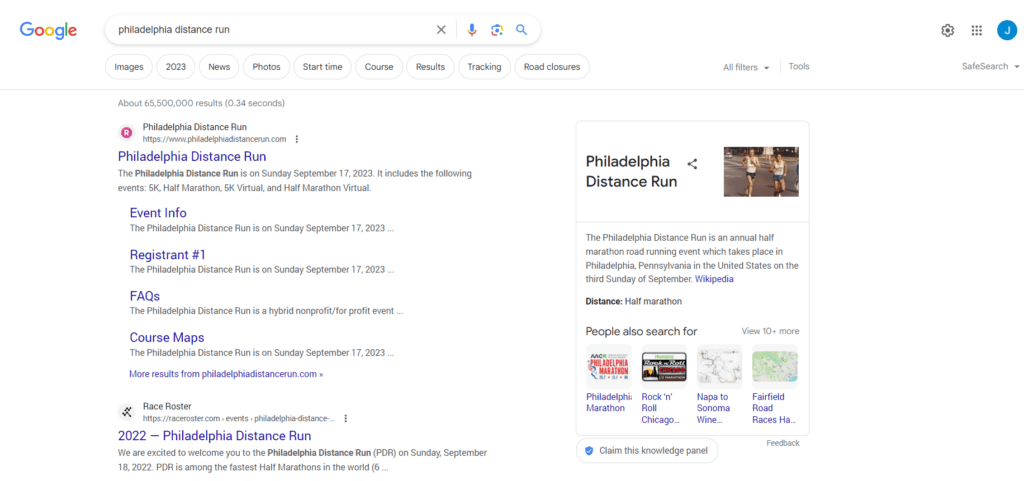 7% of Runners Find Races from a Cause or Organization They Follow
When we first launched GiveSignup, our Peer-to-Peer Fundraising product, it was because we recognize that most races are affiliated with, or organized by, a nonprofit. While this is obviously a benefit to the nonprofits who raise money through events, it can also be a boon for your race participation. If you aren't already doing so, highlight your cause on your website and in your communications. Then, ask your charity partner to promote your race to their supporters – more participants for you, and more money for the cause.
RunSignup Helps Runners Find Your Race
RunSignup's free tools help both promote your race (through affiliate calendars and strong SEO on race websites) and give you the tools to better promote your own event (through referral options, free email marketing, social sharing tools, and more). We don't sell you lists of runners, we don't sell advertisements to other events on your race website, and we don't spam the people who sign up on our platform. Instead, we focus on the pillars of our marketing philosophy:
1. Your Data is Always Your Data, 2.Technology Matters, and 3. The Best Marketing is Recommendations From People You Trust.
If you're interested in reading the rest of Running USA's Runner Survey, you can find it on their website. It's free or discounted for Running USA members, but can be purchased by anyone: https://www.runningusa.org/product/2023-race-trends-global-runner-survey/