Customer Snapshot

Open Swim Distance: 4.4 Miles
Rounds of Lottery Drawings: 3
Money raised for charity (all-time): $3,000,000+
A Premier Open Water Swim Challenge
The Great Chesapeake Bay Swim is a 4.4 mile swim across Maryland's Chesapeake Bay. While the exact origins of the swimming challenge are unknown, two formal races across the bay began in the early 1980's before merging in 1986. The modern Great Chesapeake Bay Swim celebrated it's 30th anniversary this year. The open water swim requires a major commitment to training and open water experience, and is limited to 650 pre-registered entrants to ensure a safe and well-organized experience. That means the event, as beloved as it is by the community, comes with some unique organizational and communication challenges.
Complex Participant Management
Lottery Registration
The event uses a lottery to fairly select participants for it's limited field. In 2022, they opted for a hybrid lottery, combining both high tech and manual processes.
First, they utilized RunSignup's lottery tool to register potential participants and save their credit card information.
Second, due to registrant concerns about auto-charged credit cards, they sent a Google Form to each lottery participant who was selected, and then manually selected and charged them within RunSignup.
Participant Information
Due to the safety considerations of the swim, organizers collected several pieces of participant data beyond what is standard.
First, they used custom questions to gather emergency contact information including whether the emergency contact would be on-site for the race.
Second, they enabled RunSignup's Registrant File Upload tool and required swimmers to upload proof that they had recently completed either an open water event or a three-mile pool swim in under 2 hours 15 minutes.
Participant Communications
With so much crucial information to share – from lottery instructions to safety information and race day logistics – communications are crucial for the Chesapeake Bay team. They took advantage of three major communications channels to make sure every participant had all the information they needed.
Free Email
While the Chesapeake Bay team did do some email marketing to remind previous participants that registration was opening soon, the main use of RunSignup's free Email V2 was to share key race information with lottery entrants and eventual participants. In total, they sent 19 marketing & logistics emails in 2023, leading to nearly 10,000 views of their RunSignup website.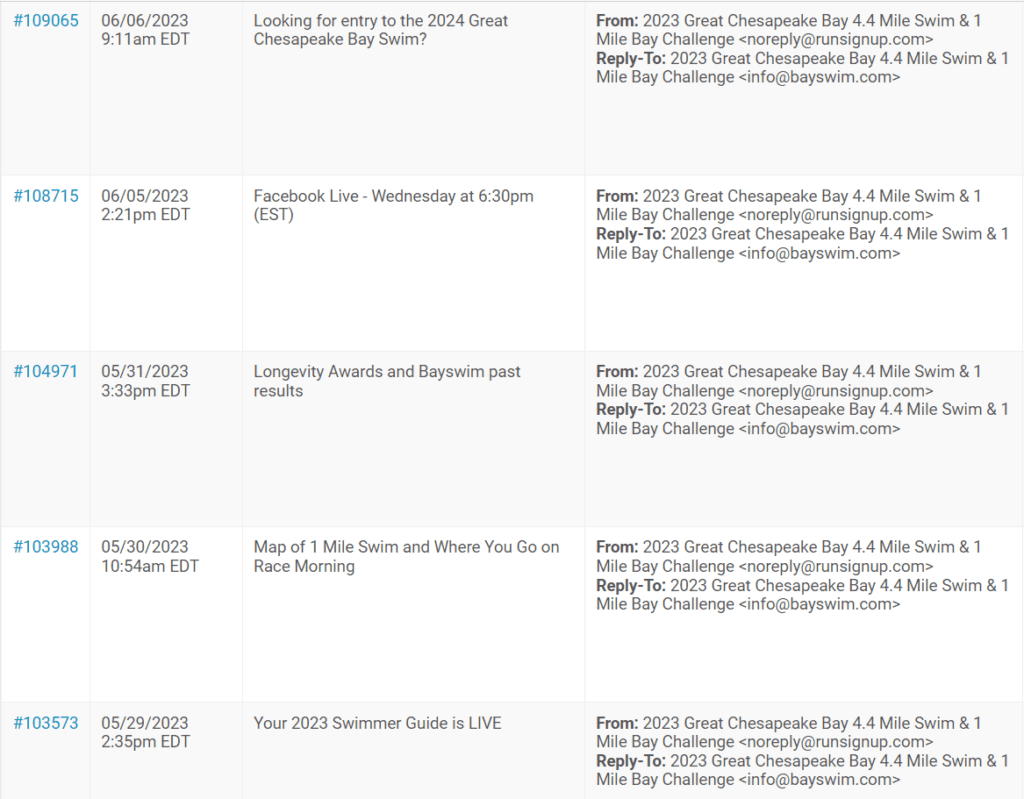 RunSignup Website
The Great Chesapeake Bay Swim created a detailed and informative website on RunSignup, but made it feel custom by bringing their own domain (www.BaySwim.com) and adding tons of custom content pages. In addition to their Swimmer Guide and details about the Tides and Currents, they actually posted the email content to the website as well, ensuring that every participant had multiple ways to access important information.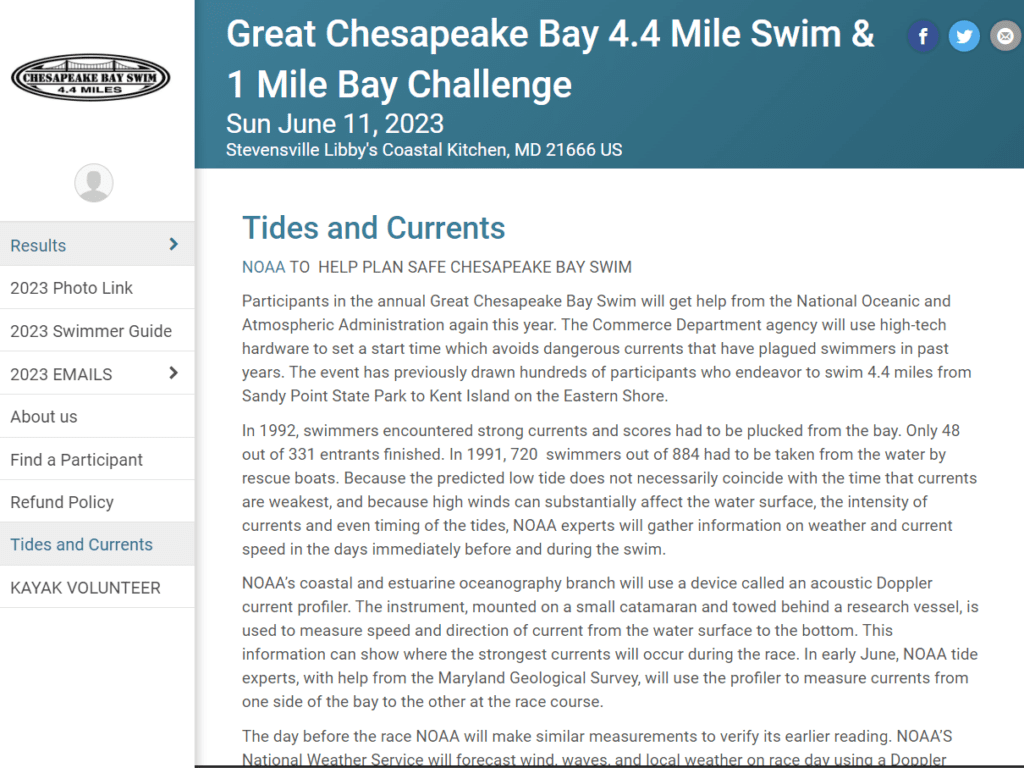 Video and Social Content
Recognizing that athletes get information from a variety of sources, the race provided additional interactive opportunities for participants to get information about the event. Shortly before the race, Race Director Jason Chance hosted a Facebook Live information session, taking questions and comments from more than 60 participants in real time. After the event, the video was shared to YouTube for participants who were unable to attend live or may not have Facebook. On YouTube, the video was viewed more than 450 times.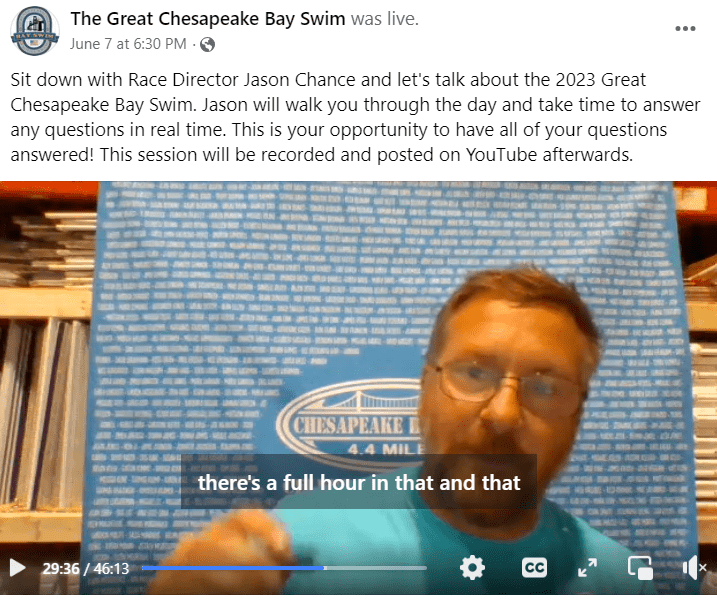 RaceDay Suite
This year's Great Chesapeake Bay Swim used the entire RaceDay Suite. This included RaceDay Scoring for timing (with absolutely no issues, dynamic bib assignment as swimmers checked in, and the RaceDay CheckIn App.
In addition to the standard check-in procedure, volunteers used the CheckIn App to identify whether the swimmer was competing in the Wetsuit or Non-Wetsuit Category. Wetsuit/Non-Wetsuit was set up as a Registration Question, and while it was asked during registration it could be edited by the volunteer at CheckIn. This allowed the swimmers to decide whether or not to wear a wetsuit last minute, with all relevant weather information, while ensuring an accurate response to use for scoring and results.
To make this step easy for volunteers, the race setup a Preset that included the wetsuit category as the one viewable and editable registration question. That meant each volunteer could verify the category and make any changes as they dynamically assigned bibs.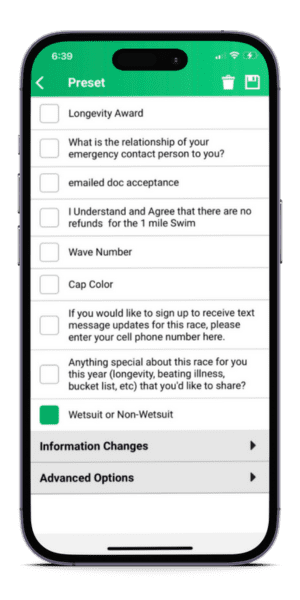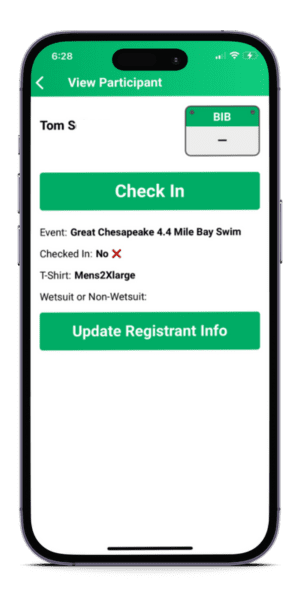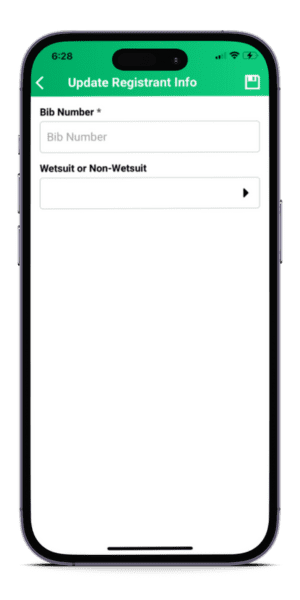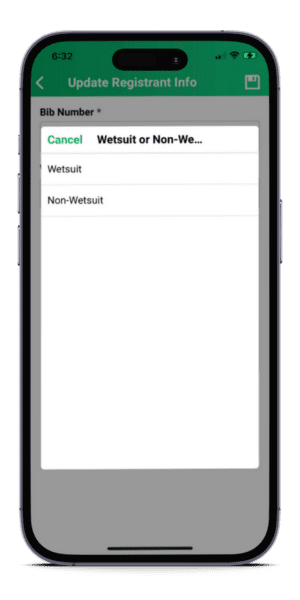 Summary
While many races succeed by keeping their communications simple, Great Chesapeake Bay 4.4 Mile Swim & 1 Mile Bay Challenge comes with significant logistical and safety challenges. In 2023, they were able to use RunSignup to manage a high-demand lottery, collect robust participant information, organize and disseminate a information quickly through multiple channels, and run a seamless race day. We look forward to seeing what they do in 2024!