Q1 2023 saw several trends in our business:
We reached the $2 Billion of revenue generated for our customers milestone.
Races are beginning to recover more towards 2019 levels.
RunSignup continued registration and event market share growth.
TicketSignup saw 2.6X growth, although is still a new and small business for the company.
Competitors selective aggressive pricing has attracted some events.
We share our high level numbers and thoughts on the market and technology advances on a quarterly and yearly basis – 2012, 2013, 2014, 2015, 2016, 2017, 2018, 2019, 2020, 2021, and 2022.
RunSignup Quarterly Numbers
We had a record quarter as we continue to benefit from strong word of mouth about our technology platform for events. These numbers were slightly ahead of our company plan for the year, and we are now able to consistently operate profitably. It was a good start to 2023 for our company.
We are breaking out Tickets from Registrations for the first time as tickets begin to reach material numbers (although Q1 is our slowest quarter for tickets).

RunSignup Endurance Business
The RunSignup endurance business is the majority of our revenue and continues to grow. We are benefiting from an increase in the number of participants compared with 2022, and we are seeing continued adoption of RunSignup as the preferred choice for races as we continue to win new customers. The new customer growth offsets customer churn.
Here is the chart for # of participants for races that were on our platform in both 2022 and 2023 above 500 participants:

Here is the chart for churn as well as new races of over 500. Growth before churn is a healthy 25%.
Churn comes from 3 categories that we track and measure. First is races over 500 that do not return. Second is the loss of races over 500 participants that are held in a month. The third is larger races that have moved that had registrations within a quarter (so somewhat duplicative of the second, but more forward looking).
"No Race" churn has returned to the normal range of ~6-7%. Remember this is for any race over 500, but most of the "No Race" churn races are smaller and have less effect on total registrations on our platform. The second category of churn is races that were held in the month that moved to another platform. The losses are fairly random, with no real patterns that concern us strategically – Chronotrack 3, Enmotive 2, Active 2, UltraSignup 1, Raisley 1, TriReg 1. The total of these was less than 1% of total registrations and total revenue.

We have been negatively impacted by churn of larger races. Lifetime Fitness went back to using Chronotrack (they own Chronotrack) for registration after using us the previous year. This includes large races like Miami Marathon, Unbound Gravel, Chicago Half, and 7 others. Also Race Roster was aggressive with pricing and was able to win Philadelphia Marathon, Oklahoma City Marathon from us. And Enmotive was able to win the Bay City race from us. The total negative impact was 38,068 registrations, which represented about 2% negative churn for registrations happening in the quarter, but since most were higher priced events, they had a negative 4% effect on total transactions.
We were also pleased to roll out a new website! It is chock full of searchable information and is a now a central place for the new blog, webinars, events, support and detailed information on everything you need to know. The new website features customer photos – feel free to share your photo for potential inclusion (or just browse all the great photos that have been posted to this gallery). We are also going to soon be looking for photos that we can include for free to other events in our image gallery that customers can use in the websites and emails.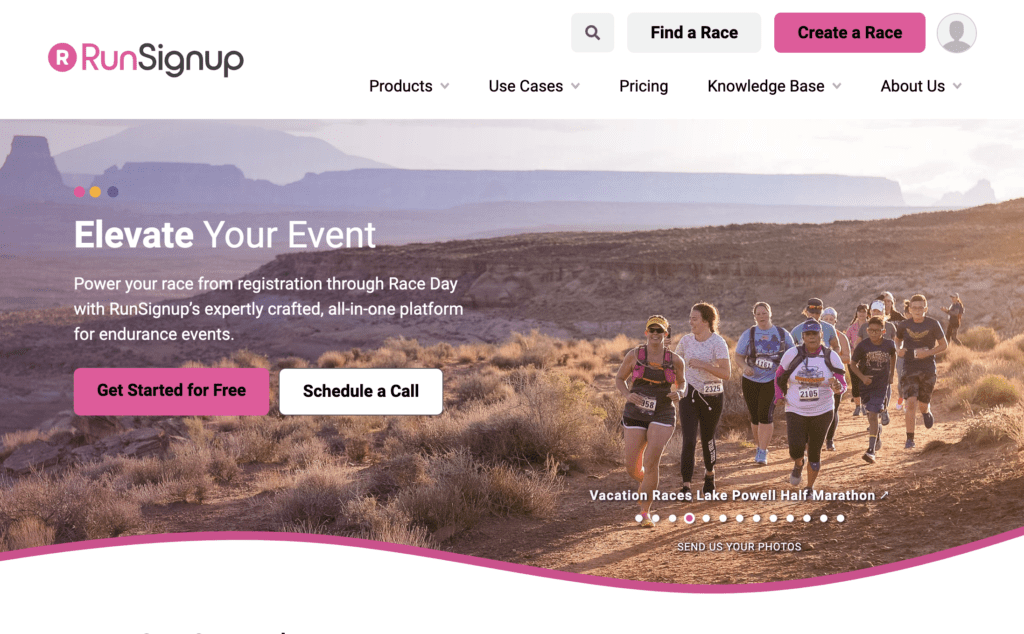 TicketSignup Business
We saw very strong growth of 2.6X over last year in our ticket business – above our plans of doubling. It seems likely we will continue to grow at a greater than 100% rate for the rest of the year. Many of the same dynamics that made us successful in the endurance market are playing out in the ticket market. Customers appreciate the high level of functionality we provide them at a cost that is lower than Eventbrite and other ticket platforms (Eventbrite is making things easy for us with layoffs, offshoring and forcing customers to pay for email and ads for visibility). We are also beginning to gain some word of mouth referrals from both our endurance customer base as well as our early TicketSignup users.
There are two dynamics that are working very well for us with the new ticket business. First, it provides a high growth business to our mix. This high growth is enabling us to continue to invest in the platform. Which is the second dynamic – we have a common, shared platform. So when we build a feature, it is available to both endurance registration customers as well as ticket customers.
GiveSignup P2P Business
Our donation volume grew about the same rate as our overall endurance business. It looks like we have won a couple of larger P2P opportunities which will open up this year and continue the strong growth we are seeing in nonprofits coming to our integrated Event and P2P platform. Our recent announcements around integration capabilities is also helping large P2P events like Pat's Run integrate with their CRM and Donor Management systems like Salesforce, Donor Perfect and Bloomerang.
Technology Advances
Pre-Built Emails – Pre-Built Emails give our customers a set of templates with suggested layouts and text, including relevant replacement tags and bolded sections that are easy to replace with your event's custom details. We have a number of types for races and for tickets, and will be adding more in the near future:

New Insurance Revenue Generation for Races – Protecht's new RegShield insurance offering is now available for races to offer to their participants. Much like when buying airline tickets, event directors can now offer insurance for participants who can not make it to the race due to injury, illness or 16 other reasons. Best of all, the insurance provider will do a revenue share of 20% of the price of insurance with the race.
Zapier Integration – We have always had an Open API, but now it is even easier to integrate RunSignup data like participants, donors and fundraisers with your CRM and donor management system.
Participant Report Improvements – We have updated the most used report on the RunSignup dashboard – the participant report. The new options make it simpler to select events and dates.
Google Analytics 4 – Google Analytics 4 is now supported for registration and ticket events.
RaceJoy 10th Anniversary – RaceJoy has had helped over 1,7 Million people enjoy the 6,300 races that have used it to help give participants real time views of participants via GPS – bringing joy to many, many races and people. Congratulations to James and Shelly Harris for creating this brilliant technology.
Many Ticket Updates – TicketInsights (same as Races now), Ticket App Printing, Custom Ticket Numbers, Improved Store Reports, and more.
Summary
We have had a solid start to the year, and are in track to put out a number of major advancements to our event technology. We are on track for our development roadmap, including bringing the next gen website capability to races as well as a next gen membership upgrade. It is going to be a good year for us and our customers as events come back.
As a bonus, here is a customer talking about how our CheckIn app helped the FBI keep a race secure…