Technology for Paddle Events…
RunSignup makes registration easy, sure. But we're also here with free technology to help you manage your paddle events from conception to execution.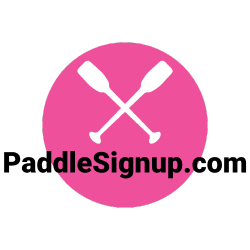 Brand Your Website for Paddling Events with PaddleSignup
Did you know that you can use the alternate URL of PaddleSignup.com for your event? No extra steps are required: with our Single Sign On System for multiple brands, the race you create can be accessed from either RunSignup.com/MyRace or PaddleSignup.com/MyRace. The functionality is the same, but the branding is perfect for your event.
Registration for All Types of Paddling Events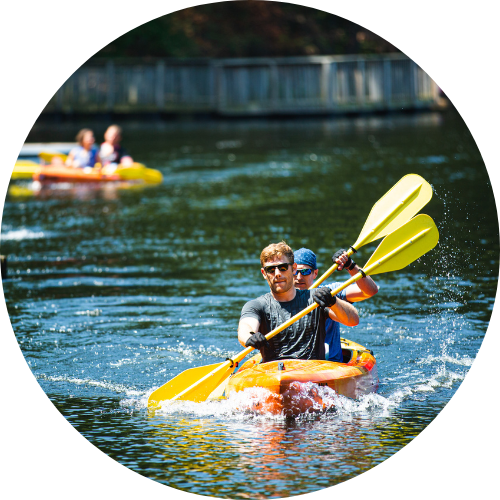 Kayaking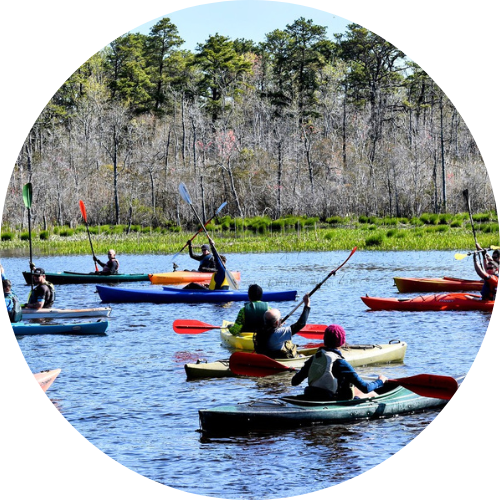 Fundraising Paddle Events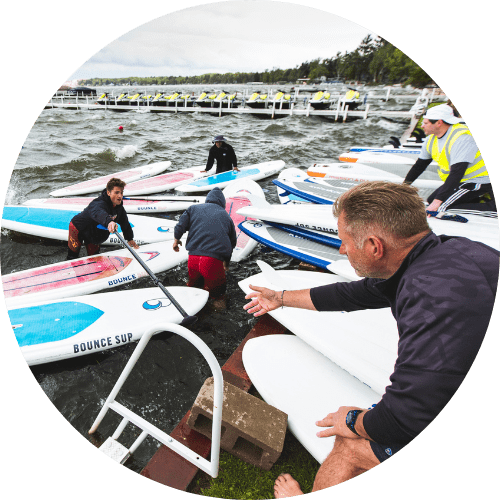 Stand-Up Paddle Boarding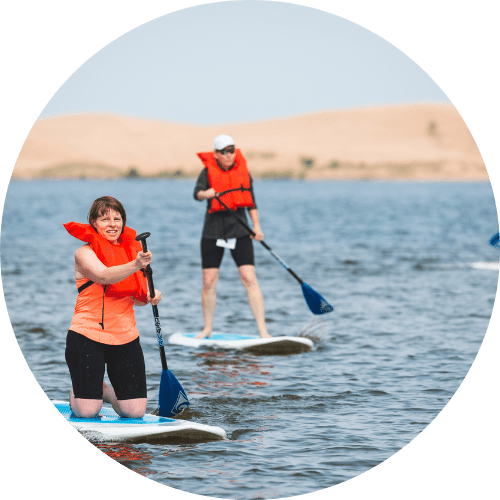 Paddle Fests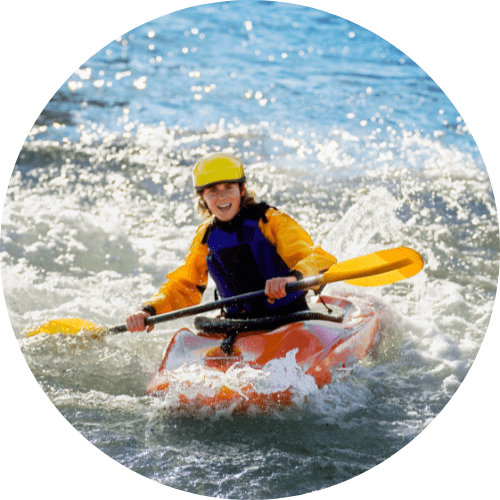 Group Paddling Classes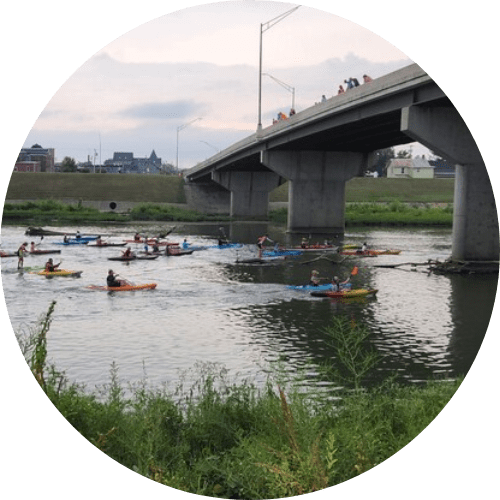 Open-Water Paddling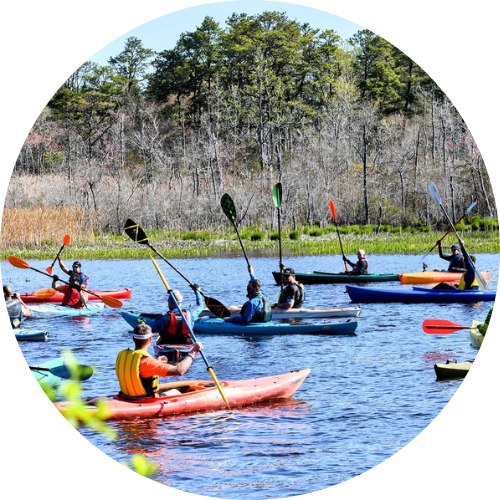 Paddle Battles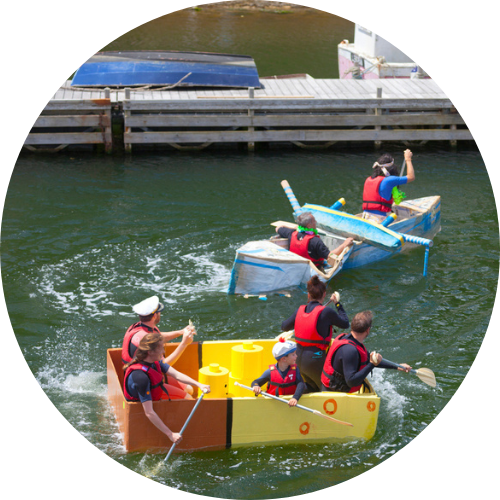 Cardboard Boat Races
---
Key Features for Paddling Events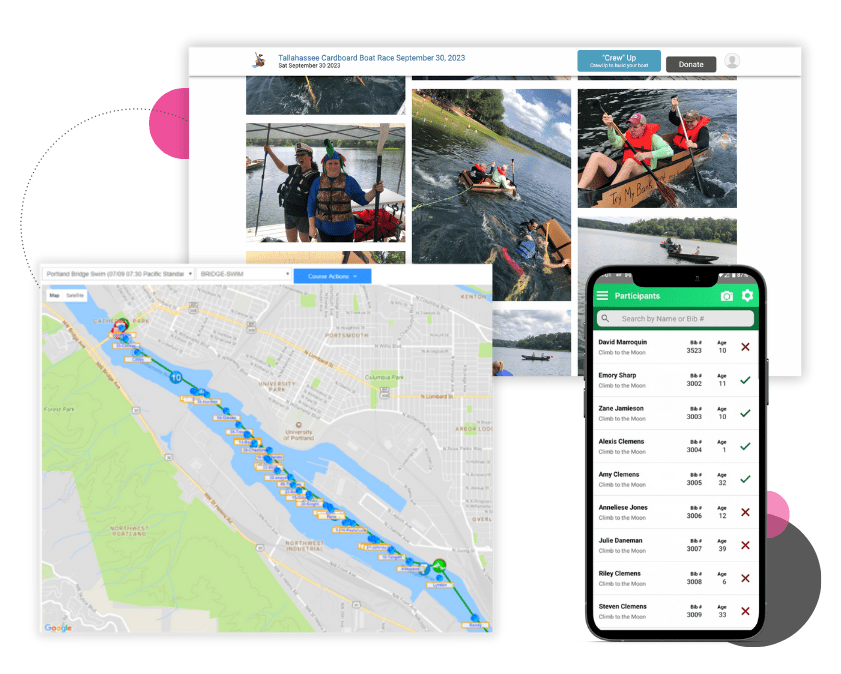 RaceDay Tools For Safety & Engagement
Utilize our suite of RaceDay tools for a smoother, safer, and more fun paddle experience.
CheckIn App allows you to quickly get participants checked in and ready to paddle (and it's free)
RaceJoy allows you to track your participants in real time. Work with a certified timer to activate RaceJoy for a safer paddle
RaceDay Photos lets you share unlimited photos from your past events posted to your event website. Start creating FOMO with your epic paddle photos.
Flexible Pricing Options for Teams
Make your paddle event more approachable with relay and team options. RunSignup's team features include:
Require a teams to be a specific size (for example, 2 people to fill a tandem kayak or 4 people per row boat)
Allow teams that are single-gender or coed
Flexible team pricing that allows for a captain to pay for everyone up front or requires each registrant to pay as they join
Example: Price automatically adjusts when 2 people have separate registrations for a tandem kayak. Adjustment shown at checkout.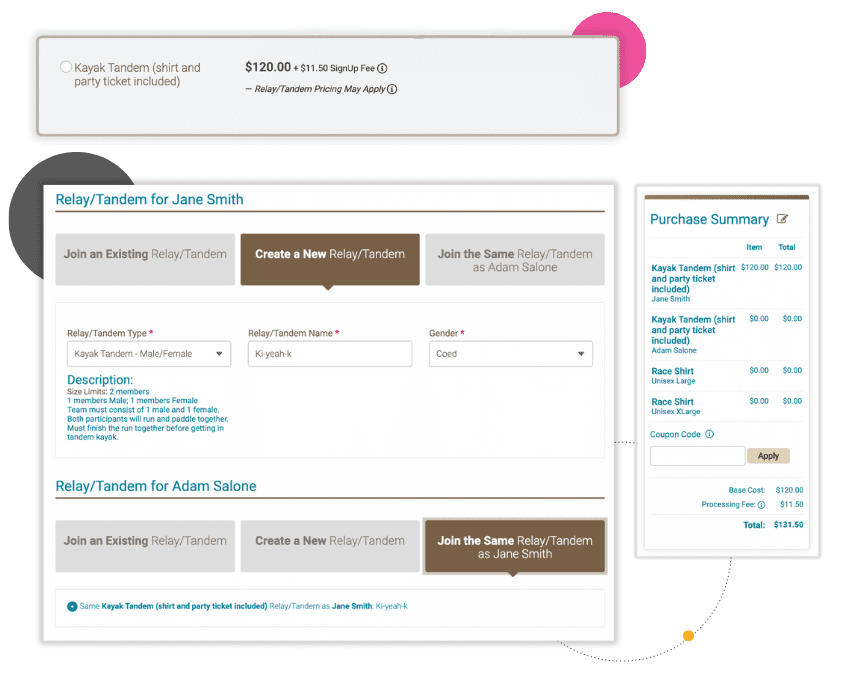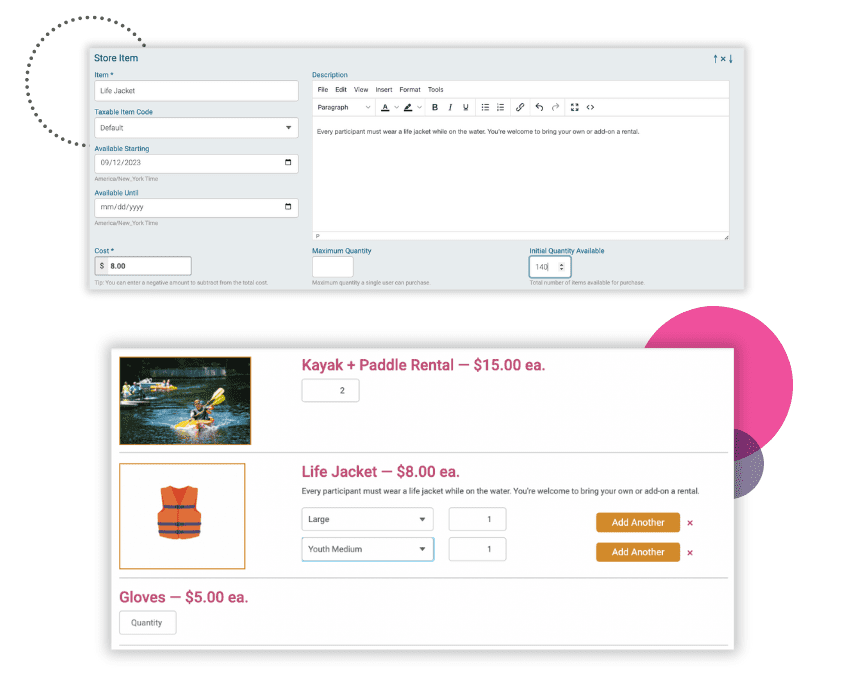 Add-Ons

Include add-ons during the registration process to make sure everyone has the gear that they need on event day. Create add-ons for rentals like life jackets and kayaks, or create for purchase gear like gloves. Features include:
Set a limit of inventory available
Create a cap for how many of each item that one participant can add
Include gear variants like size and color
Tours and Classes for Kayaking and Paddle Boarding
Offering river tours or have open water paddling available? Manage and promote your paddle sport activities with RunSignup's free Ticket Platform, TicketSignup. TicketSignup allows you to easily book lessons, classes, and tours all season long. With TicketSignup you get best-in-class technology to power your tours and classes.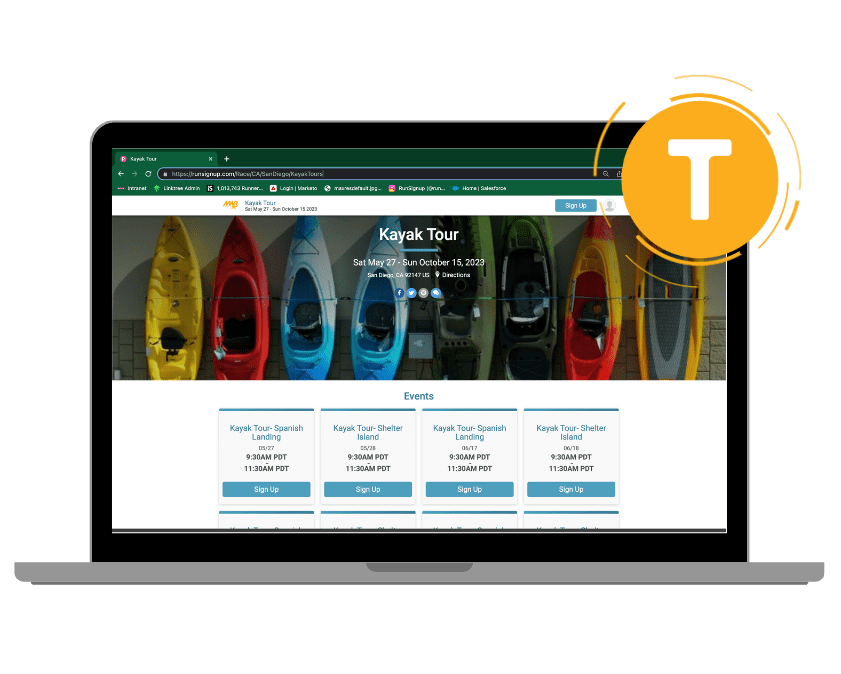 Donations and Fundraising
Raise more for your cause with integrated donations and the ability to engage participants as fundraisers.
Enable donation options with customizable donation levels and simple checkboxes at checkout
Activate fundraisers with personalized fundraising pages and access to email templates
Harness the power of social connections with team fundraisers that work together towards a common goal
Gamify your fundraising with automated fundraiser leaderboards, digital trophy cases, and refund rewards for meeting specific donation thresholds
Opt to require a minimum fundraising amount for participants (or not)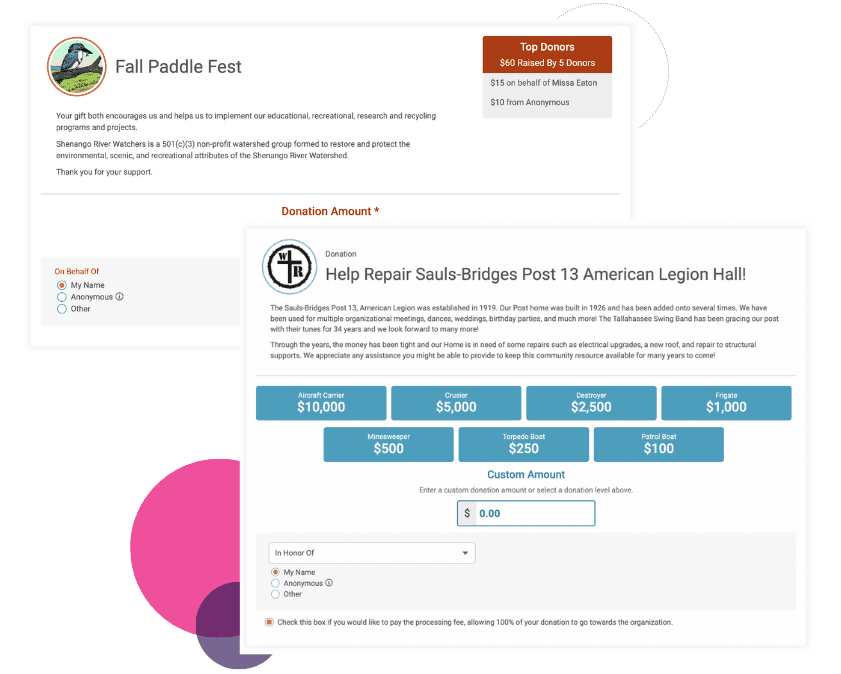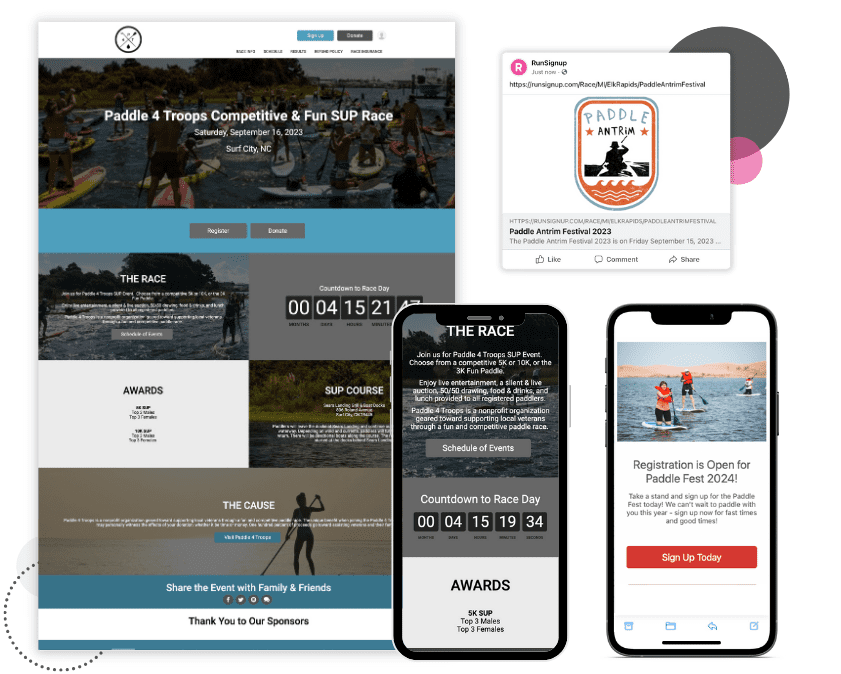 Free Marketing Tools
Get the word out with free, built-in tools to market your paddle events.
Stand out from the crowd with a free and custom paddle websites with your branding (not ours)
Connect with your community and bring back participants with free and unlimited email marketing
Turn your loyal participants into ambassadors and incentive sharing with an automated referral rewards program
Understand your results and optimize your spend with the RaceInsights Analytics dashboard
Participant Insurance
Earn more revenue by offering your participants optional protection.
Enable the ability for participants to purchase insurance during their registration
All insurance-related participant management (and refunds) are handled by our insurance partner, Protecht Regshield
Low-cost option for your participants, at 8.1% of the registration fee (just a $2.99 minimum)
20% of all insurance premiums are paid to your race, providing a nice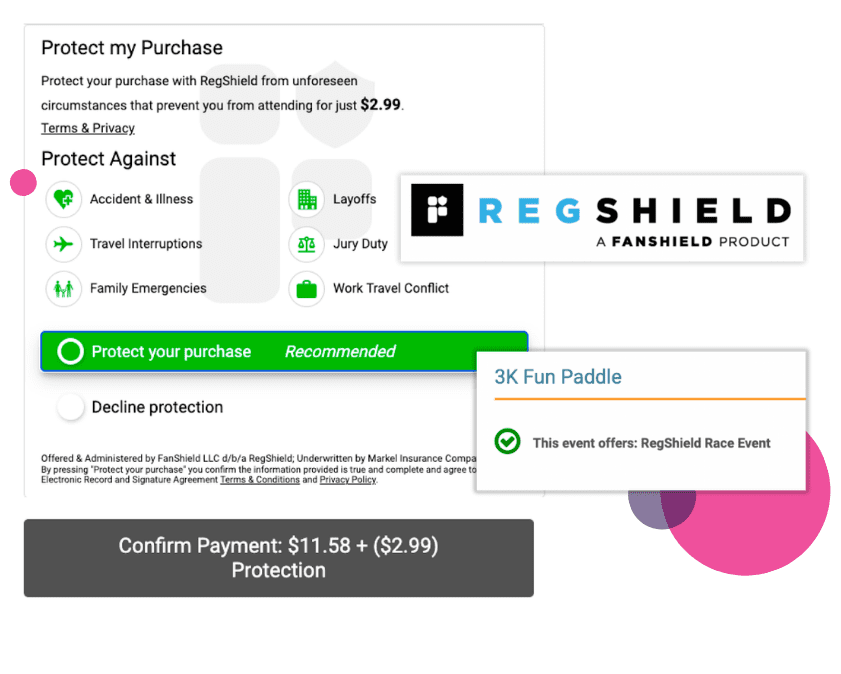 ChattaJack
ChattaJack is a highly anticipated race for passionate paddle athletes. Paddlers have the option to compete in either kayaks, stand-up paddle boards, canoes, and more to complete the challenging 31 miles in the Tennessee River Gorge.
The event attracts paddlers from all over and fills up long before event day. ChattaJack uses RunSignup to manage their registrations, organize their divisions, release results, and more.
More Technology for Paddle Events…
Looking for something else? Here are a few other features that make life easier for paddle events.
Most Recent Blogs on Paddle Events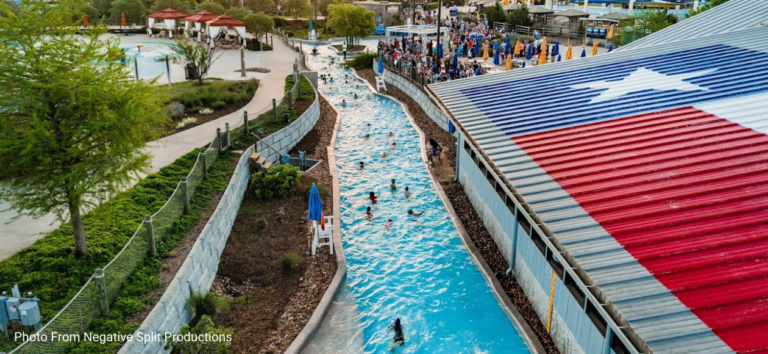 Along with the recently released BikeSignup, TriSignup and SkiSignup, we now offer PaddleSignup.com and AdventureSignup.com branding for paddle sport and adventure customers who want their signup to be specific to their type of event. Like with BikeSignup, all races are listed on each iteration of the site…
Read More