Technology for Race Management Companies…
RunSignup makes registration easy, sure. But we're also here with free technology to help you manage your event business and race operations from conception to execution.
Share Access (Securely)
Make it simple for your race team to access and manage your race in parallel with flexible, secure, access settings that allow you to share the full dashboard or limited dashboard screens with everyone who needs access. Easy access for you and your clients.
Built for Endurance Events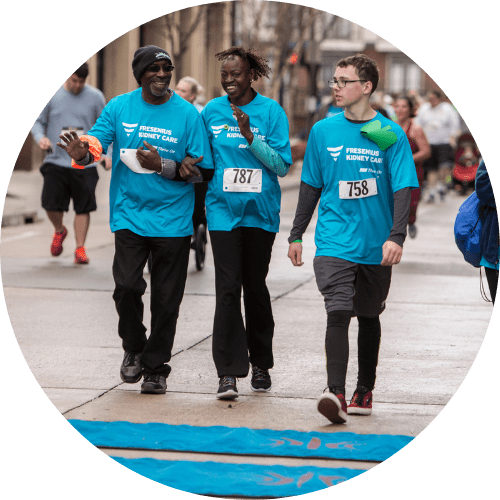 Walks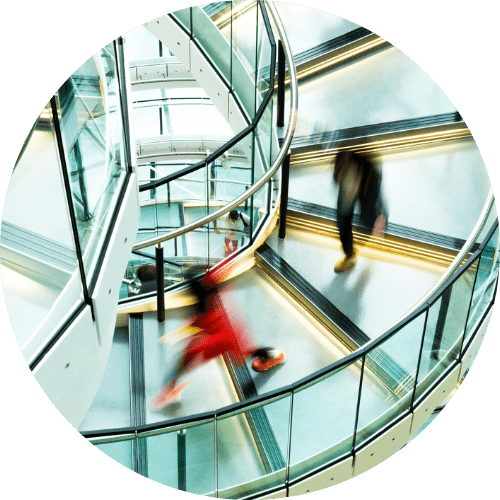 Stair Climbs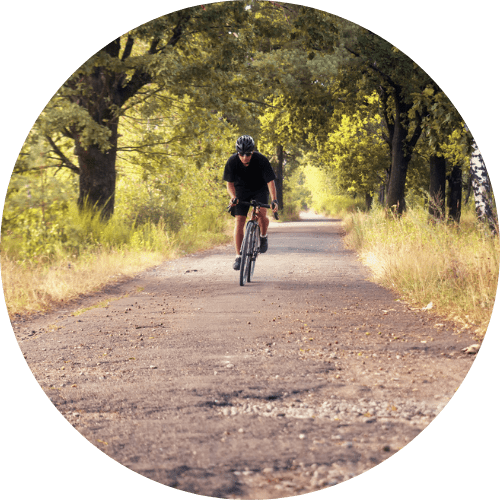 Gravel Grinders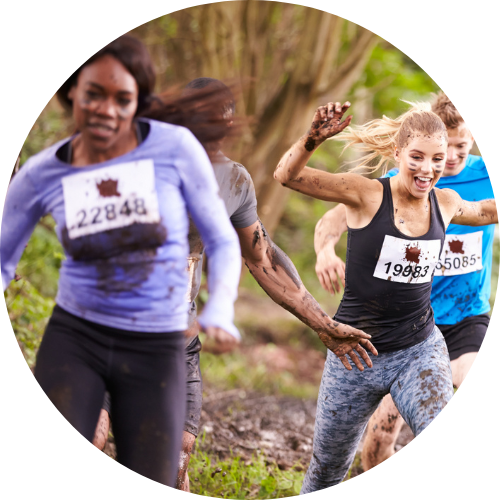 Obstacle Course Events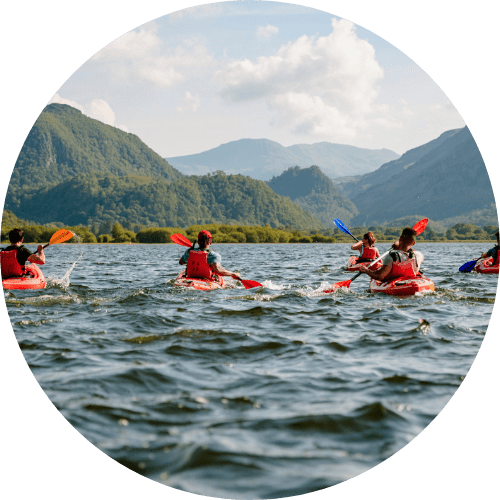 Paddle Events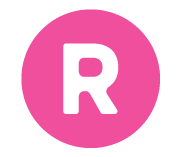 Partner Program
Do you manage over 5,000 paid registrations per year or process over $200,000 annually? Our Partner Program is designed to help you manage multiple events with a higher level of service, and revenue-sharing options.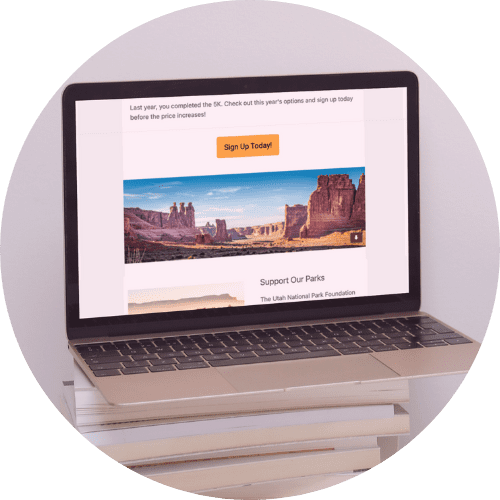 Organization Websites & Emails
Activate all your data with free websites and and free email platform tied to all the event data from your organization. Email lists and event calendars automatically build from the events linked to your payment account to reduce time overhead.
Registration Features for Race Management Companies
Custom Information Collection
Collect all the data you need (and none that you don't).
Multi-format question options, including multiple choice, radio button, time entry, essay, and more
Custom question logic to ask some questions based on previous answers
Quick-fill standard questions for emergency information and text notification sign ups
Ability to ask for responses from each registrant
Question response reporting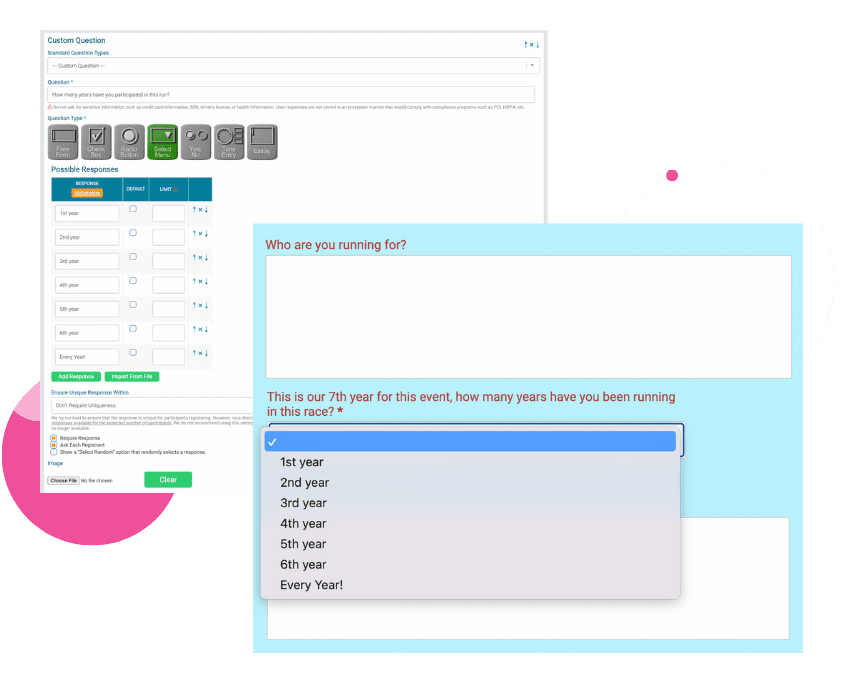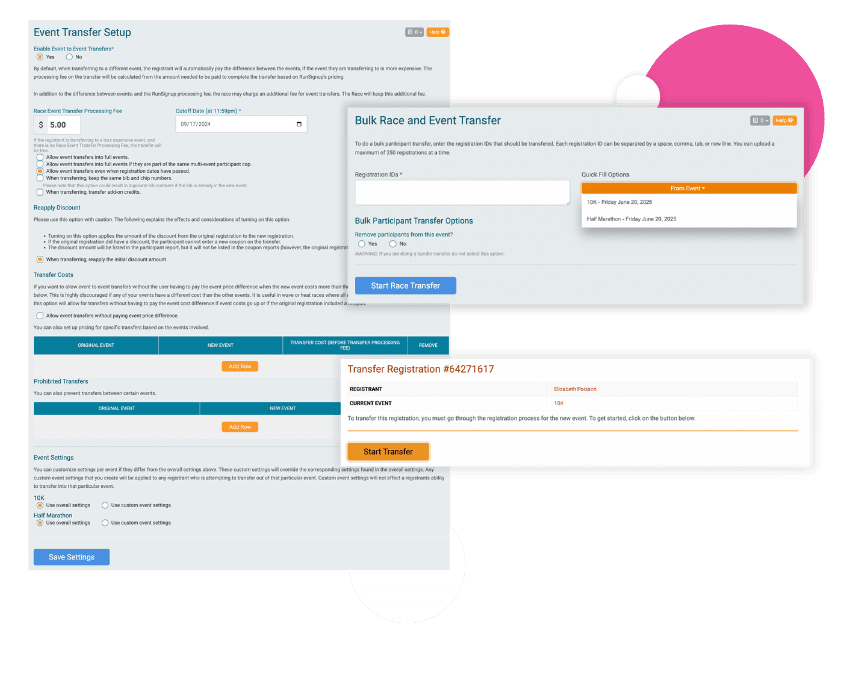 Participant Management
Ease customer service and keep participants coming back with flexible options for participant management.
Enable self-serve options for participant management
Allow participants to transfer to another race or event, join a team, and manage their giveaways, add-ons, and question responses (for free or for a fee)
Offer bib exchanges with or without automated refunds
Make it easy to manage participant changes that apply to many people with bulk participant management features for refunds, transfers, and deferrals
Merchandise Sales
Increase revenue and build your brand with merch for your event.
Offer giveaways (like t-shirts) with option selection (like size) and integrated inventory management and a giveaway estimator tool
Sell upgrades and premium merch through add-on items suggested in registration
Create a store for merchandise you want to sell during and outside of registration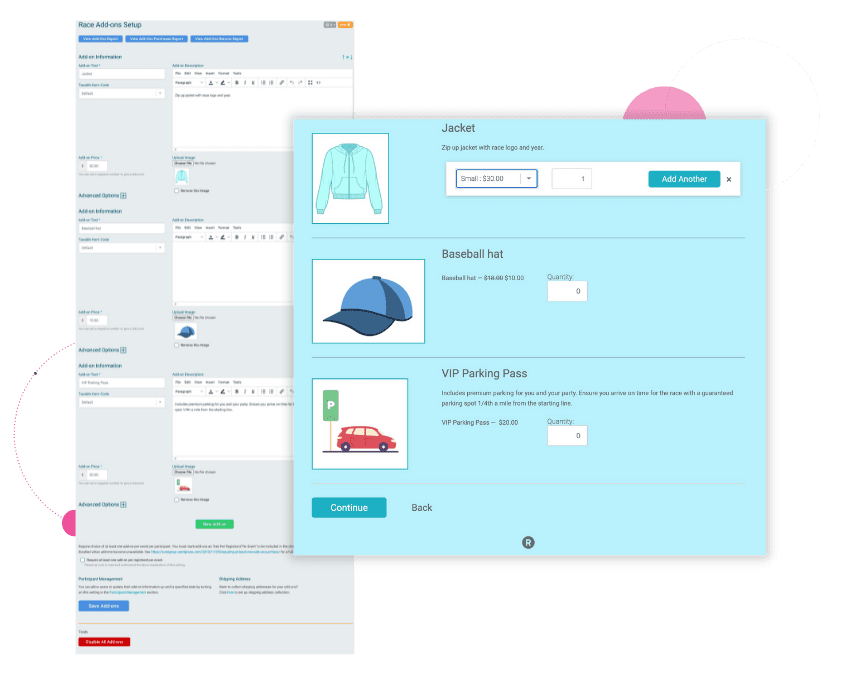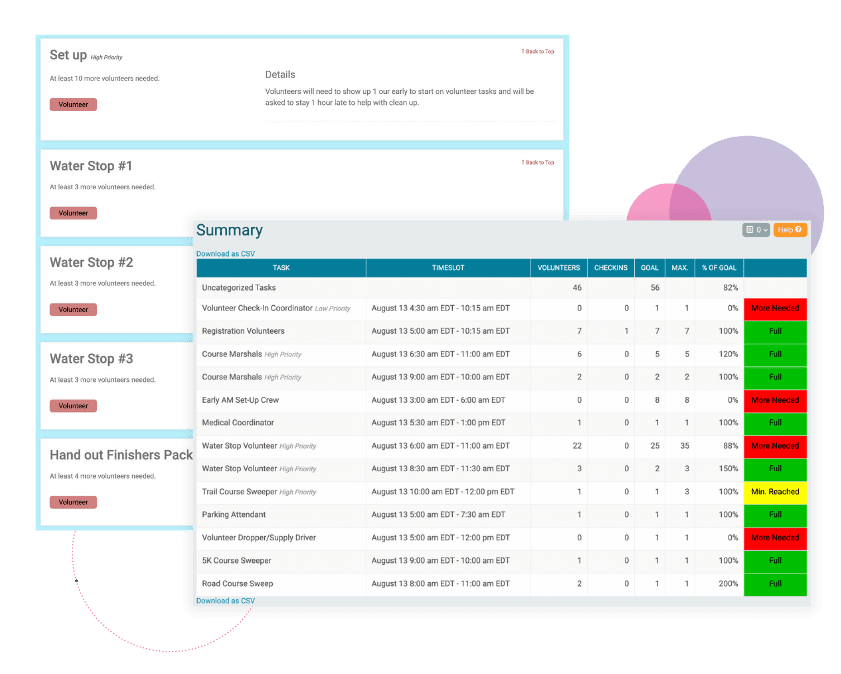 Volunteer Platform
Register and manage volunteers directly from your race dashboard.
Organize your volunteer needs with individual volunteer tasks, timeslots, and groupings of tasks into categories
Optimize your assignments with minimum and maximum numbers of volunteers needed
Add custom questions with information and waivers from your volunteers
Easily communicate through free email and automated volunteer lists (and sub-lists by task or category)
Assign a volunteer coordinator and/or task coordinators to provide limited access to your lead volunteers
More Registration Features..
---
Marketing Features for Race Management Companies
Free Website
Every race comes with it's own free race website that can be branded, customized, and formatted to match your event (no coding necessary)
Brand your website with your logo (not ours), custom color scheme, and event images
Bring your own domain or subdomain (SSL Certificate Included)
Add unlimited content and pages and organize your site through menus and submenus
Create a beautiful cover page with dynamic data elements that automatically sync with your race date
Personalize your site with photos, videos, and even playlist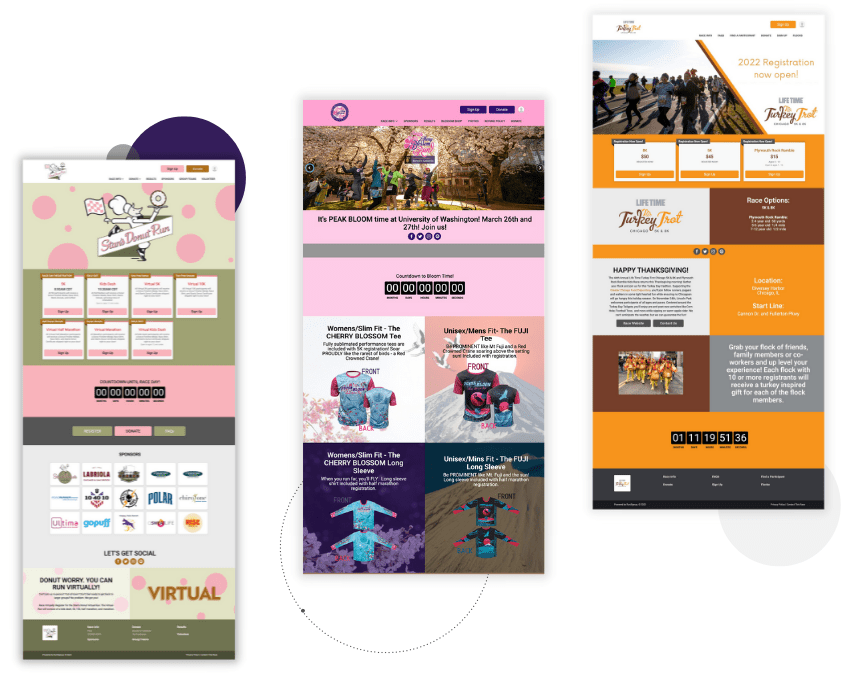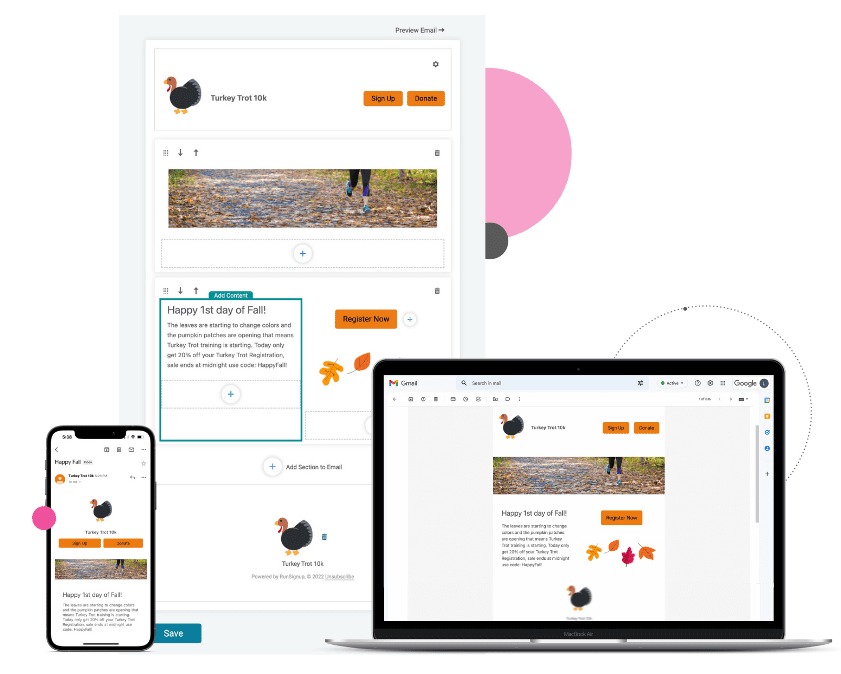 Free Email
Communicate with participants (and those you hope will be participants) with email integrated into your event.
Drag & drop Email Builder to create professional and beautiful layouts
Automatically match the brand of your race website or further customize your email templates
Access default email lists of current and previous participants, volunteers, donors, and more
Upload unlimited emails and send unlimited emails (it's still free)
Personalize your emails with dynamic data replacement tags
Referral Programs
Automate your referral program and incentivize participants to become ambassadors for your event. When enabled, 7% of all registrations come from referrals!
Reward participants who refer their friends by offering an (automatic) refund when they meet a pre-determined number of referrals
Activate your super-supporters with swag rewards that collect swag details like shirt size from a referrer once they earn the swag rewards
Stack your rewards to keep your best referrers working for you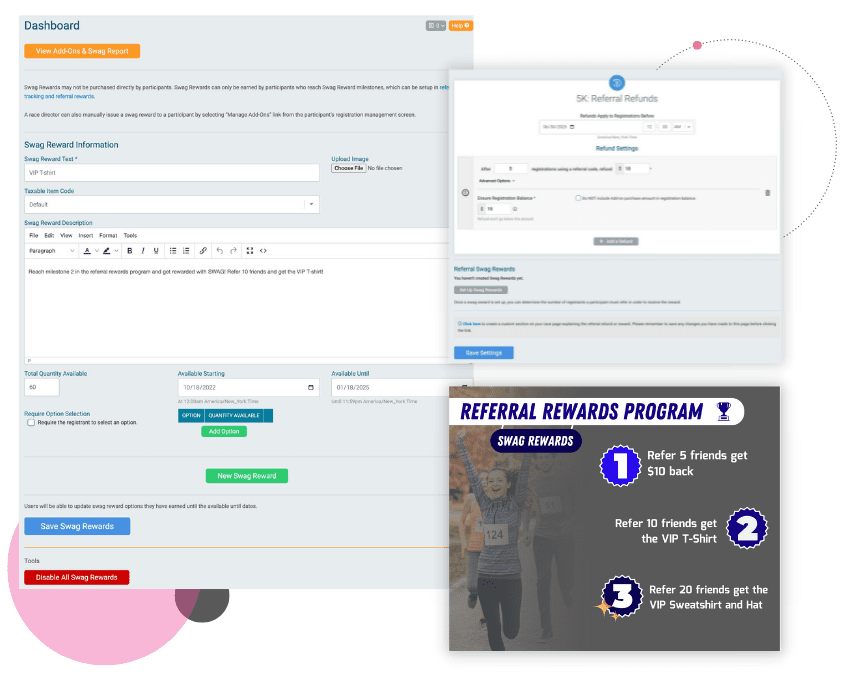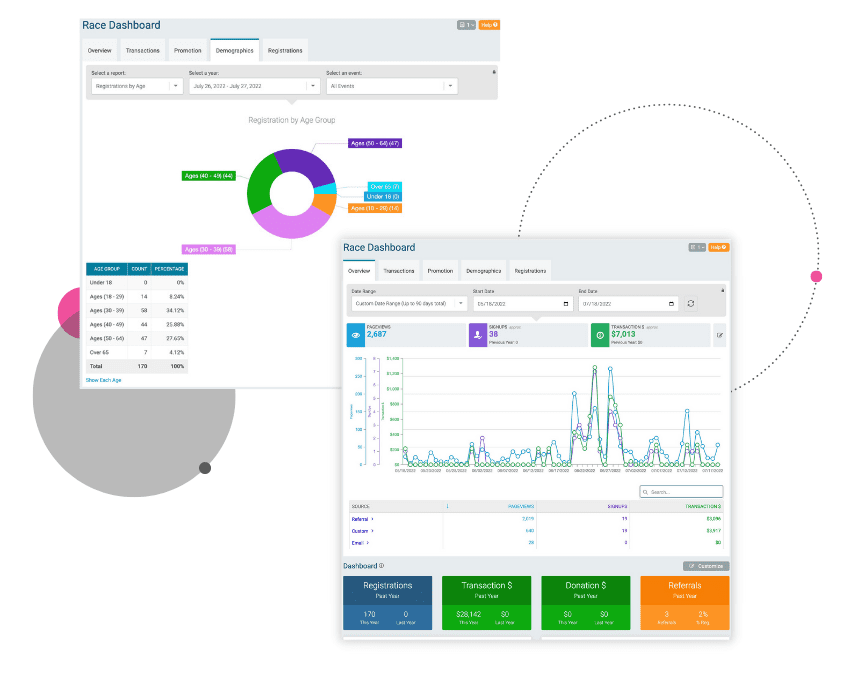 RaceInsights Analytics
All the data you need to optimize your marketing spend, right at your fingertips.
Track the source of every click, registration, donation, and transaction on your race website
Create custom source tracking codes to evaluate the success of individual marketing campaigns
Quick demographic and geographic reports reveal your participant profile
View year-over-year comparisons to monitor changes in registration patterns
More Marketing Features..
---
RaceDay Features for Race Management Companies
On-Site Registration
Simplify on-site registration kiosks with the specialty settings of on-site registration.
Go paperless with an easy on-site registration process
Allow card and/or cash payments for your race day registrations
Immediately sync race day registrations with the RaceDay CheckIn App and RaceDay Scoring
Auto-logout on-site registrants to allow the next participant to register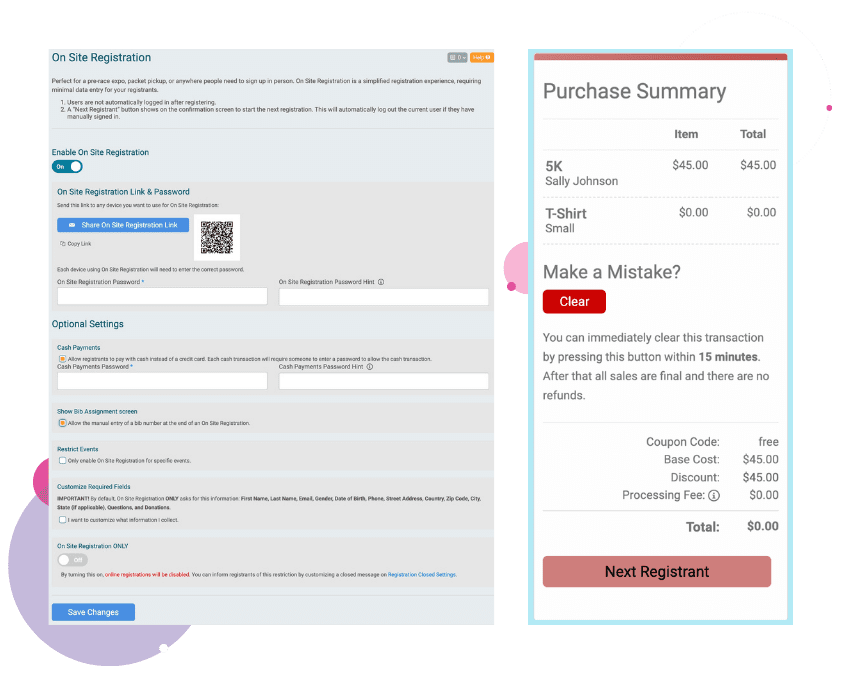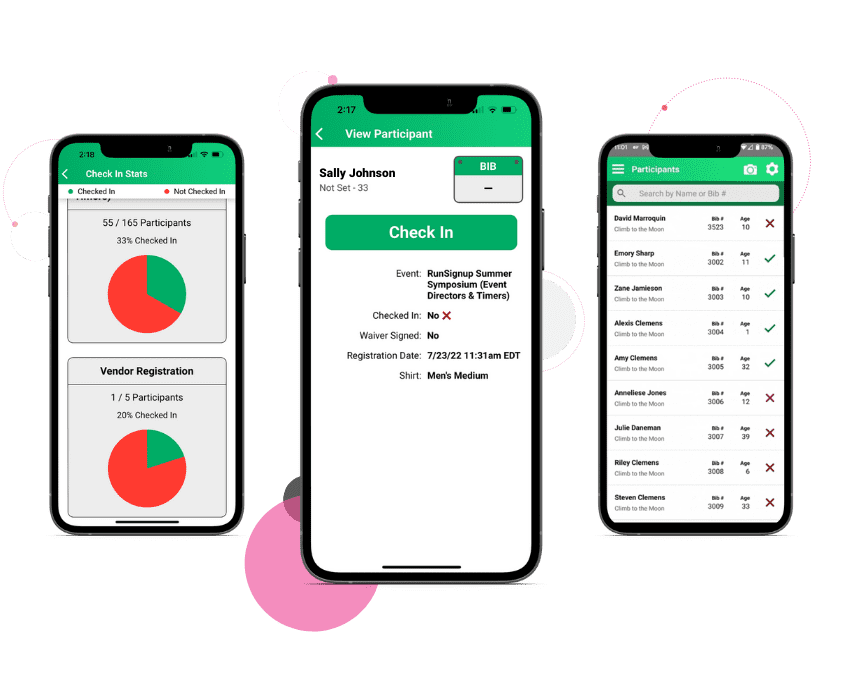 RaceDay CheckIn App
Make lines a relic of the past with the super-speedy RaceDay CheckIn App.
Check in volunteers in seconds with a quick QR scan or search
Assign bib numbers in advance or directly from the app
Connect to a label printer for personalized labels printed on-site
Manage check-in for both participants and volunteers
RaceJoy Tracking App
Activate spectators with real-time runner tracking, available through Certified Timers.
Hype up participants through custom cheer sending
Keep runners on track with off-course alerts and SOS alerts
Track your participants throughout the race with your own tracking dashboard
Engage sponsors with in-app ads and custom audio clips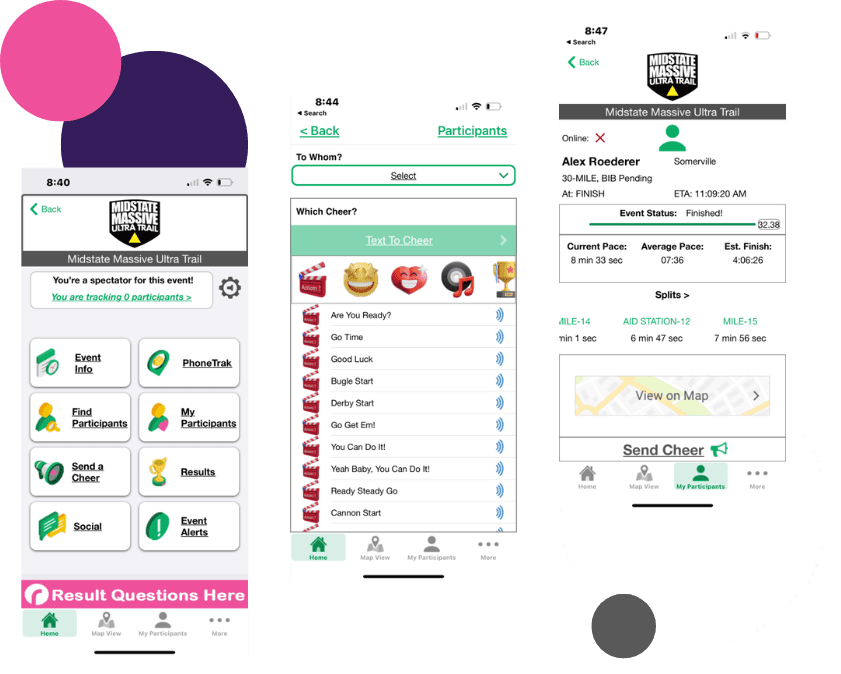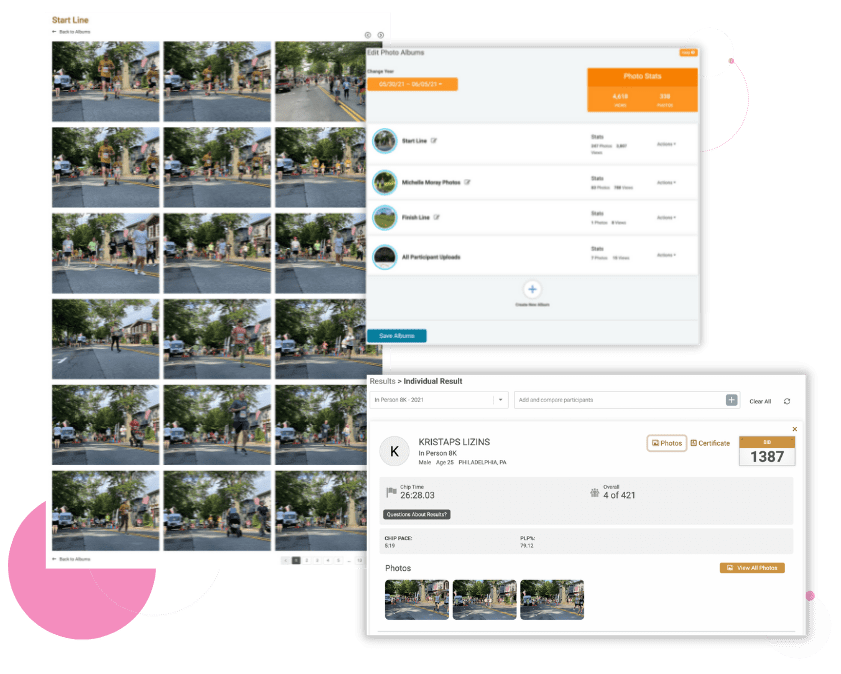 Photo Platform
Extend race day and bring participants back to your website with free RaceDay Photos.
Upload unlimited photos from race day, organized into albums
Allow participants to contribute their own photos from race day
Auto-tag participants based on their bibs
Keep participants talking about their event with easy sharing options
---
Fundraising Features for Race Management Companies
Integrated Donations
Encourage giving with a soft donation ask build directly into the registration path.
Customize your donation levels to highlight the impact of every donation and increase the average donation amount
Add manual donations one at a time or via CSV upload
Give donors the option to cover their processing fee to make their donation go even further
Enable a simple checkbox prompt at checkout to capture additional donations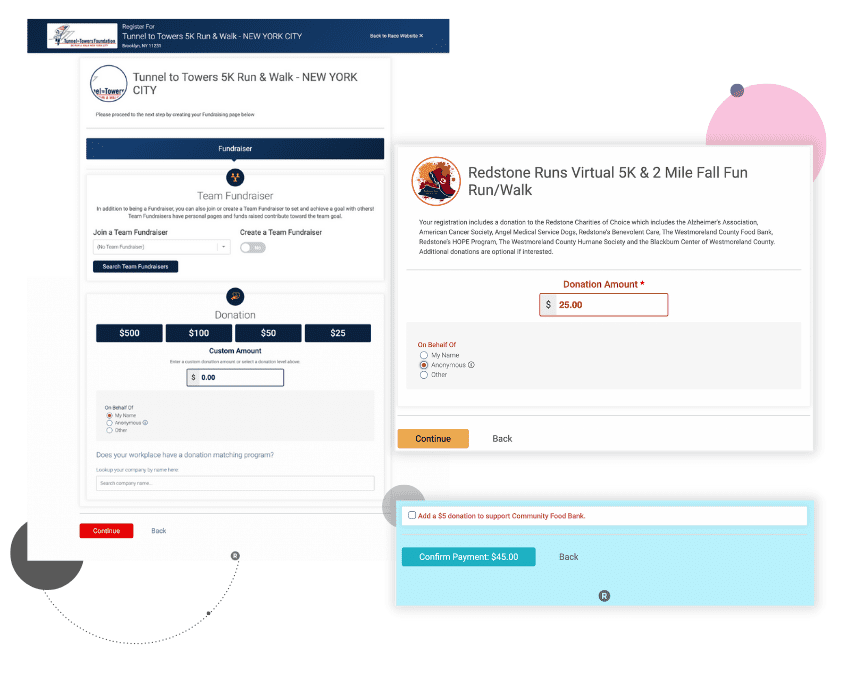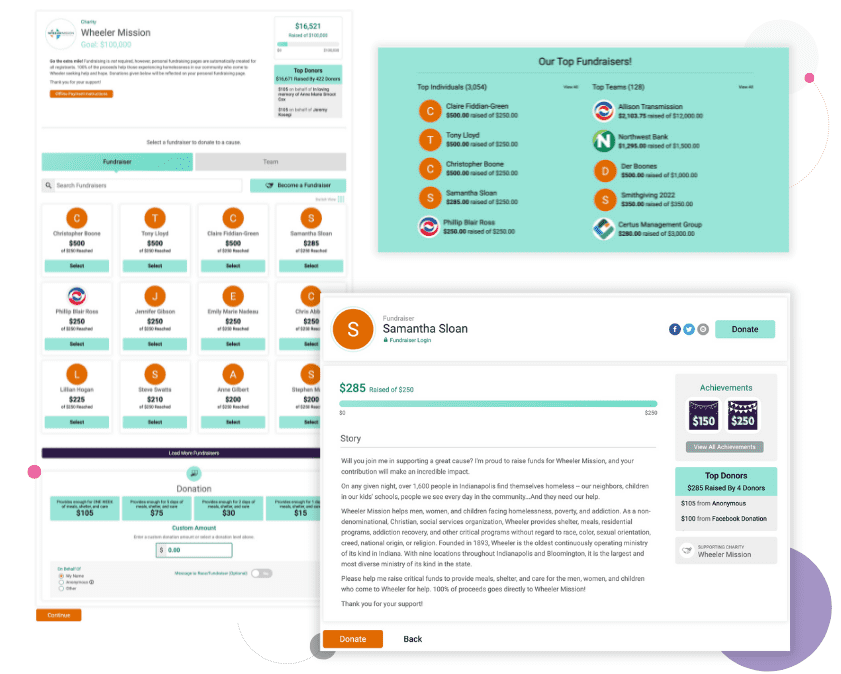 Individual Fundraisers
Engage your participants as fundraisers with built-in tools to help them succeed.
Each fundraiser has an automatically created fundraiser page with your branding and their own customization options to add messaging and images
Empower fundraisers to raise more with an integration with Facebook Fundraisers that syncs donation data from both platforms
Add offline donations to a fundraiser page (it's free)
Team Fundraisers
Bring people together to raise more for your cause with team fundraiser options.
Flexible options to join or create a team, with all individual fundraising amounts rolled up to the team total
Team fundraising pages (managed by the captain) in addition to individual fundraisers
Allow for one or multiple captains for each team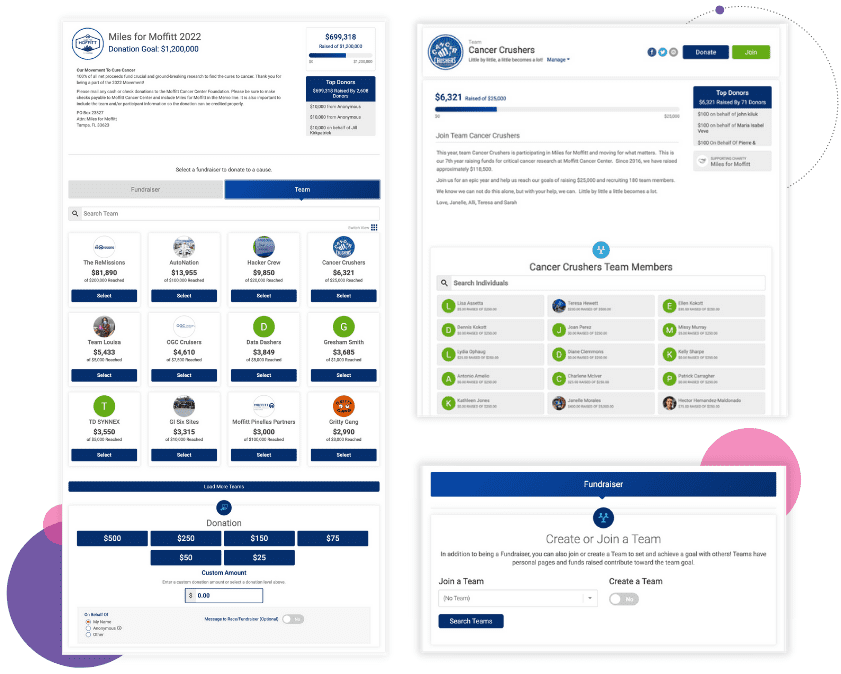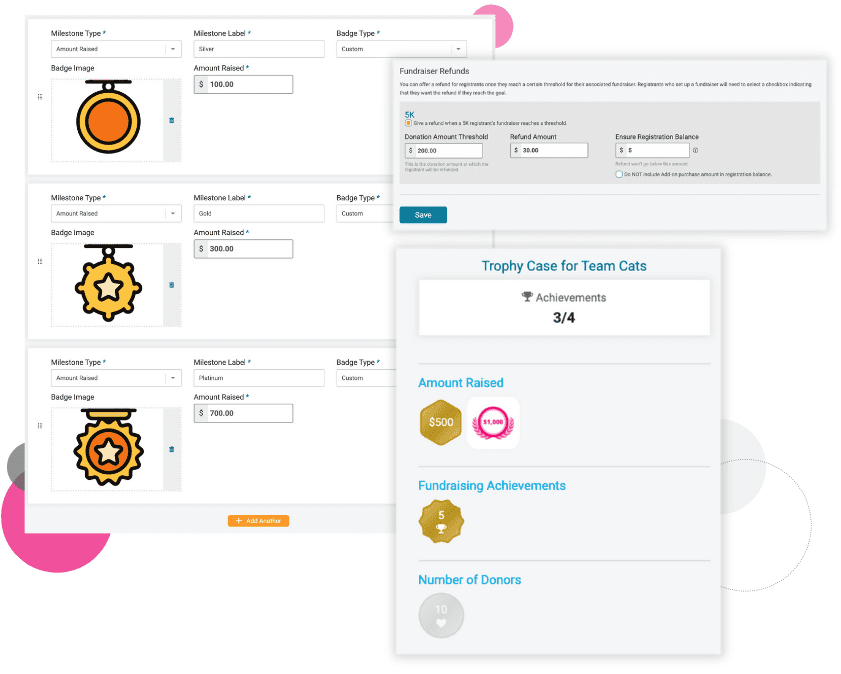 Fundraising Gamification
Make fundraising fun with friendly competition and engaging rewards.
Highlight and thank your top supporters with fundraiser leaderboards
Set milestones for fundraising goals and add default or custom badges that your fundraisers can collect in their own digital trophy cases
Offer refund rewards for fundraisers that reach a specific threshold of fundraising dollars
More Fundraising Features..
---
Customer Spotlight
Central Kentucky Race Management a RunSignup Case Study
"The volunteer platform on RunSignup is a valuable asset because it's a full-time job managing volunteers without it." Included with every RunSignup account, it allows volunteers to register to help out with your race just like a participant. Race directors can separate volunteer duties by tasks and times, as well as assign task managers for each group of volunteers. CKRM then uses RunSignup's email platform to communicate important race details to volunteers.
93.3% Increase in Transaction $ from 2018-2019

15.5K Unique Participants Since Starting with RunSignup

$28K Raised for Charity Partners in 2019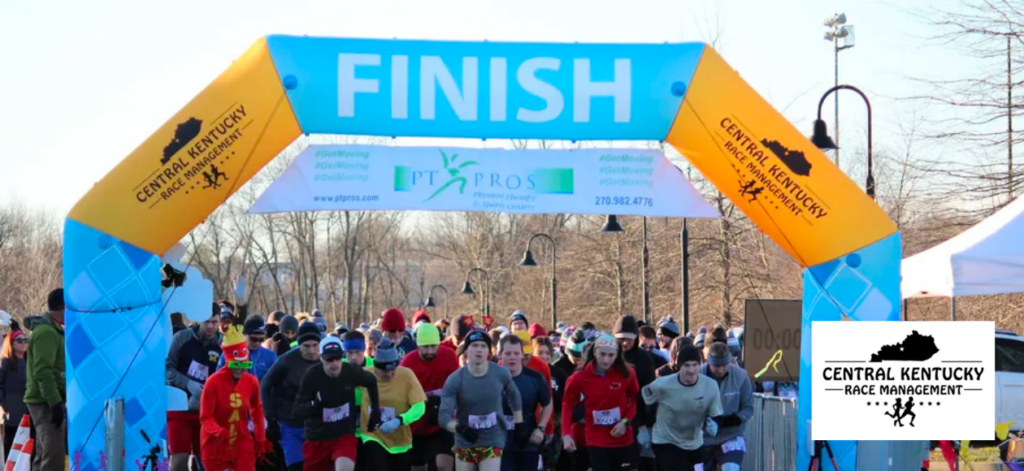 DQ Events
Prior to using RunSignup, DQ Events relied on several services for results, email marketing, registration, and websites. The company initially became interested in RunSignup when they saw how easily the platform integrates with various scoring services. The RunSignup platform has streamlined processes for DQ Events, allowing them to access all of their needs in one place.


15.9K Repeat Participants across all RunSignup Races

12 Triathlons + 40 Road Races a Year

100-4,000+ Range of Participants an Event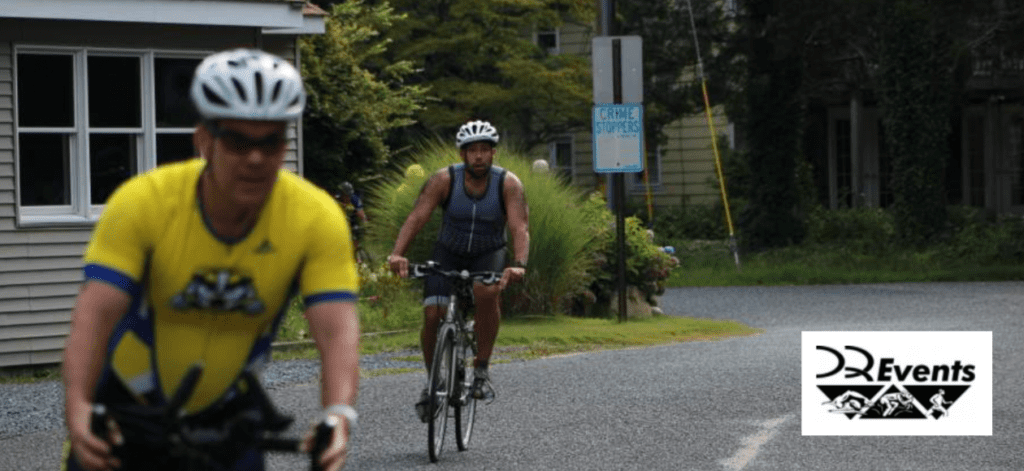 Advanced Running Project
Advanced Running Project relies on RunSignup's multi-race bundle feature to turn individual races into a race series. The feature gets rid of the need to register for each race individually and allows participants to sign up for two or more races in a single transaction. ARP has seen an increasing amount of people utilizing this feature to create their own race series.
$1700 Raised for Charity across 5 Races

40.5% of Runners on Average Purchase a Multi-Race Bundle

1400 Participants across 5 Races in 2019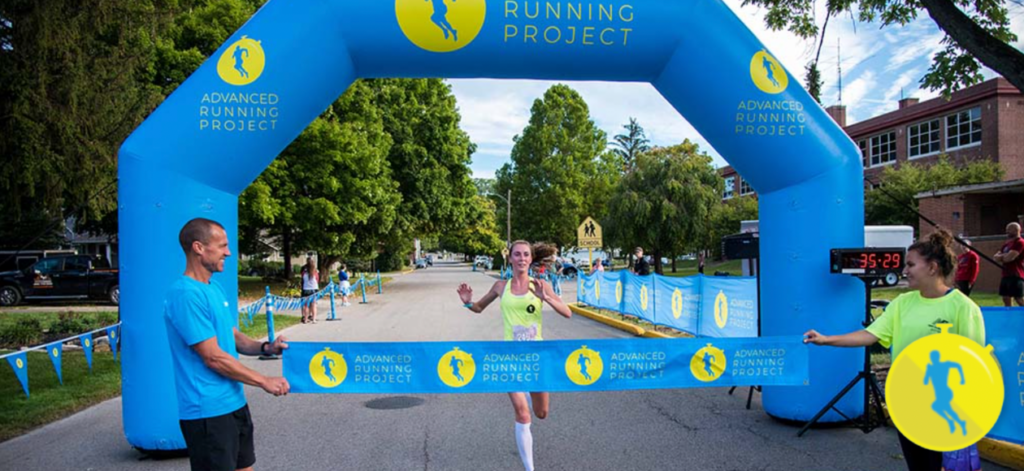 All the Latest News for Race Management Companies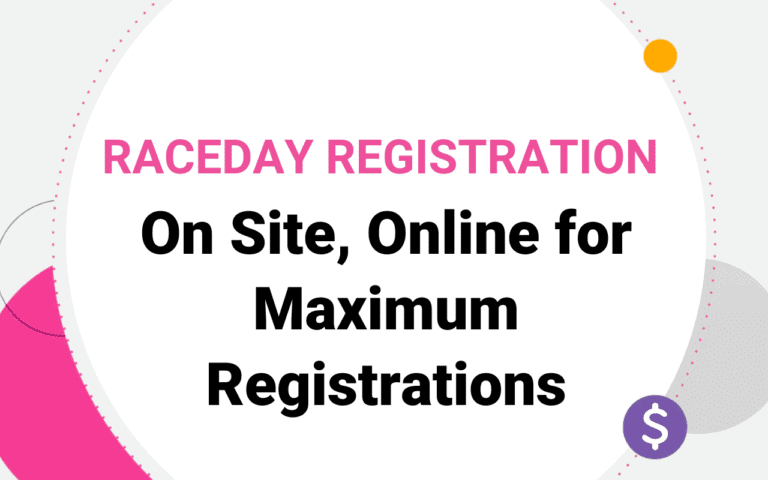 Maximize registrations by leaving online registration open until the gun goes off. RunSignup's on site registration is perfect for a pre-race expo, packet pickup, or anywhere people need to sign up in person or on race day.
Provide efficient paperless race day registration with streamlined registration process while automatically syncing new registration data with the RaceDay CheckIn app and timer scoring software like RaceDay Scoring.
Read More
Show More